Plants For Bees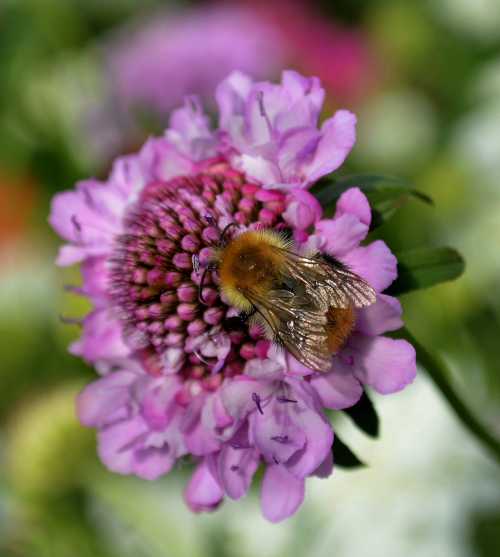 Beautiful bumble bee on Scabious (Pincushion Flower).
Here is a list of garden plants for bees that will provide forage for at least one species of bee. Many of these plants will attract honey bees and different types of bumble bees as well as solitary bees.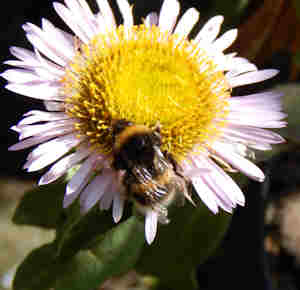 Even pots filled with plants such as Beach Aster (above), can help provide food for bees.
If you are short of space, see my tips about gardening for bees in small spaces. 

Most people can accomodate at least a few of these flowers to attract bees and butterflies into their gardens, even if only in pots dotted around the yard. 
At the bottom of this page you'll also find links to further lists of plants for bees, including wildflowers, trees, hedgerows, shrubs, herbs, and fruit and vegetables.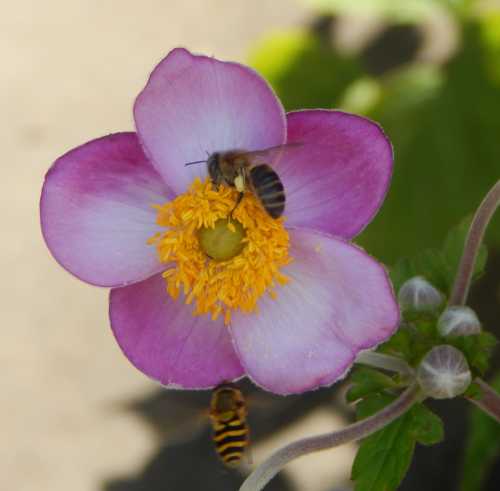 Honey bee on Japanese anemone.
Please note also that some of these plants appear on other lists on this site, because some species arguably straddle more than one category (e.g. cornflowers and foxgloves may also be categorized with wildflowers, and I have a further page for herbs and one for shrubs).
When selecting plants, traditional variaties are best, rather than the highly cultivated, extra-frilly types.
You can rarely go wrong with cottage garden flowers and flowering herbs. 
Remember to add a variety of flower shapes if you can learn more here.

Since first writing this page several years ago, I have also added my page of over 30 Fantastic Garden Flowers For Bees - in alphabetical order, and with more photographs.
The following lists are grouped by seasons - scroll down, or click on one of these links to jump straight to the list of garden plants:
LATE WINTER - SPRING GARDEN PLANTS
SPRING - SUMMER GARDEN PLANTS
SUMMER – AUTUMN GARDEN PLANTS
AUTUMN - WINTER GARDEN PLANTS
---
LATE WINTER - EARLY SPRING GARDEN PLANTS FOR BEES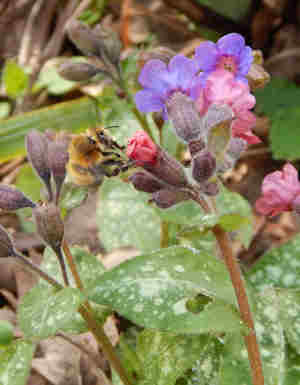 Hairy Footed Flower Bee (male) on Pulmonaria.
Due to variations in climate and conditions, flowering times may differ from region to region, and this may also affect foraging, as well as the distribution of different bee species.  For example, Italian strains of honey bees will forage on crocus flowers, but in very cool weather, may be deterred from foraging in the first place. 
Bumble bees, on the other hand, with their furry coats, can often be found foraging on cooler days.  In fact, bumble bees are increasingly being seen to forage during the cool winter months in some countries, meaning that late and very early flowering plants are vital for bumble bees.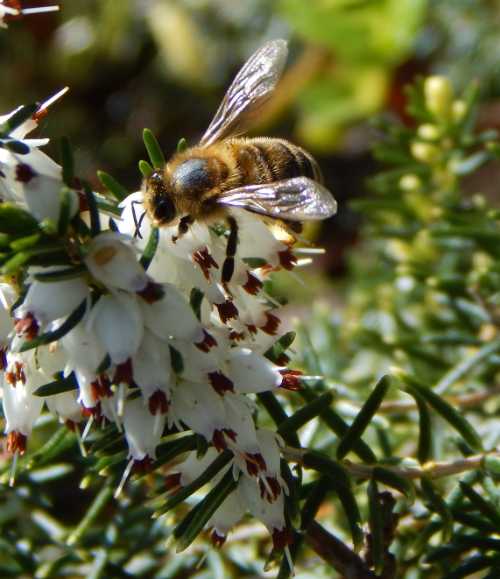 Above: honey bee (Apils mellifera) on winter heather.
Mahonia
Winter Aconite
Crocus
Daffodil (try native wild types - e.g. if you live in the UK, try Narcissus pseudonarcissus)
Genista
Dicentra
Pulmonaria (Lungwort)
Gorse (Ulex)
Rosemary (Rosemarinus)
Flowering Currant (Ribes)
Primrose (Primula vulgaris)
Bluebell (Choose native varieties)
Cowslip (Choose native varieties)
Snakeshead (Fritillaria meleagris)
Winter Honeysuckle (Lonicera fragrantissima, Lonicera purpusii)
Bugle (Ajuga)
Ground Ivy
Snowdrops (Galanthes) – single flowered varieties
Winter Heathers (Erica carnea)
Lenten rose (Helleborus orientalis)
Polemonium (Jacob's Ladder)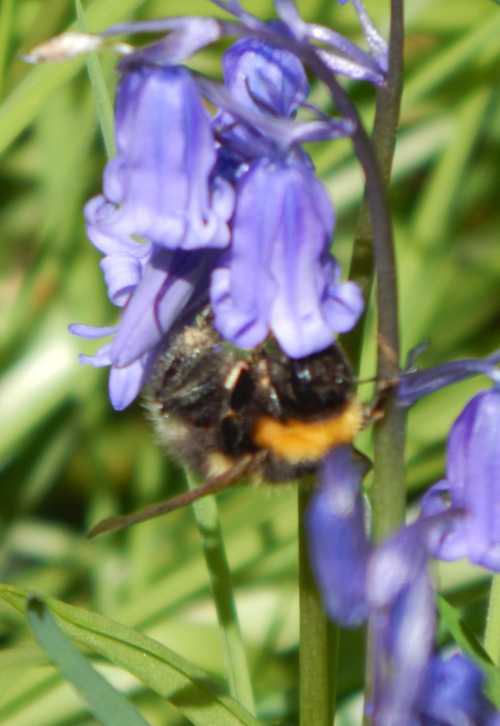 Above: Bumble bee foraging on English bluebell.
---
SPRING - SUMMER GARDEN PLANTS FOR BEES
Many plants which are beneficial to bees, such as Milkweed are also beneficial to other pollinators, such as the Monarch Butterfly pictured above, a species very much in need of our help!

During the Spring and Summer, all types of bees (and other pollinating insects) are rearing their broods.

A typical honey bee colony may consist of around 50,000 to 60,000 workers, as well as having larvae to feed.

Bumblebee colonies may be fragile - fewer than half survive, and solitary bees are in need of undisturbed nesting sites, as food is gathered for storing in egg cells to feed newly developing larvae.
Plenty of bee friendly plants are therefore vital during the Spring and summer to ensure survival of  colonies.
Many of these plants will also attract and benefit a range of other pollinators.  For example, Milkweed is vital for Monarch butterflies.  It's worth following the planting instructions very carefully to help ensure success, because some varieties have quite fussy requirements. I recommend Milkweed Asclepias tuberosa as a variety that is tolerant of dry and moist soil, but please note, it does need a lot of sunshine. 
There is, however, a range of great seeds available, with some lovely varieties.  Choose a native seed supplier and beware of illegal imports. 
Foxglove (Digitalis)
Bistort
Crane's-bill (Geranium)
Poppy (Papaver)
Chives
Bugle (Ajuga)
Borage officinalis
Crocus
Comfrey (Malus)
Honey Suckle (Lonicera)
Delphinum (Lakrspur)
Potentilla (Cinquefoil)
Passion Flower (Passiflora)
Muscari
Thyme
Sweetpea (Lathyrus)
Campanula
Lupin (Lupinus)
Rosa rugosa
Sea Holly (Eryngium)
Columbine (Aquilegia)
Penstemon
Salvia
Hebe
Allium
Agapanthus
Sweet Pea

---
SUMMER – AUTUMN GARDEN PLANTS FOR BEES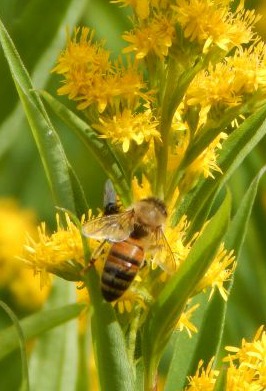 Honey bee on Solidago - it's attractive to a range of bee species.
During the late summer and autumn, these plants will continue to feed late developing broods, as well as those bees that have already developed into working adults.

Scorpion Weed (Phacelia)
Purple Loosestrife (note, in some countries this is considered invasive - please check your region)
Sedum
Golden Rod (Solidago)
Cornflower
Dahlia
Veronica
Zinnia
Nasturtium
Salvia
Prairie mallow
Verbascum
Scabious (Pincushion Flower)
Sneezeweed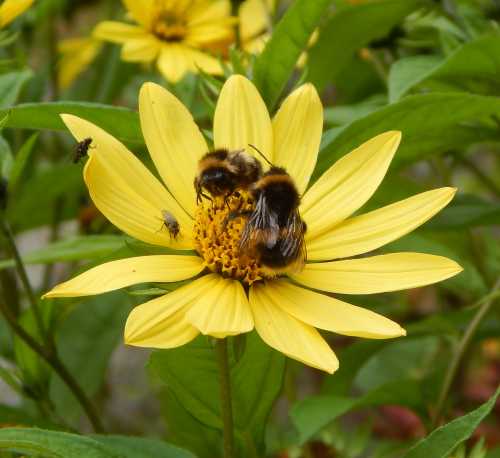 Bumble bees on Helianthus
Sunflower (Helianthus) 
Lavender
Watermint
Snapdragon (Antirrhinum)
Nepeta (Catmint)
Bugle (Ajuga)
Bergenia
Hellebores
Cosmos
Erigeron (Fleabane)
Salvia (Sage)
Hollyhock
Bergamot
Sweet Sultan (Amberboa Muricata)
Verbena
Echinacea (coneflower)


---
AUTUMN - WINTER GARDEN PLANTS FOR BEES
Ivy (hedera helix) is loathed by some, but it is one of the few plants for bees that aid survival of the late foragers.
The pollination of ivy then allows berries to develop, thus feeding a number of birds over the winter months, as well as providing excellent shelter.
Research has shown that trees with ivy growing up them accomodate more wildlife than those without. Instead of assuming that all ivy must be cut away, it is better to be pragmatic about it. Investigate first whether it is really causing any damage. Most healthy trees can withstand at least some ivy growth before being cut back. The wildlife will appreciate it!

Ivy hedera helix
Mint (Mentha)
Oregano (Origanum)
Autumn raspberries
Viburnum
Common Heather (Calluna vulgaris)
Reader Tip


From
Donna in Kansas City:
"I wanted to mention two plants that I grow in my yard, Aromatic Aster and Cup plant;both native wild flowers. Several species of bees adore Aromatic Aster and honey bees love my Cup Plant. Also several butterflies (including Monarch) and moths. Plus hummingbirds love my Cup plant. Bumblebees love Coral Bells."

Planning And Planting A Bee Friendly Garden
FREE PDF DOWNLOAD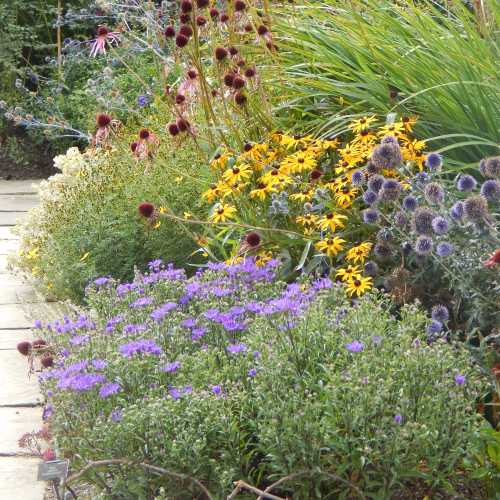 Link back from Plants for Bees to Home page
AFFILIATE DISCLOSURE:  
As an Amazon Associate I earn from qualifying purchases.
Amazon and the Amazon logo are trademarks of Amazon.com, Inc. or its affiliates.

COPYRIGHT 2010 - 2020: WWW.BUZZABOUTBEES.NET
ALL RIGHTS RESERVED.