Do Bees Visit Honeysuckle?
Honeysuckles are a lovely addition to the garden.  Choose fragrant honeysuckles that bees will visit. 
Using climbing honeysuckles is a great way to pack more flowers into your garden without sacrificing much space, but shrubs are also available.  


Which Bees Visit Honeysuckle?

Most commonly, I see bumble bees on honeysuckle, but honey bees will certainly forage on the flowers too.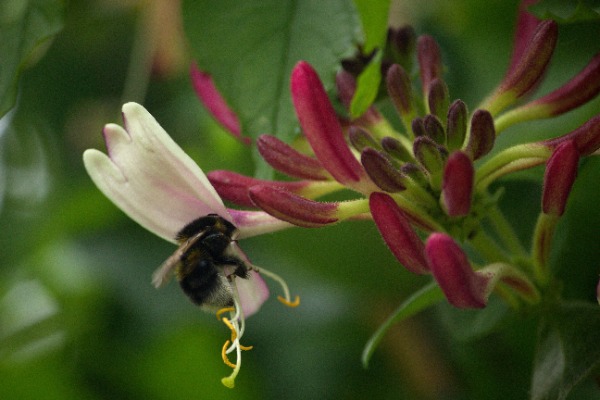 Other beautiful insects may also visit the deliciously fragrant blooms of honeysuckle, such as the Hummingbird Hawk-moth (Macroglossum Stellatarum).  
Hummingbird Hawk-moth (Macroglossum Stellatarum) visiting Honeysuckle flowers
Some cultivars are fragrant in the evening and will attract night-flying moth pollinators.
Honeysuckle benefits other wildlife too!
Gorgeous glossy red berries follow the flowers which are snaffled by grateful birds late summer to autumn.
The woody, twining growth of the climbers can also provide nesting sites and cover for birds and small mammals.
Which Honeysuckle For Bees And Pollinators?
Firstly, note that not all honeysuckles are fragrant. 

According to the RHS, Lonicera tellmaniana is an example of a non-fragrant specimen, so if you want fragrance as well as visits from bees, remember to check the label for further information about what you are buying.
Snapshot: 
My Top Recommended Honeysuckles For Bees

1. For Longer Flowering:  Lonicera periclymenum 'Graham Thomas'
This honeysuckle may help to feed bees for a little longer than other cultivars. 
The flowers are fragrant, starting out a creamy-white colour, eventually turning yellow as they mature. 


2. For Height: Lonicera periclymenum  (common honeysuckle) and cultivars, 'Red Gables' and 'Heaven Scent'
Take extra advantage of limited space by using climbers known for their vigorous upward growth. 
You'll need appropriate support for the plant, of course.  
Lonicera periclymenum (common honeysuckle) can reach 7m in height.  It has deep pink flower buds which open up into lovely, sweetly-fragrant, creamy / yellow-white flowers flushed with pink (a sort of 'fruit salad' colour combination). 
It flowers from mid to late summer and is followed by glossy, red berries.
Lonicera periclymenum 'Red Gables' and Lonicera periclymenum 'Heaven Scent' can also reach 7m in height.  


'Red Gables' features gorgeous deep pink and pale-pink blushed flowers whilst the flowers of 'Heaven Scent' mature to yellow.  Lovely red berries follow.
3. Compact shrub: Lonicera periclymenum Chic et Choc ('Inov205'PBR)
Shrubs are popular in gardens and offer efficient foraging opportunities for bees.
If you are seeking a compact honeysuckle, perhaps one you can grow in a container or in the flower border, this one might be for you.  
It will grow to about 50cm in height.
Flowers start as deep pinkish in colour, opening to pinkish white before eventually turning yellow.
This is one of the honeysuckles that will attract moths to its fragrant blooms in the evening.  
If appropriate for your location, it might be a good choice for siting near a patio or place where you can sit and enjoy the fragrance in the evening on a summer day, and observe the visiting moths.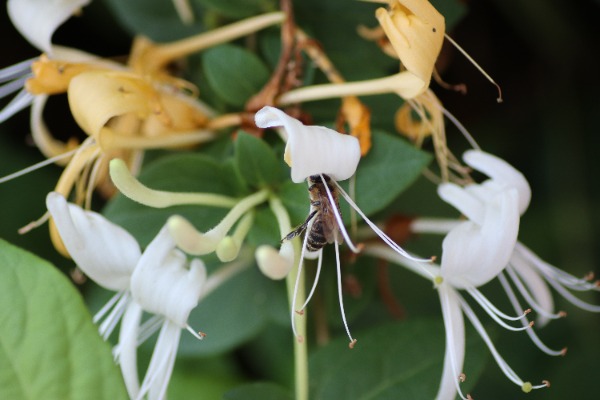 Of course, there are many other fragrant honeysuckles that will fit the description of being attractive for bees and pollinators.
Here are a few more:
Yellow and cream flowering honeysuckles
Lonicera sulphurea 'Sweet Sue' 
Lonicera periclymenum 'Scentsation'PBR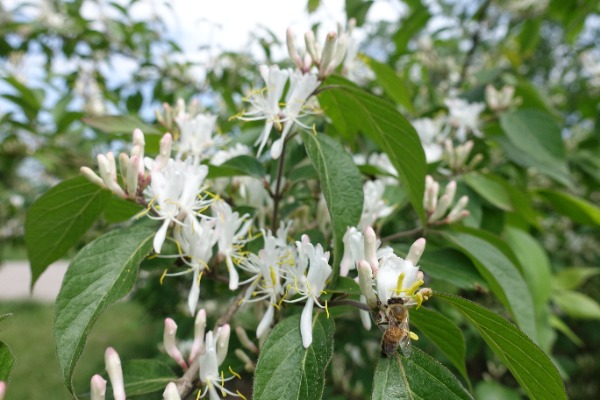 Pinkish or 'fruit salad' type honeysuckles

Lonicera periclymenum 'Serpentine'
Lonicera periclymenum 'Belgica'
Lonicera periclymenum Caprilia Imperial ('Inov86'PBR)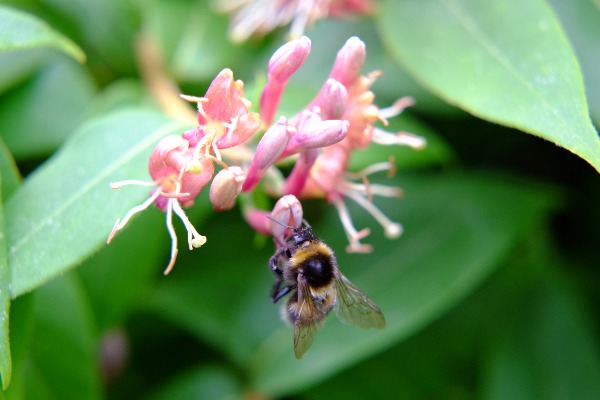 Growing Honeysuckle For Bees
Honeysuckle are easy to grow and thrive well in light or partial shade.
Prune annually to keep the plant in good condition, but remember that wildlife do sometimes use honeysuckle for nesting and food. 
Leave the glossy berries for the birds to enjoy.
You can take cuttings of honeysuckle to create more plants to share with friends.
Alternatively, use the layering technique: peg a stem to the ground and cover it with soil.  
Plants from cuttings and created via the layering technique may take a couple of years to mature sufficiently to flower.
Resources
COPYRIGHT 2010 - 2023: WWW.BUZZABOUTBEES.NET
ALL RIGHTS RESERVED.