Bees Love Zinnia

Updated: 1st may 2021
If you long for flowers that remind you of vibrant jewels whilst attracting bees, Zinnia could be a great choice for your garden. The vibrant shades of pinks, orange, red, yellow and green are absolutely delightful.
Bees love Zinnia.  Even though bees cannot see red, bees visit these lovely flowers anyway - including the red ones, no doubt attracted by the ultraviolet markings in the petals, and the apparent food reward on offer.

According to the RHS:
"Zinnia can be annuals, perennials or sub-shrubs, with branching stems bearing opposite leaves and solitary terminal flower-heads in summer".

Zinnia are part of the Asteraceae family (or composites), and where bees are concerned, they are therefore automatically in good company (this family also includes sunflowers, dandelions, dahlias, daisies, Echinacea (cone flower) among others.

Which Zinnia varieties for bees?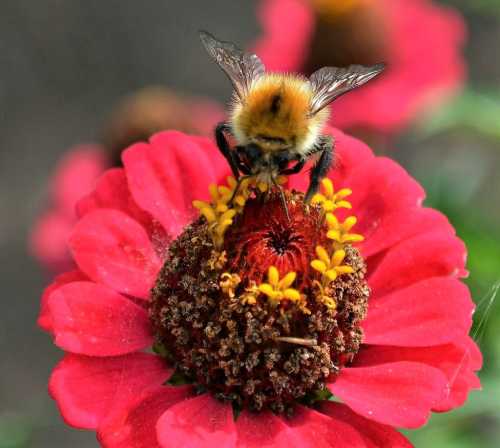 Even though bees cannot see red, bees visit lovely red Zinnia flowers.
As far as I'm aware, these flowers tend to be sold mostly as part of a 'series' or a 'mix' that could include wonderful shades of red, pink, yellow, orange and green (the lovely zesty lime and acid-green are among my favourites).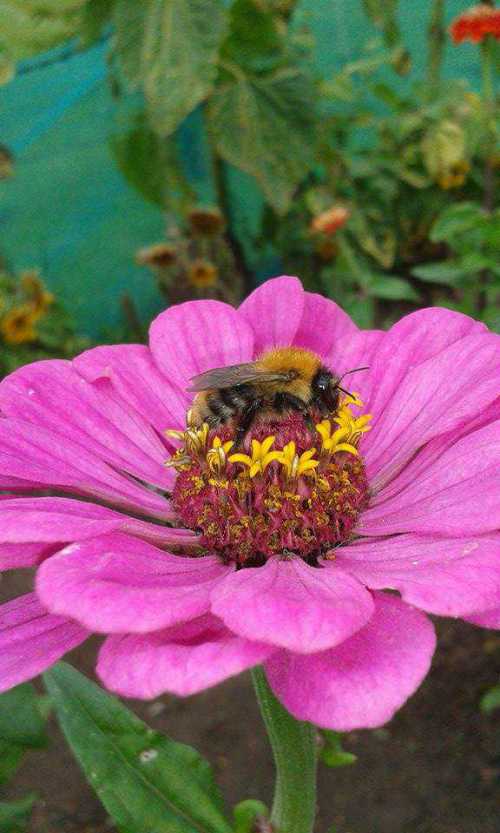 Bombus pascuorum - Common carder bee on Zinnia.
For attracting bees into your garden, you could try the following Zinnia varieties:
Zinnia Profusion Series; 


Zinnia elegans Giant Double Mixed; 


Zinnia elegans Pulcino Mixed; 


Zinnia elegans Sprite Mixed


Zinnia elegans Cresto Mixed.


Zinnia 'Profusion Orange'


Zinnia 'Zinderella Lilac'


Zinnia 'Zinderella Purple'


Zinnia elegans 'Uproar Rose'


Zinnia (Whirligig Mixed)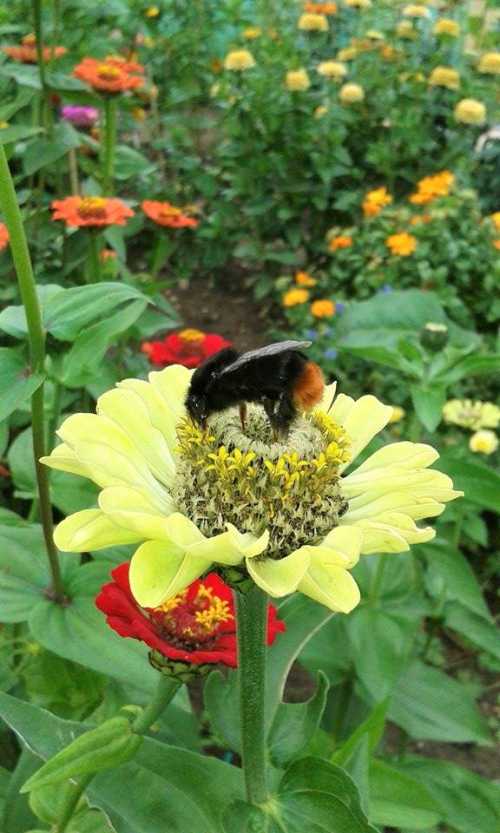 Zinnias are available in a variety of lovely shades.

Are other pollinators attracted to Zinnias?
Indeed they are!

In fact, another great reason to plant Zinnias is that other pollinators like them too - butterflies and hoverflies are equally attracted to the flowers to feed.

How to grow Zinnia for bees and butterflies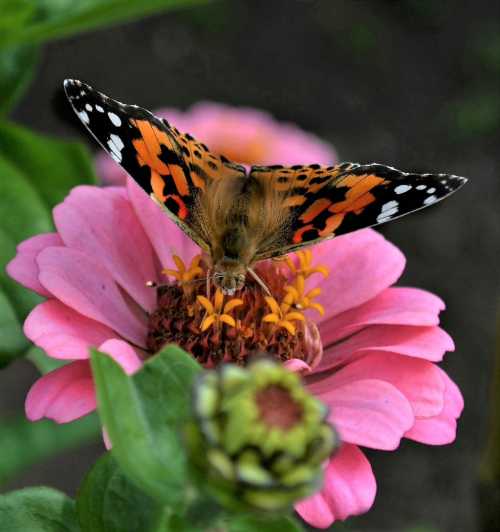 Butterflies are also attracted to Zinnias.
These lovely flowers need a sunny spot, but they can be quite tolerant of a range of soil types as long as it is well drained.  

They may not fair too well in a poor, damp summer since they are prone to botrytis. Additionally, many regions prone to damp, cooler summers may struggle to grow zinnias successfully.  On the other hand, if you live in an area where crops requiring sunshine are grown (for example, soft fruit, wheat and barley crops) then you are likely to have more success.
You can sow them direct into a fine soil, or into modules that can then be planted directly into the soil.
Be sure not to sow too early when nights are still very cold and damp.
You can dead head them to prolong flowering, so that more bees will benefit over a longer season.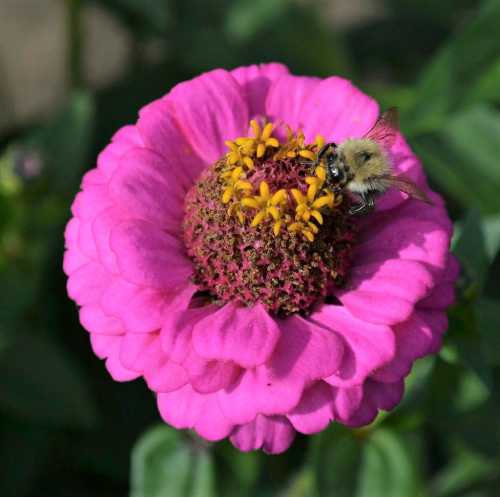 You can dead head them to prolong flowering, so that more bees will benefit over a longer season.
Ideally, plant them in swathes in a flower border if you have the space.

Are  Zinnia prone to many pests or diseases?

Diseases associated with damp and cold can be a problem.  They can be prone to problems with powdery mildew, so it is generally recommended that they be grown in a sheltered but open spot.
More articles about bees and plants