Plant Hollyhocks For Bees


Updated: 17th February 2021


Question:  Do bees like hollyhocks?

Answer:  Yes, they do!  I know this for sure because I have them in my garden.  Bumble bees in particular, get covered in pollen!
Hollyhocks are good for bees and pollinators
Although I have a small garden, I was determined to find space to squeeze in a few hollyhock plants in the flower border, because I know pollinators, and in particular, bees love them - especially bumble bees.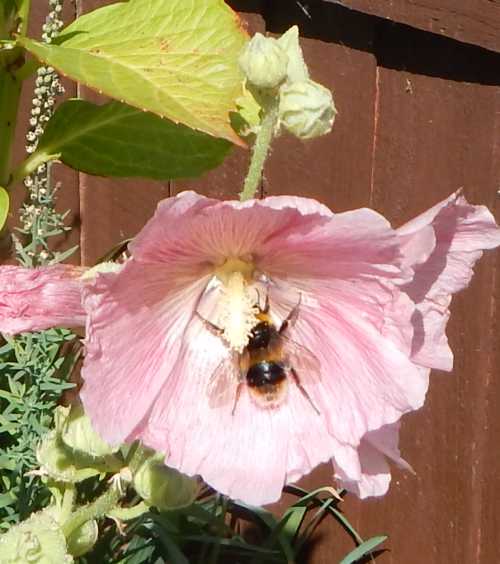 Bumble bees love hollyhock flowers.

For me, cottage garden flowers such as these never, ever go out of fashion.  Not that I have ever been concerned about 'fashion' or 'the latest trends', and I know the bees aren't interested either.  The bees want pollen and nectar rich flowers, and hollyhocks provide plenty of nectar and are loaded with pollen.
It's lovely to watch bumble bees bumbling about inside hollyhock flowers.  As they reach inside the flower to get to the nectar, their furry coats get covered in grains of pollen from the anthers of the flower.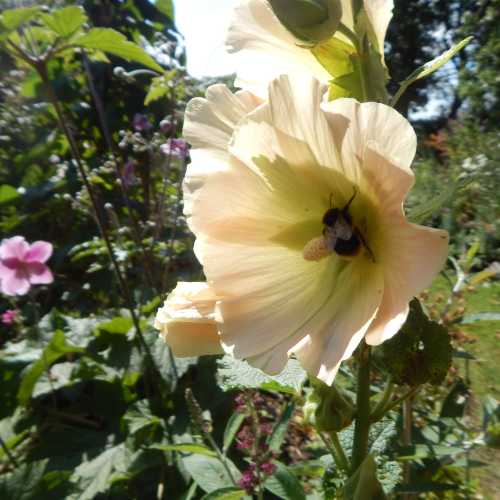 Hollyhocks are lovely tall cottage garden flowers - they never go out of fashion - especially not for bumble bees!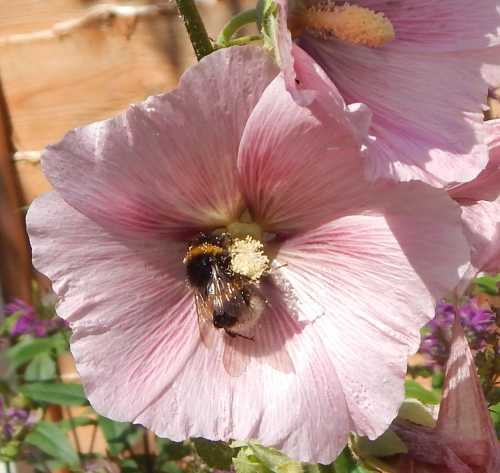 Bumble bee foraging on hollyhock in my garden. As they reach into the flowers for the nectar, the furry coats of bumble bees get covered in pollen.
Hollyhocks grace the garden border with gorgeous flowers on tall stems in shades of pink, apricot, white, deep and dusky reds and with bi-coloured varieties available.  They can be annual, biennials or perennials.

How to grow hollyhocks
I initially sowed my hollyhock flowers from seed in pots in the greenhouse, and transferred them outdoors later once all risk of frost had passed.
However, I recommend you simply follow the instructions from the seed supplier.  Some sources suggest it's okay to sow hollyhock seeds directly into the ground where they are to grow and flower.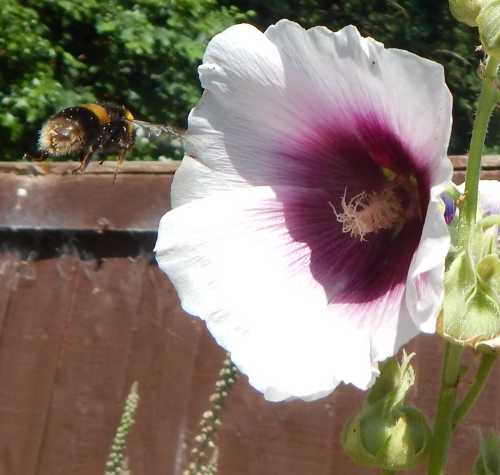 Bumble bee flying toward hollyhock flower.

Where should you site hollyhocks?
Hollyhocks needs full sun.  Being a tall plant, they can comfortably be located toward the back of the border as long as they are getting plenty of sunlight.  They may need staking or supporting so take this into account when you plant them.
Mine are next to our clump of bee balm (Monarda) plants.

Advice varies on soil type.  Some suggest a moist soil is best, but ours grow fine in a fairly dry patch.


Are hollyhocks easy to grow?
I have to say, I am no expert gardener, I simply experiment and do my best.  Some things work and others don't.  However, I have found hollyhocks very straight forward to grow from seed.  If you don't have a greenhouse, you could use a propagator.
They can be prone to rust.
Which hollyhock flowers attract bees?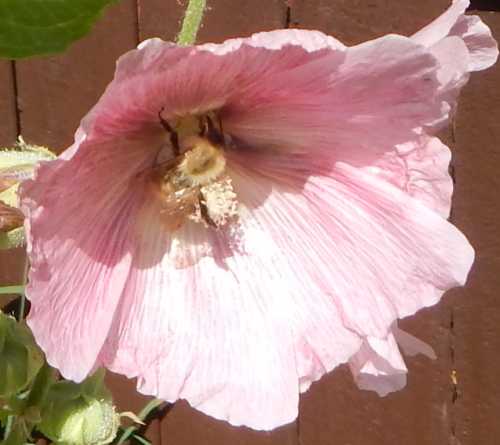 I suspect all hollyhocks are attractive to bees, but it may be best to check with your supplier. I tend to opt for single-petalled, pale varieties.
I cannot be one hundred percent certain, but I suspect they all do.  Although double petalled varieties are available, I tend to stick with the single petalled flowers in pale shades.  This is my preference, and I have found all of my hollyhocks to be popular with bumble bees.
If you are uncertain, ask the supplier whether they can confirm attractiveness to bees.  Many suppliers are now well aware that helping pollinators is a concern for many gardeners these days.
Which Dahlias Do Bees Like?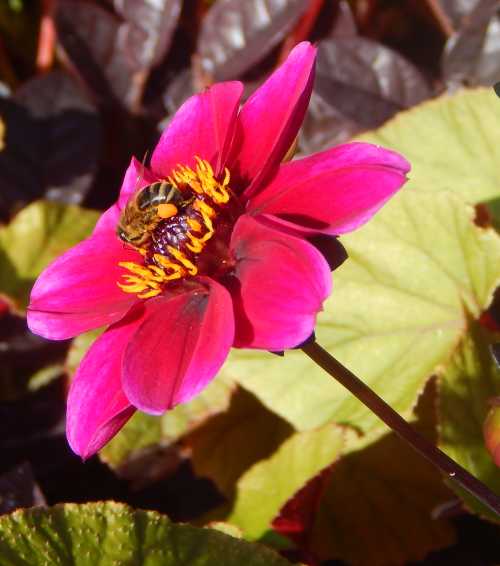 COPYRIGHT 2010 - 2023: WWW.BUZZABOUTBEES.NET
ALL RIGHTS RESERVED.