Bee Conservation Articles And Links


Here is a list of pages and related bee conservation articles and links to broader themes around halting bee decline.
A National Strategy For Pollinators
What should it include?  Here are my ideas.
Bee Decline – What Are The Causes?
There are several issues faced by bees and other pollinators.  Each has a piece in the puzzle.
Do Honey Bees Harm Wild Bees?
An unbiased look at the research.
Bumble Bees For Sale?
Is it wise to purchase commercially reared bumble bees?
Councils And Bee Habitats
Councils and land managers can play a major role in assisting pollinators.   Here are some suggestions.
Farmers must have independent information
...about pest threat!
Conservation books
A few of my favourites.
Did France ban neonicotinoids?
....well, not exactly, but sort of!
Farmers can help bees!
And some of them really do want to play their part in helping bees an the environment!

5 reasons to include a wildflower area in your lawn
Quick 'points' for sharing.
The bees in your backyard
My review of this excellent book!
Field Guide To The Bees of Great Britain and Ireland
My review of this excellent book!


Neonicotinoids And Bees
A group of insecticides causing tremendous concern.  An in-depth look at this subject exploring research, myths and falsehoods over a number of articles.
Tomorrow's Conservationists
Children need to be inspired to love the natural environment and its inhabitants, if they are to care for it.  This article provides links to free resources.
Why Honey Bees And Beekeepers Matter
This can sometimes be a controversial subject among conservationists, but this article sets out the reasons why honey bees are important.
Why Do Wild Bees Matter
Having a lower profile than honey bees, but nevertheless, vitally important pollinators.


Is beekeeping always the best way to help bees?
A genuine response to a query to the website.


Lime Trees Toxic For Bees
Some species are noted for having unfortunate effects on bees.
Global Wildlife AIDS and Neonicotinoids
An article by Dr Rosemary Mason ChB (Hons), D.Obst. RCOG, FRCA
Consultant Anaesthetist (Anesthesiologist); and Palle Uhd Jepsen
Former Senior Adviser in Wildlife Management and Nature Conservation for the Danish Forest and Nature Agency, Ministry of the Environment.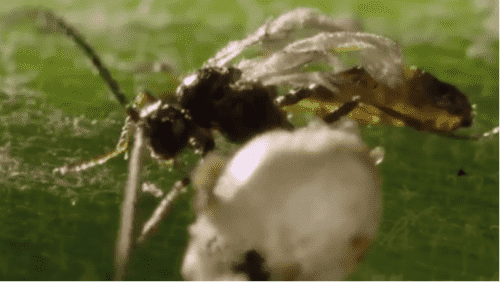 Body Snatcher Wasps!

Why are farmers turning to wasps to help them control crop eating pests?

COPYRIGHT 2010 - 2021: WWW.BUZZABOUTBEES.NET
ALL RIGHTS RESERVED.