Little Blue Carpenter Bee - Ceratina cyanea

The Little Blue Carpenter Bee - Ceratina cyanea, is a tiny bee measuring only about 4.5 - 5mm in length, yet as a member of the Ceratina genus, it is a relative of the large carpenter (Xylocopa) group, both of which belong to the Apidae bee family1,2.
About The Little Blue Carpenter Bee - Ceratina cyanea
I propose that the name Ceratina cyanea probably means something akin to 'dark blue horned bee'.
My reasoning is that according to Wilson & Messinger-Carril; (authors of The Bees In Your Backyard1) the word 'Ceratina' is Greek for 'horned'1. 
I have also discovered that the word 'cyanea' comes from Greek 'kyanos' (κυάνεια) which means 'dark blue'.
In any event, it seems that visually, this is a fitting name for this species, since these small dark bees have a dark, bluish metallic sheen to their bodies.
Little Blue Carpenter Bee (Ceratina cyanea) - female
This species also has very little hair on their bodies. 
As with other Ceratina, the Little Blue Carpenter Bee might be mistaken for the small Lasioglossum species such as the Turquoise Furrow Bee, Lasioglossum cupromicans.  However, close inspection of the abdomen will help distinguish between them. 
Ceratina species have a 'club' shaped abdomen that is slightly wider at the tail end, and narrower at the thorax. 
Females of the small Lasioglossum species have a point at the tail, whilst males have a proportionately long, slender abdomen.
Male Ceratina cyanea are a similar size to the females, but are easily distinguishable, having a white face,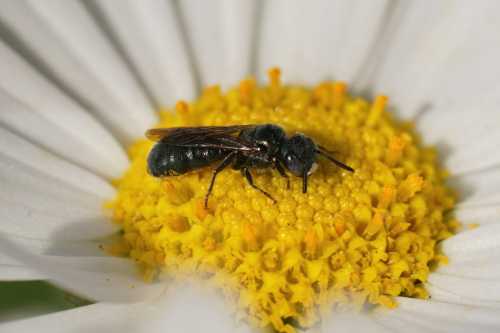 Little Blue Carpenter Bee (Ceratina cyanea) - male on Oxeye Daisy. White face is just visible.
Nesting Habits
These little bees typically nest in hollow stems of plants such as roses and brambles.

New generations of adults overwinter (diapause) in hollow twigs and emerge the following year.
Foraging Habits
These lovely little bees can be seen from May - September2 and may be seen foraging on:

Cornflower,
buttercups,
ragworts, 
Bird's-foot-trefoil,
Sunflowers,
Goldenrod
Red Campion,
Bugle, 
Oxeye Daisy,
scabiouses,
Chickweed,
Yellow-rattle,
forget-me-nots,
brambles.


Pollination Service
One study by Moussa et al (2022)3 over 2 years, demonstrated that Little Blue Carpenter Bees, Ceratina cyanea are efficient pollinators of the Sunflower (Helianthus annuus). 
The authors even suggest that Ceratina cyanea nests close to Sunflower fields are worthy of protection.

Sunflowers are a highly valuable crop.  Sunflower seeds are sold for oil and food goods, and whole stems are sold to the cut flower industry.
The Western Honey Bee, Apis mellifera, was the most frequent visitor of all insects captured in the study, and by some significant margin. 
However, Ceratina cyanea came second, performing more visits than their larger cousins, Xylocopa species, and bees from both the Megachilidae and Halictidae bee families.
Moussa et al's study included a total of 32 insect species and 2744 recorded flower visits.  Below is a table extracting the data for the Hymenoptera species included within the study:
Insects
Total
Order
Family
Genus and Species
Nt*
Pt (%)
Hymenoptera
Apidae
Apis mellifera (ne, po)
8747
76.06
Ceratina cyanea (ne, po)
1241
10.76
Braunsapis (ne, po)
878
7.63
Xylocopa olivacea (ne)
44
0.39
Xylocopa inconstans (ne)
8
0.07
Formicidae
(sp.) (ne)
32
0.28
Polyrachis sp. (ne)
6
0.05
Halictidae
Lasioglossum sp. 1 (ne, po)
35
0.3
Lasioglossum saegeri (ne, po)
33
0.29
Megachilidae
Chalicodoma refupes (ne)
50
0.43
Chalicodoma cincta (ne)
13
0.11
Megachille sp. (ne)
29
0.25
Sphecidae
(sp.) (ne)
22
0.19
Vespidae
Synagris sp. (ne)
4
0.04
Philanthus trangulum (ne, pr)
1
0.01
*Nt = Total number of visits
Table after Moussa et al (2022)
According to the study, Ceratina cyanea spent significantly longer collecting pollen than nectar.

The mean duration of a visit on a Sunflower floret was 3.62 seconds for nectar collection and 9.58 seconds for pollen collection.

The authors of the study also measured fruits and seeds from Sunflowers pollinated exclusively by the Little Blue Carpenter Bee, against Sunflowers protected from pollination.  
They found that Ceratina cyanea significantly increased:
the average fruiting rate (yr1: 69.75%; yr2: 29.04%); 
the average percentage of fruits with seed 

(yr1: 63.94%; yr2: 57.18%);

the average percentage of normal seeds via a single capitula visit

(yr1: 87.17%; yr2: 64.70%)

.
For reference, the authors note that other studies have shown the impact of A. mellifera in India and in Cameroon on Sunflower pollination.  In India and Cameroon, the percentage of Sunflower seed setting resulting from pollination by Apis mellifera was 86.9% and 62.21% respectively).
Where Are 
Little Blue Carpenter Bees Found?
Little Blue Carpenter Bee are found in Britain and Western Europe and in Northwest Africa. 
This species, among other Ceratina, has also been recorded in Western Asia in Iran4.


References
1. Wilson & Messinger-Carril; The Bees In Your Backyard. Princeton University Press 2016. 
2. Field Guide to the Bees of Great Britain and Ireland by Steven Falk, Bloomsbury 2015.
3. Moussa, Mohamadou & Esaïe, Faïbawa & Sanda, Mazi. (2022). Pollination Efficiency of Ceratina cyanea (Hymenoptera: Apidae) on Helianthus annuus (Asteraceae) Flowers at Dang (Ngaoundere, Cameroon). Open Journal of Ecology. 12. 66-80. 10.4236/oje.2022.121004.
4. Salarian, Mehdi & Nadimi, Ahmad & Talebi, Ali Asghar & Radchenko, Vladimir. (2016). A survey of the genus Ceratina Latreille (Hymenoptera: Apidae) in northern Iran, with three new records. JOURNAL OF INSECT BIODIVERSITY AND SYSTEMATICS. 02. 143-154.
COPYRIGHT 2010 - 2023: WWW.BUZZABOUTBEES.NET
ALL RIGHTS RESERVED.