Who Is The Patron Saint of Bees?


There are a number of candidates for patron saint of bees,  beekeepers and even mead makers. 

Here are some of the key figures, sometimes celebrated on a regional level rather than an international level.
Bees And Their Patron Saints

St Ambrose of Milan
The most common candidate (or, at least, the most commonly acknowledged and cited as patron saint of bees and beekeepers in the West) is St Ambrose of Milan. 
St Ambrose (Ambrose Aurelius who was born around 340 AD) was Governor of Liguria and went on to be Bishop of Milan. 
Legend has it that as a child his face was covered with a swarm of bees who left him unharmed but with a single drop of honey on his face. 
He is usually depicted holding a bee hive. 
Ambrose was known as the 'honey-tongued doctor' because of his eloquence in preaching.  Even today, beekeepers use the word 'ambrosia' for the mixture of pollen and nectar that nurse worker bees feed to the hive's larvae, also referred to as bee bread.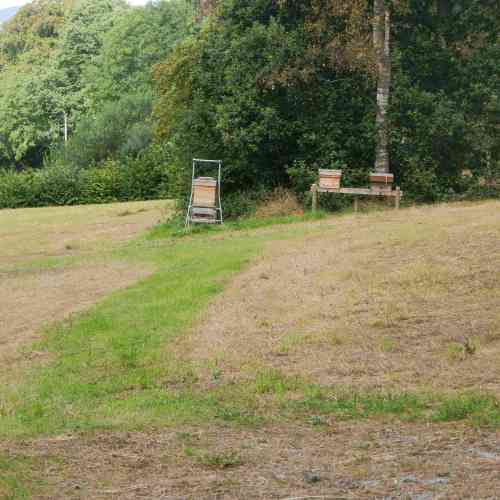 St Bernard of Clairvaux
St Bernard of Clairvaux (1090 – 1153) was an 11th century French abbot who was known for using honey as medicine, and is thus sometimes said to be patron saint of bees.


St Kharlamii of Asia Minor 
St Kharlamii of Asia Minor was also famed for using honey as a cure.  He is celebrated in Bulgaria.


St Benedict of Umbria
St Benedict of Umbria lived in the 6th century. He founded 12 monasteries, leaving 12 monks in each.  (It is St Benedict who created the 'Rule of St Benedict' that has been used by Benedictine monks for over 1500 years).  Since monasteries were known for keeping bees, he become associated with beekeeping. 
The traditional practice of blessing the beehives used to take place on his feast day, and French beekeepers often attach a St Benedict medallion to their hives.
St Gognait
St Gognait (who sometimes goes by the names St Abigail or St Deborah) is an Irish patron saint of bees. It is said that she was a beekeeper and there is a story in which she sent her bees in pursuit of robbers who had stolen her livestock. 
In another version of this story she sent her bees in pursuit of robbers who stole the livestock of the village, not just hers. 
St Modomnock 
Talking about Ireland – there is also St Modomnock who had an association with bees.  He was a disciple of St David in Wales and was said to have kept bees in the monastery garden. 
Upon his return to Ireland, the bees followed him, settling on the ship's mast, and so bees were introduced into Ireland in this way.
St Bartholomew
The apostle St Bartholomew is sometimes said to be Patron Saint of both bees and beekeepers in England (although perhaps more accurately, he is the patron saint of mead makers). 

Why St Bartholomew should be the patron saint of Mead Makers is not clear, however, in the past the saint was associated with a number of traditional trades, including shoe makers, leather workers, book binders, glove makers and farmers.
His feast day (August 24th) is celebrated in a special ceremony in Cornwall, held by the Almoner of the Worshipful Company Of Mead Makers.  The event starts with a church service and then moves on to the Mead Hall. An Almoner, also vicar of the parish, blesses the mead.  
I found the following text from Beatrice Walditch1:
"St Bartholomew and the Worshipful Company of Mead Makers
The patron saint of beekeepers and honey-makers is St Bartholomew. Although one of the twelve apostles he rarely gets mentioned in the Gospels.

His feast day is the 24th August and traditionally honey was collected from hives before this day.
Every year the church at Gulval, near Penzance in Cornwall, has a special service of Blessing of the Mead which is attended by members of the Worshipful Company of Mead Makers. The vicar is also the Almoner of the Company.

After the service everyone processes to the Mead Hall, where the vicar blesses a loving cup – or 'mazer' – full of mead before this is shared by those taking part.
Mazers for drinking mead were traditionally made of bird's-eye maple with silver rims."

St Valentine
A claim is also made for St Valentine – yes, that St Valentine!  However, the only link I can find between St Valentine and bees is that, as a physician, he may have used honey as a treatment for some conditions.

Resources
1. You Don't Just Drink It! - Beatrice Walditch, http://www.hoap.co.uk/

COPYRIGHT 2010 - 2023: WWW.BUZZABOUTBEES.NET
ALL RIGHTS RESERVED.