King Charles, The Bee-friendly Monarch
I was so very sad to hear of the death of Queen Elizabeth II. 
It's the end of an era, and I know her passing is mourned by many: she was the embodiment of service and duty, promises kept, and constancy in a changing and sometimes bewildering world.
Now that we have a new king in Charles, I thought I would pay tribute to our new 'bee-friendly Monarch', as I extend my sincere best wishes for his reign.
King Charles III – the Bee-friendly Monarch

From late 2008, when I first began campaigning for bees I would frequently seek out interesting quotes and snippets of information to intersperse and help lighten the more serious conservation themes I was raising awareness of.
One of the quirky quotes I discovered from a book I own, came from the beekeeper of King Charles II – "A bee is an exquisite chymist [chemist]"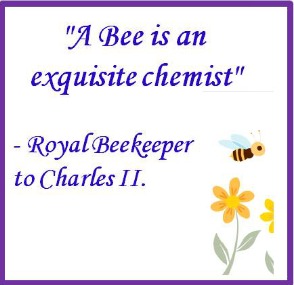 The tradition of beekeeping has long continued within the Royal Family.
Below is a short video concerning a quirky tradition, and the beekeeper of the late Queen at Buckingham Palace, John Chapple.
I have been glad to note that not only has Charles been active in beekeeping for years, but he has long championed the cause of bees whilst he was Prince of Wales.
How Prince Charles Helped Raise Awareness Of The Plight Of Bees
So many people around the world now acknowledge the need to protect and help bees, it might come as a surprise to them to learn that the awareness building took time to develop.
I know how long it took, because I was part of the small group of individuals promoting the campaign before, for example, organisations like Friends Of The Earth came on board in 2012, after the work that secured the EFSA report, which resulted in the EU moratorium on neonicotinoids that followed.
Beekeepers rather than environmentalists were then at the forefront of the campaign, for the simple reason that they witnessed the devastating impacts of insecticides in their hives before the wider impact of these toxins was considered. 
We campaigners were grateful for the intervention of Prince Charles, in a bid to help raise awareness. 
I recall him raising the issue certainly as far back as 2009, as he addressed audiences in his media-attended talks. 
News of the Prince's intervention spread across Europe, such that jars of honey from grateful beekeepers flooded in from all over Europe to Prince Charles, who in the end, was so overwhelmed, he had to ask beekeepers to stop sending them.
Charles remained faithful to the cause of bees, raising the issue frequently, thus supporting the campaign as best he could.
The Beekeeper Monarch
It's quite widely known that not only did Prince Charles embrace organic farming at his vast estates, he has also kept hives both at Clarence House and Highgrove House. 
In fact, one of my key contacts and fellow campaigners, Phil Chandler, was invited to teach his system of natural beekeeping at Highgrove some years ago.
Under the concerned and watchful eye of King Charles III, I feel sure beehives will continue to be maintained at Buckingham Palace.
Support In The Community

His Majesty has for years, been a major supporter of various bee-related initiatives, such as community beekeeping groups up and down Britain, as well as school programs.
He has personally visited the sites of community apiaries and attended individual schools to engage with and encourage the children.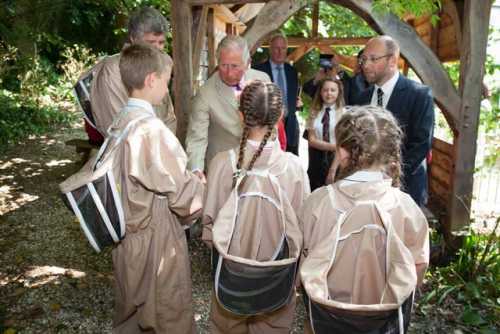 Prince Charles visits a school, Ysgol San Sior (St.George's School) in Wales, UK.
Camilla, the wife of Charles (and now Queen Consort), is the first President of the international charity, Bees for Development, which aims to help individuals in poorer regions of the world become self-sufficient through beekeeping.
A King And A Friend Of The Bees

No doubt King Charles will now have a broad range of duties and pressures that will impact on his time, yet I am confident that King Charles will continue to support beekeepers and conservationists as best he can, that he will ensure any bee-related duties are properly handed on as necessary, and that he will maintain an interest in the welfare of bees.
I pay tribute to the much appreciated efforts of Charles in helping to advance the cause of bees to date, and wish him well for his future as King.
Long live the King!
COPYRIGHT 2010 - 2023: WWW.BUZZABOUTBEES.NET
ALL RIGHTS RESERVED.