Bee Proverbs And Quotations
Quotes and proverbs from a variety of sources, including famous authors.
Isn't it funny
How a bear likes honey?
Buzz! Buzz! Buzz!
I wonder why he does?
-          From Winnie-the-Pooh  by A. A. Milne
There's a whisper down the field where the year has shot her yield,
And the ricks stand grey to the sun,
Singing: - 'Over then, come over, for the bee has quit
the clover,
And your English summer's done.'
-          From The Long Trail by Rudyard Kipling
While the bee with honied thigh,
That her flowery work doth sing,
And the waters murmuring
And such consort as they keep,
Entice the dewy-feather'd sleep.
-          From L'Allegro – by John Milton
And most of all would I flee from the cruel madness of love –
The honey of poison-flowers and all the measureless ill.
– Tennyson
Bee and Honey Proverbs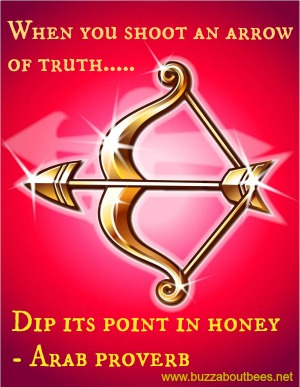 Honey is dear bought if licked off thorns
– 12th Century proverb


Honey is sweet but the bee stings.
- G. Herbert.


A swarm of bees in May is worth a load Of hay, But a swarm in July is not worth a fly.
 - J. Ray – English Proverb 1670


Bees that have honey in their mouths have stings in their tails.
– 15th century proverb.
More Bee Quotes
COPYRIGHT 2010 - 2023: WWW.BUZZABOUTBEES.NET
ALL RIGHTS RESERVED.