Bee Themed Activity Sheets For Children



Here are a number of bee themed activity sheets for kids.  I created these myself as part of my desire to increase free resources for use with children, to teach and inspire them about bees.
They are free to download and include educational puzzles as well as fun-sheets.
Some are educationally helpful about bees and pollinators, whilst some use bees simply as a theme.
Feel free to download and print for use with children, for example in schools and activity groups.
These puzzle and activity sheets remain the copyright of www.BuzzAboutBees.net, and may not be altered or distributed online without permission.
For more activity sheets, links to cut out and keep bookmarks, activities and craft ideas, as well as pages to paint and so on, please click here.
Bee Themed Educational Activity Sheets For Kids
Bee-themed quiz puzzle
Match the pictures (teaches children about bee behaviours)
Bumblebees love lavender – maze puzzle
Bees and flowers puzzle





General Bee Themed Activity Sheets And Puzzles


Bee themed word search
'Spot the difference' bee coloring page


Bee puzzle – find the small grid inside the large grid
Honeycomb word search puzzle
Which bumblebee is the odd one out?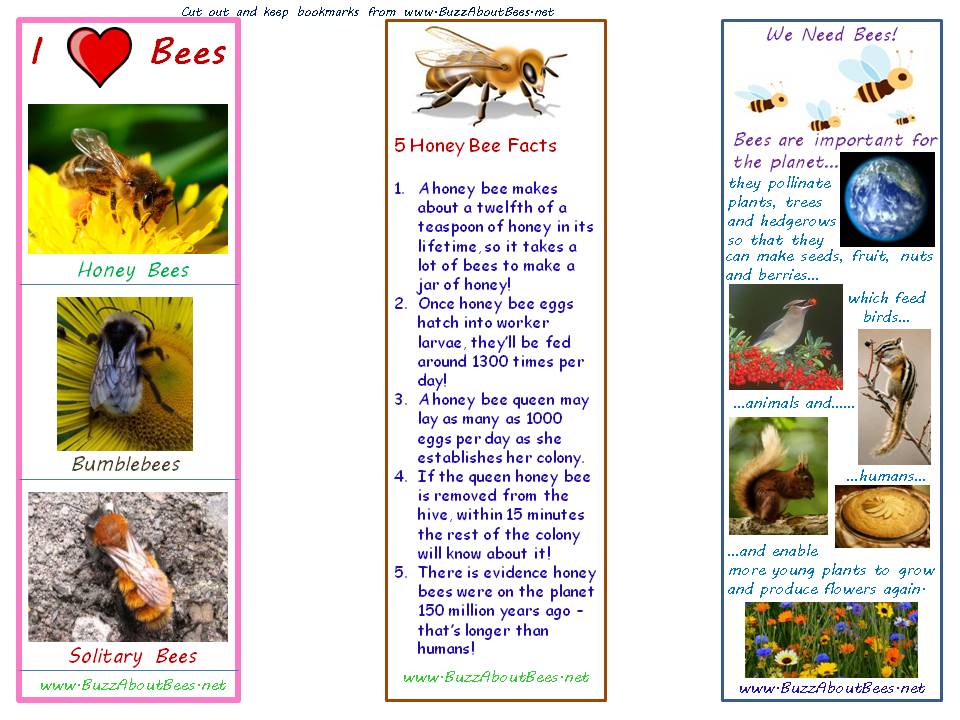 Get a bee-themed bookmark


Go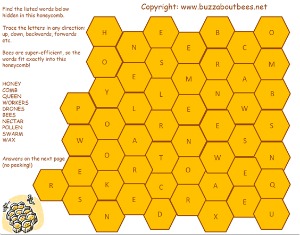 Activity Pages
Puzzles, coloring pages and more
Wacky Fact
Did you know?

If the honey bee queen is removed 
from a hive, within 15 minutes,
the rest of the colony
will know about it!


Read more about the honey bee queen

How do bees make wax and why?
Wacky Fact!

Did You Know?

Male honey bees (drones) 
have no father, but they do have a grandfather!
Does that sound impossible?

COPYRIGHT 2010 - 2019: WWW.BUZZABOUTBEES.NET
ALL RIGHTS RESERVED.