Planning And Planting A Bee Friendly Garden


Updated: 26th April 2021

There are many resources on this website to assist you in planting a bee friendly garden, with a variety of flower lists and handy tips.  To supplement this information, I have created a 'Bee Friendly Gardening' Poster set, which is a downloadable PDF file, consisting of 3 pages of tips. 

It can be printed and shared with garden clubs, schools and allotment societies.  See 'Planting A Bee Friendly Garden' downloadable PDF.
(Please note, the link opens a new window - may need a little time depending on your computer).

This page raises a few points you may wish to consider in your design, but firstly, let's expel a few myths about wildlife and bee friendly gardening generally.

Myths About Planting A Bee Friendly Garden
Contrary to popular belief, bee friendly does not have to mean 'wild' or even 'messy'.  It is even possible to have a formal, neat garden, and yet have a bee friendly garden, as long as you include the right selection of plants and cut out pesticides.


A bee friendly garden does not have to be high maintenance either.  With the correct selection of plants and ground cover, it can actually be designed to be low maintenance.


You don't have to include wildflowers, but if you have a border, why not include a few?  A wildflower lawn is wonderful, but if it is not practical for you, don't worry, there are other things you can add to your garden.


You don't need to have a lot of space.  You just need to make the most of the space you have.  Think 'feeding stations for bees'. 


Perfect growing conditions are not necessary, though of course, they can make life easier.  However, you will need to take into account the conditions that you have in terms of sunlight, soil, rain, wind, and then select plants accordingly.


4 Key Planning Steps In Creating A Bee Friendly Garden
Needs, Wants, Constraints
Identify your needs and wants from a garden, as well as those of your family, from the outset (your garden is for you to enjoy too!), as well as your personal constraints.


Which Bees?
Research the kinds of bees you could attract to the area, or whether you wish to keep honey bees.  This will affect the choice of plants.



Local Area
Research the local area and your own planting conditions.  How can you best meet the needs of pollinators and plug any 'planting gaps' for the bees you could attract?


Draw Plan
Draw out your plan, taking into account positions of plants, variety, and flowering season.

I will now expand on these points below.

1. Needs, Wants, Constraints
Be realistic and practical, otherwise you may find yourself going to the pointless expense and effort of changing it later. 

If, for example, you have young children who run around in open toed sandals in summer time, you may think twice about a flowering lawn that attracts bees, as tiny toes could accidentally get stung.  
If your garden is sufficiently large to enable you to dedicate a separate area to a flowering lawn, then obviously, that's a different matter.

Also, it's no use creating a garden you and your family cannot enjoy, and there is no need to do so!

I recommend creating a list to help you be clear from the outset, for example

Safety for the children and pets if you have any, e.g. no toxic plants;
Seating area;
Visually pleasing space that you can relax in an enjoy;
Space to hang out washing;
Disguise a messy area;
Encourage other wildlife (a pond is a great help here, and also useful for bees);

A patio;
Growing edible crops.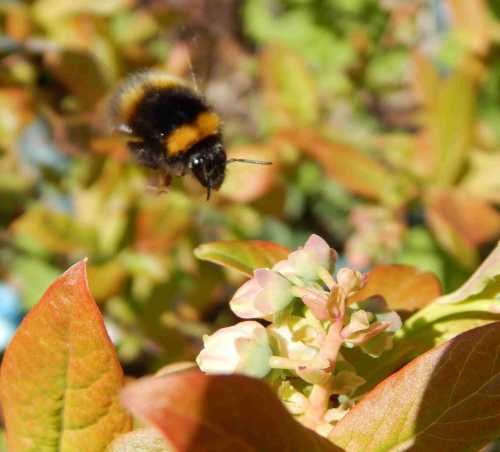 Above: bumblebee flying toward blueberry flower
Your constraints might include some of these points:
A personal experience....
Years ago, I tried to convert our small back garden into a mini-meadow.
After a couple of years, we had little floral variety, and a garden that we ourselves gained little enjoyment from. 
There were very few pollinator visitors.  
Eventually, we redesigned the garden to include 2 flower borders, with wildflower varieties within the borders, fruit, a greenhouse,  soft fruit patch and some vegetables, and a makeover of the pond and patio area. 
We now get far more species of pollinators than we did before, and we enjoy our garden! 

2. Which Bees? 
I recommend you do some research into local species, and the kinds of plants they need. 
This is a great opportunity to provide foraging opportunities for less common species. 
To find out about species local to you, do some investigation online.  Your local environment agency or conservation organisations may be a good place to start.
You may be surprised by the success of your efforts!

A few years ago, I decided I wanted to attract Hairy Footed Flower Bees,  so I planted Pulmonaria. 
I began to see this species of bee 2 years later. I am working on increasing my patch of Pulmonaria. 
You may or may not have to wait so long for your target species to appear, but do take a long term view, and ensure you can provide for the species adequately.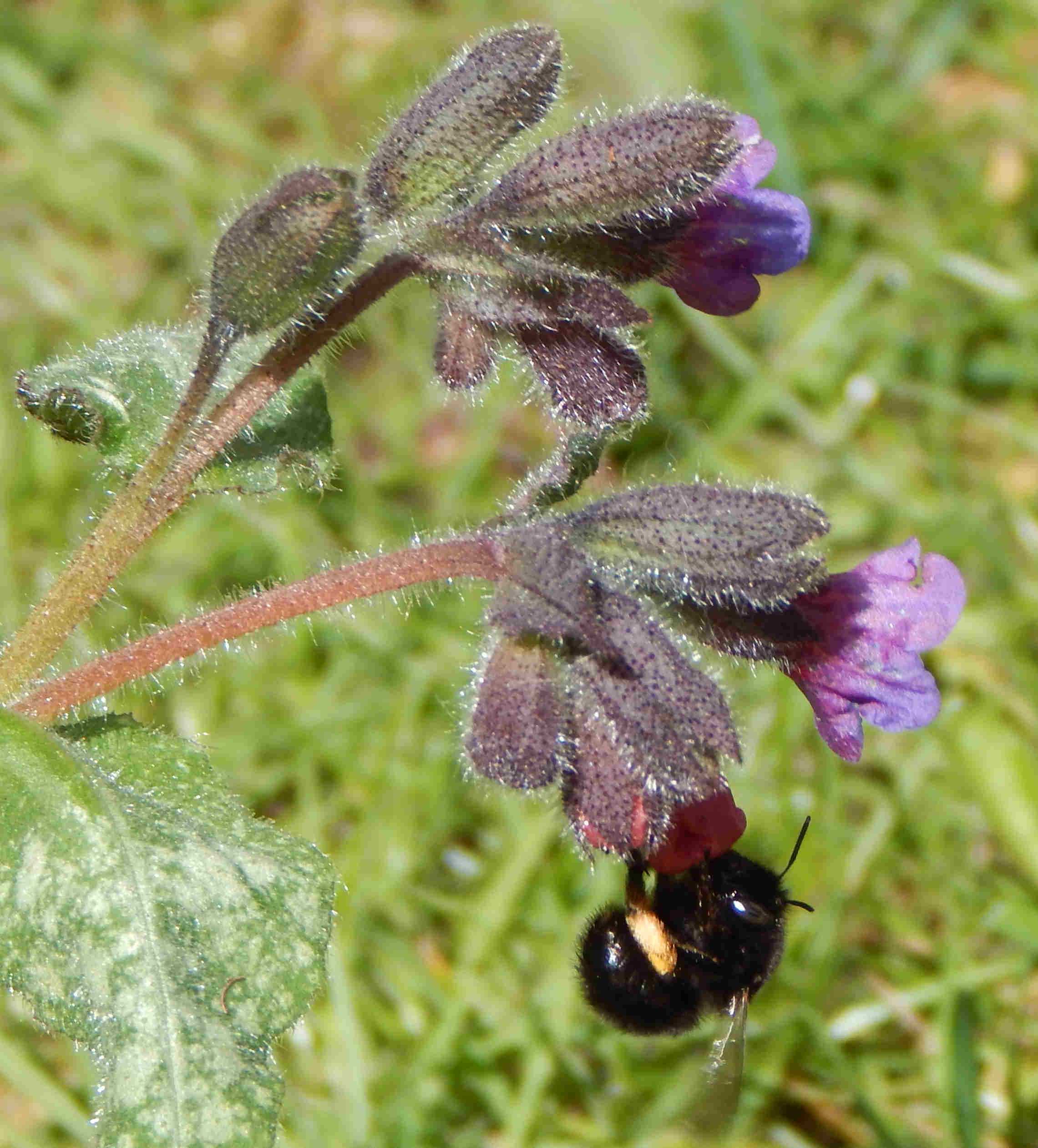 Above: Hairy footed flower bee on pulmonaria
I also wanted to attract Wool Carder Bees, so I planted Lamb's Ear.
I had to wait longer for this species to show up, despite having 3 good sized patches of this flower type, but other bees have enjoyed foraging on the plant in the meantime.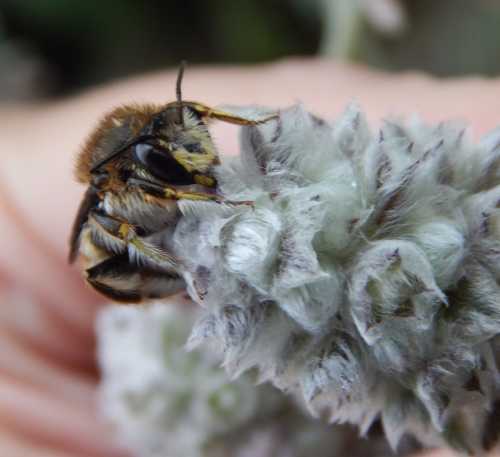 Above: Wool Carder Bee on Lamb's Ear
Tip!

If you are planting for specific species, divide your plants and giving them away to neighbors, in order to ensure there are plenty of 'feeding stations' for these bees locally. 
The same plant will reach its peak flowering and nectar secretion stage at slightly different times depending on the aspect and growing conditions, thus potentially extending the availability of food for bees.
3. Local Area 
Research the local area and planting conditions.  How can you best meet the needs and plug any 'planting gaps' for the bees you could attract?
Take a walk around the area, and ensure you do so through the year.  Make a note of vegetation that is already supplied in ample quantity to avoid unnecessary replication.
Make a note of any gaps you would like to fill in order to help the bees.  

Example:  I know there are many gardens with Ceanothus in my area, and there is a lot of Comfrey around locally, so I don't include them in my garden.

See my guide about planting native or non-native plants in your garden.
4. Draw A Plan 
Draw out your plan, taking into account positions of plants, variety, and flowering season.
This could vary from a rough sketch, to a carefully measured scale drawing.
Here are my tips:
Take a photograph and print it out.  Draw your designs on top of the photograph to help you visualise the scale and design.


Pay attention to the sunny spots in your garden, and mark these on your plan. However, there are also plants and bulbs you can add to dappled shady areas. 


I tend to use markers outside, such as string and canes.  This really helps us understand the scale and space available. 

Summary
In summary: plant a bee friendly garden you and your loved ones can also enjoy as well as the bees, and no doubt you'll feel encouraged to spend time outdoors, observing nature close up!
COPYRIGHT 2010 - 2023: WWW.BUZZABOUTBEES.NET
ALL RIGHTS RESERVED.