Free Plants For Bees

If you are on a budget, or simply have a large space to fill, here are some ideas to help you get hold of plants for free, that will help bees and other pollinators.

Creating a bee garden complete with bee attracting plants does not have to be expensive.  On this page, I'm going to share some ideas about how to get hold of free plants for your garden, so that you can attract pollinators to your garden, and feed the bees.

In these difficult economic times, many people are on a tight budget, but would still like to include some great bee plants in their gardens.

Generations before us have managed to grow abundant gardens on very limited budgets. We can do the same!

Perhaps we've grown very used to 'the quick, convenient route' to everything, but increasingly, many of us are interested in sustainability and the joys of sharing and recycling. I think these feelings are beginning to affect the way we garden too!

By the way, if you have plants to give away for free, and you know they are loved by pollinators, please put out a note on your local facebook page, or other local 'notice board'.

Below are my tips:

If you are a school or official charity or community group, you may be able to benefit from a donation via a commercial company.  I know this is possible, because I have personally facilitated it.

I was approached by a school seeking seeds for a project.  I managed to locate a successful supplier of  just the right kinds of seeds, and with good ethics.  I put in a request on the school's behalf, and the request was successful!

I don't think it was necessary for me to act as an intermediate, but I was curious to see what would happen.  If you are a school or community group, do some research on-line.  You may be surprised!

Learn how to take cuttings. Many bee friendly plants will propagate easily from cuttings. Try out single-petalled fuchsias, hebes, mints, penstemons and rosemary.

It's also possible to get free lavender plants by taking cuttings, although they can be more difficult to establish. They require well-drained, gritty soil. Use the new growth. Check out my links to lists of best bee plants.
Divide clumps and swap them with neighbours! Many clumps of bedding plants can easily be divided up, with no harm to the plant whatsoever. Bedding campanulas are an excellent example – I literally have about 6 different clumps of it around my garden. It is loved by bumblebees and leafcutters.

Usually, I focus more on dividing plants when I want to encourage visits from a particular bee species.  I then dot them around the garden to increase the amount of forage (there are also subtle differences in ultimate flowering time, depending on sunlight, and position within the garden, so I can extend the provision of forage in this way).

Plants such as Beach Aster, Pulmonaria, cranesbill-type hardy geraniums, and Polemonium can easily be divided. I have a number of clumps of polemonium dotted about I have several patches of Lamb's Ear (Stachys Byzantina) - since I have focused on increasing the population and visits from Wool Carder bees.  Some are easily divided from clumps, others can be divided by removing the new offspring from the sides.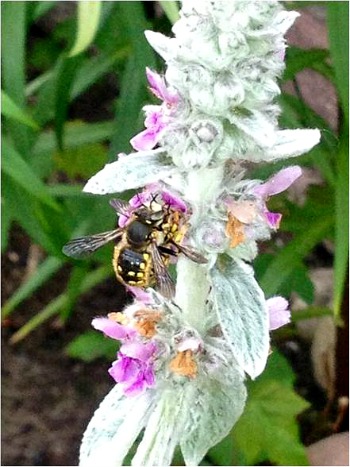 Above, Wool Carder bee on Lamb's Ear (Stachys Byzantina). Long flowering, and loved by a variety of bees, it has a gorgeous velvety foliage.

Aubretias are also a beautiful bedding plant that attracts bees, and responds well to being divided.

Remember, you can also swap clumps with friends and relatives to get access to new varieties – they will probably appreciate receiving free garden plants too! Find out whether your local gardening club has a swapping scheme.

| | | |
| --- | --- | --- |
| | | Divide and swap bulbs! Even if you are growing daffodils or crocuses, don't assume that because they are common, no-one will want them.  |
Swap them for other plants with friends and relatives. Failing that, again, sell them at the local bazaar, and use the money to purchase more plants!

If not, simply give them away!  Why not?  Personally I believe good deeds come back to us all eventually!

Collect seeds - it's the ideal way to get free plants for next year! This sounds obvious, but it's amazing how many people ignore this opportunity!



Phone your local council, or ask a local conservation organisation whether they have any native trees, hedgerows or shrubs for free. Many local councils will provide one or two free trees or shrubs, as part of their scheme to increase biodiversity in the region. Our local council, and a charity, used to collect saplings from appropriate areas, and offer these to the public.  You may be amazed at the conservation work that is happening on your doorstep!

Check that the specimen you select is appropriate, in terms of soil and size at full growth! See this list of trees and shrubs for bees.
Search the net for free packets of wildflower seeds. A number of organisations are giving away packets of wildflower seeds in order to help save the bees. Ensure the seeds are native to your country, and check to see if they are good for bees and other pollinators by checking my wildflower list.
Join a gardening group, because you'll probably meet up with a number of members who are happy to swap plants with you.

Do you ever celebrate by giving and receiving gifts?  Make a list of suitable plants, and add them to your birthday or Christmas wish list. 

Nearly Free Plants!
Sometimes, it's possible to pick up garden plants that are not quite free, but are excellent value for money:

1. Some gardening magazines include offers that enable you to purchase good plants, merely for the price of postage.

2. You may also come across special offers in gardening catalogues, whereby you may receive free plants with any order.

3. Attend car boot sales and local bazaars – they often have plant stalls, enabling you to pick up some good bargains. I tend to check whether or not the seller has used pesticides, or products containing them, such as compost containing vine weevil killer.

Also, you may gain great value by checking on-line retailers.  Perhaps you could purchase a packet of seeds which can be shared with others (hence sharing the costs).  I find there are often more seeds than I need in a packet anyway!
Here are some examples from Amazon.com:

Below, are more links to areas of my site where you'll find more lists of plants for bees, as well as how to attract bees into the garden.
Plants for bees

Useful lists of plants and information about plants that attract bees, including garden plants, wildflowers, herbs, trees and shrubs as well as fruit and vegetables.
Plants for problem places

Even if you have a shade garden, drought or clay soil, you can select plants that benefit bees and other pollinators.
Bee garden

So now you've got your free plants - link to these handy tips about how to create a garden for bees!
10 Ways to save the bees!

Here you'll find 10 simple things you can do to help bees and other pollinators - why not share them with your friends? For a background to some of the issues facing our bees, check out my page called
Missing Bees.
Go back from Free Plants for Bees to Home page
COPYRIGHT 2010 - 2019: WWW.BUZZABOUTBEES.NET
ALL RIGHTS RESERVED.