Shade Garden Plants
For Bees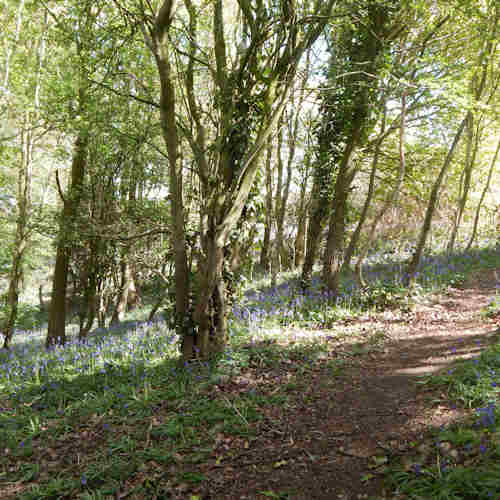 Bluebells in the woodland close to my home. There are quite a few bees in this woodland, despite the shady areas.
Which are the best plants for bees in a shade garden?  What can you grow for bees in such challenging conditions?

Although it seems pollinators prefer foraging in sunshine, a shade garden can provide a number of opportunities for wildlife, including bees, particularly if the shade is caused by hedgerows or trees.   To an extent, wooded areas can provide their own set of opportunities for some bee species.
I have a number of shady spots in my garden, some of which are also quite dry.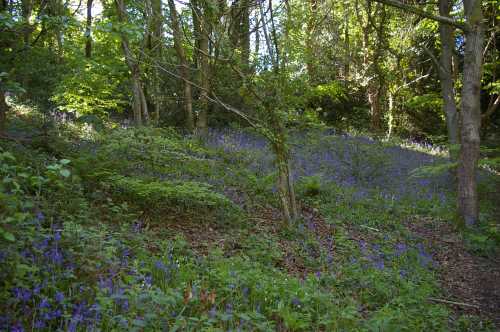 To an extent, wooded areas can provide their own set of opportunities for some bee species.
In the past, I thought that shade gardens were automatically 'problem gardens', and that nothing would grow in them. However I now believe that this is not necessarily true - it depends to a large degree on the depth of the shade and other conditions, such as moisture. 
I'm not saying its without its challenges, and yes, I think gardens that have a fair amount of sunshine are easier to deal with - and selecting flowers to attract bees and other pollinators in such scenarios is certainly more straight forward.
However, many garden have a few shady patches here and there. 

So, in short it seems to me that you have to make the best of your situation.  This was the conclusion I came to, so I looked to nature for evidence that gardening with shade and attracting bees is possible.

Nature has the answers - of course!
When I contemplated the rich diversity of plant life in forests and woodlands, I realised that there are plants that can tolerate different degrees of shade (tolerate being a key word here), and specifically, there are quite a few that are happy in light to medium and dappled shade, including bluebells, wild garlic and wood anemones.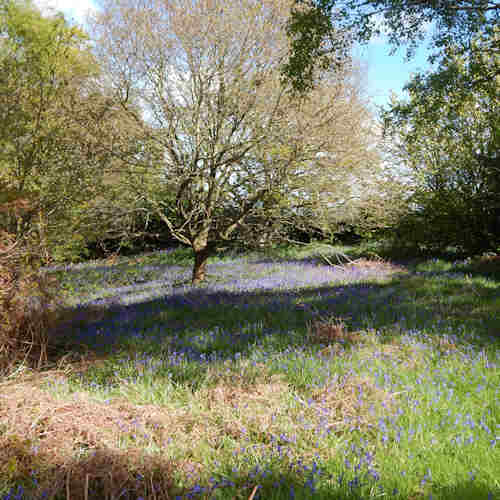 These shade tolerant plants are also valuable to wildlife - for example, woodland wildlife, where tree canopies restrict the light.
Some flowers can tolerate quite deep shade for at least a part of the day.  Whether or not bees will visit those flowers is another matter.  I suspect it depends what else is available.  I suspect experimentation is key here.
Nevertheless, shade gardening has its challenges.

So, here are my thoughts about using shade for the benefit of wildlife, and bees, and which plants you could try in a shade area.


Bees and the shade garden


When seeking suitable nest sites, bumble bees make look for shady crevices in old walls.
Shade can sometimes provide the right conditions for a bumble bee nest.
Have you ever noticed bumble bees flying up against the windows of your house, investigating dark shady spots beneath the garden shed, hovering around dark holes in the lawn, or poking in dark wall crevices?
Chances are, they are looking for a suitable nest site.

Below is a video clip - this compost bin was in a spot that permanently had dappled to medium shade.  It has a bumble bee nest in it, but I have seen nests in more shaded places.


Flowers to attract bees in a shady area of the garden
The following are just a few examples of flowering plants that will tolerate at least some shade.  
Note: some of these may or may not be toxic to humans and/or pets.  I'm not a horticulturalist,  so I won't provide advice on this topic.

English bluebells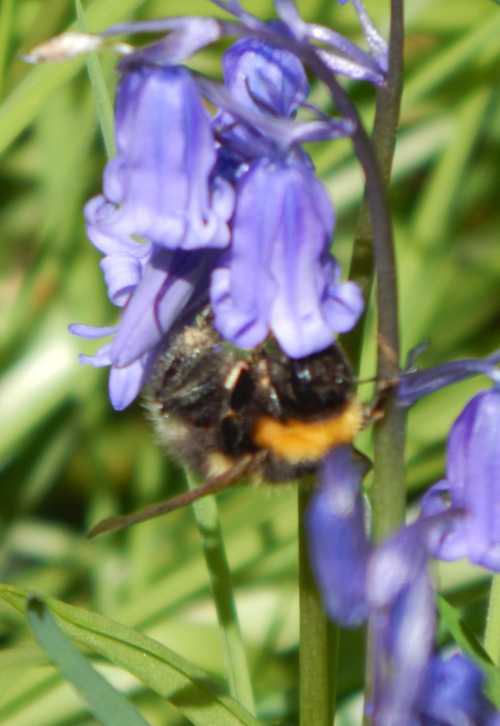 Bees love English bluebells.
English bluebells will tolerate a fair amount of shade.  I have seen bees foraging in such conditions many times.
Hardy geraniums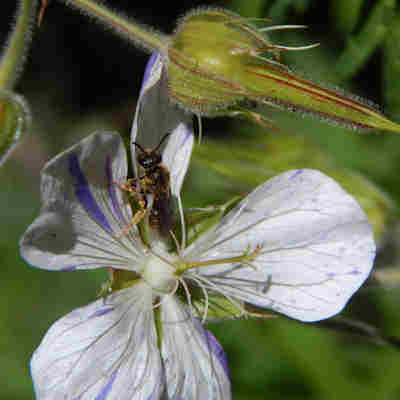 I have found hardy geraniums to be useful in a fairly shaded area, and they can seem to tolerate quite dry conditions. Geraniums are attractive to a range of bees, including solitary and bumble bee species.
Common foxglove - Digitalis purpurea
As I write, it has been a great year for the biennial foxgloves in my garden.  Most are in sunshine during the morning, but they have tall shrubs and trees behind, and this patch quickly grows darker and more shaded during the day.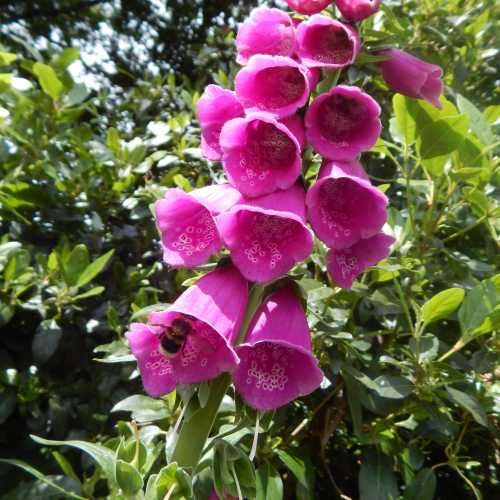 Bumble bees cannot resist the common foxglove, Digitalis purpurea.
Foxgloves (I have the common foxglove, Digitalis purpurea) are so attractive to bees that the shade never seems to put them off.  Indeed, when they were in full bloom, it was probably the busiest part of my garden where the bees are concerned.
Bell flower - Campanula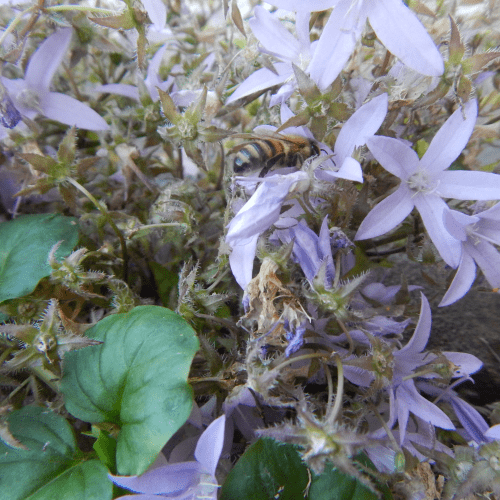 Honey bee on bell-flower Campanula in a shady part of the garden.
There are many wonderful varieties of Campanula (bell flower), and an abundance of bees that will forage upon them.  I have had 3 different types of low growing, spreading Campanula in the past, and all have been a hit with the bees.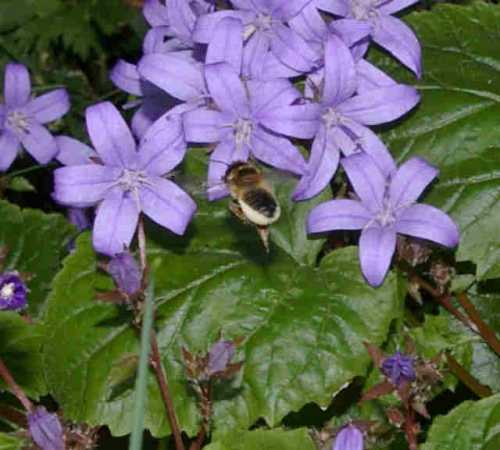 Leafcutter bee approaching a clump of Campanula in another shady area of the garden.
I still have quite a few patches, much of it growing in the shade, and some of it filling nooks and crannies around walls and pavements.  I commonly see honey bees, leafcutters, mason and bumble bees foraging on it - regardless of the shade.
Wild garlic / ramsons - Allium ursinum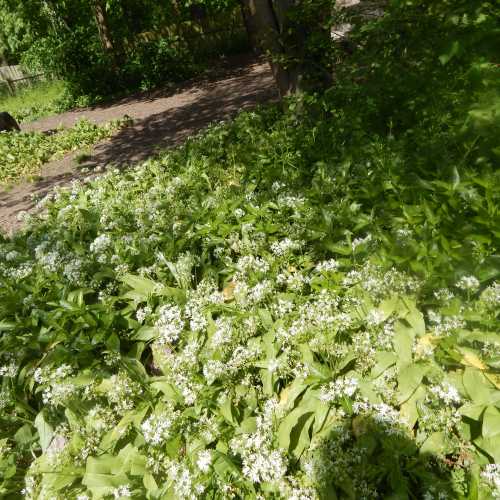 If you have a wooded area in your garden, wild garlic - Allium ursinum, would be a great choice.
As stated earlier, flowers that grow in woodlands are generally well adapted to cope with at least some shade.  If you have a wooded area in your garden, wild garlic (otherwise known as 'ramsons') - Allium ursinum, would be a great choice.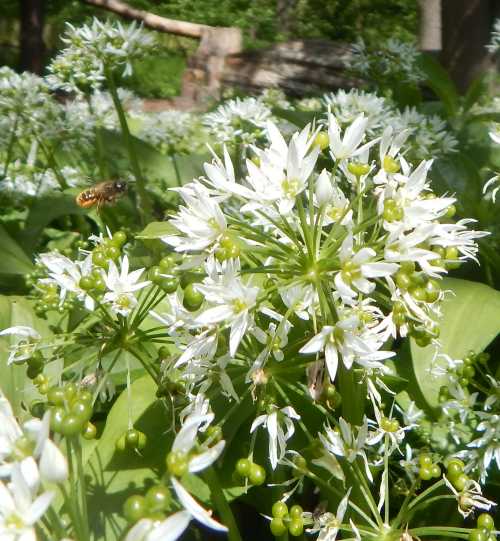 Red mason bee flying toward wild garlic.
Earlier this year, I spent about 15 minutes around this small patch of wild garlic in a wooded area, and saw many bee species.  I would have liked to stay longer - preferably with a better camera!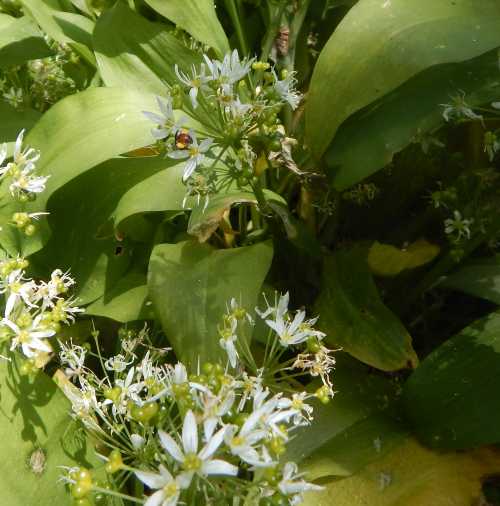 Look carefully - can you spot the red-girdled mining bee in this picture? It has its head right inside a floret.
Anyway, within about 15 minutes I saw mason bees, mining bees, various nomad species and honey bees - and I was hardly trying.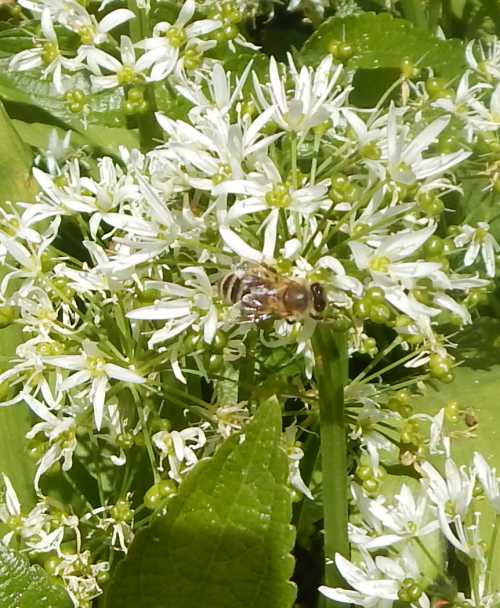 Honey bee on wild garlic.

The conclusion is that if you have space for wild garlic, do consider it.  Note they are quite pungent when in flower - I rather like it - for me it's a cross between the garlic bulbs we eat, onions and sage.


Other plants and tips for a bee-friendly shade garden

Don't forget about spring bulbs: crocuses, carefully selected daffodils and snowdrops look beautiful planted in swathes around wooded and shady areas.
Other shade / partial shade tolerant plants that are attractive to bees include:
M

asterwort - e.g.

Astrantia helleborifolia, Astrantia major

'Claret'

Fairy bellflower - Campanula persicifolia
Knotted cranesbill - Geranium nodosum
Dusky cranesbill 'Lily Lovell' - Geranium phaeum 'Lily Lovell'
Lungwort 'Blue Ensign' - Pulmonaria 'Blue Ensign'
C

ohosh bugbane /

black snakeroot

- Actaea racemosa
Plantain lily - Hosta
Turkish sage - Phlomis russeliana
Deam's coneflower - Rudbeckia fulgida var. deamii 

Ivy -

hedera helix

Holly -

Ilex

Oregon grape -

Mahonia

Guelder rose -

Viburnum opulus
Rhododendron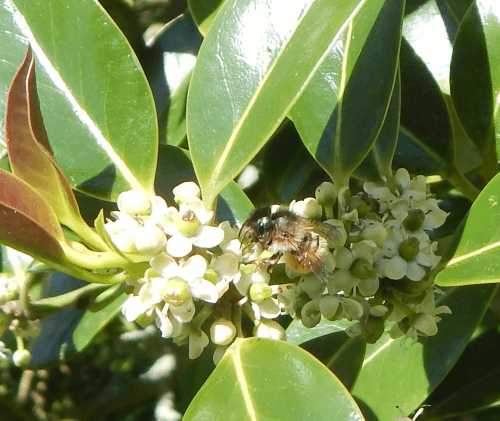 Bee foraging on holly flowers - Ilex.

Please note, do check suitability for planting in your country and region (for example, to ensure they are not considered invasive in your area), and as with all plants, check for toxicity if you have pets or children.



In my experience, bees do seem to prefer foraging in the sunshine, but to some extent, shade gardening for bees and pollinators is about experimentation.
There are possibilities.  You can only try it and see!
Go back from Shade Garden Plants for Bees to Home page
COPYRIGHT 2010 - 2021: WWW.BUZZABOUTBEES.NET
ALL RIGHTS RESERVED.