Banana And Honey Tea Bread Recipe




Bananas and honey are great together.  This recipe also has the zest of a lemon for that extra yummy factor.
To make this delicious banana and honey tea bread, first make sure you have a suitable loaf tin and greaseproof paper. 

You can experiment with different toppings (some suggestions below) - bananas and honey are great combined with nuts (especially pecans, walnuts and hazelnuts) and dried fruits such as coconuts.
You can also experiment by substituting honey for apricot jam or orange marmalade, but of course, it will no longer be honey and banana bread!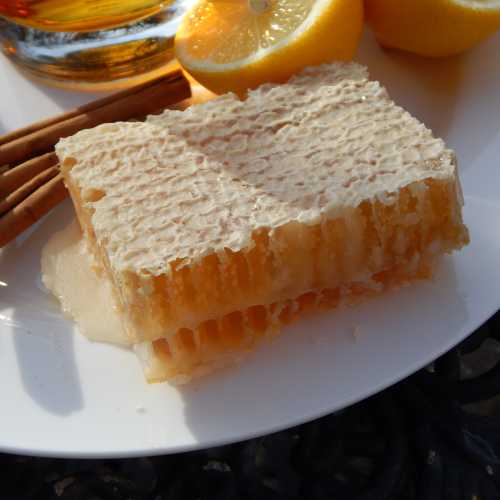 Banana and honey tea bread recipe


Ingredients
450g  (1lb) Bananas
90 ml (6 level tablespoons) thick honey
225g (8 oz) Self raising flour
2.5ml (Half a teaspoon) of salt
1.25ml (Quarter of a teaspoon) of freshly grated nutmeg
125g (4 oz) Butter or block margarine
125g (4 oz) Caster sugar
Grated rind of 1 lemon

2 Medium eggs, beaten
Icing (powdered sugar) to decorate
Method: 
Grease and line a 3 pint (1.7 litre) loaf tin (measuring about 20 x 13 cm/ 8 x 5 inches).


Remove and discard the banana skins, mash the banana flesh well.  Set aside.
Sieve the flour, salt and nutmeg into a mixing bowl, then add the butter/margarine, and rub the fat into the flour mixture until the texture resembles fine bread crumbs.
Add the sugar, lemon rind, beaten eggs and honey to the mashed banana and stir together.
Add the banana mixture to the flour mixture together, and combine well until evenly mixed.
Pour the mixture into the tin.
Bake in the oven at 180°C (350°F) gas mark 4 for about 1¼ hours. 
Test the teabread with a fine skewer, which should come out clean if the bread is cooked.
Once cool, turn out onto a wire rack.
Dredge with icing (powdered) sugar.

Alternative Toppings For Banana And Honey Tea Bread
Icing And Coconut
Top with icing and dried coconut shavings or create a honey topping as follows:
Honey Crunch Topping
Gently heat 2 tablespoons of honey and brush over the tea bread.
Sprinkle a couple of teaspoons of rock candy sugar over the top, or crush 6 – 8 sugar cubes and scatter immediately over the top of the loaf. 
You could also experiment with few chopped nuts, such as pecans.
This banana and honey tea bread makes a lovely snack, afternoon tea treat, or wrap it in pretty brown paper with a ribbon and present it as a gift (to be eaten immediately of course!)