Honey vs Maple Syrup


Both are sweet, both can be used on pancakes and added to recipes and deserts. 
But which is better for you, honey or maple syrup?
I've already looked at agave nectar and honey vs sugar, so why not a comparison of maple syrup and honey too?

The following information has been compiled using nutritional data, looking at calories, carbohydrate, vitamins, minerals, protein and amino acids. 
As such, it is a completley objective comparison, based on a 100g serving of each.
Honey vs Maple Syrup: Calories And Carbs

Based on 100g of honey and 100g of maple syrup.
---
| | | |
| --- | --- | --- |
| Calories | 304 | 261 |
| From carbohydrate | 301 | 259 |
| From Fat | - | 1.7 |
| From Protein | 1 | - |
---
Of course, both are high in calories. 
The fat contained within Maple Syrup appears to be primarily Omega 6 fatty acids (100mg) and Mono & Polyunsaturated fat (each 0.1g).
---
Carbs per 100g


82.4g

(27% DV)


67.1g

(22% DV)


Sugars


82.1g


59.5g


Sucrose


890mg


56278mg


Glucose


35744mg


2370mg


Fructose


40934mg


880mg


Maltose


1440mg


-


Galactose


3100mg


-


Dietry Fibre


0.2g


-

---
If you are an athlete or requiring a high-energy diet, then the composition of the carbohydrate of foods may be of interest to you. 

Why?  Because you may be wanting to structure your calorie intake to gain immediate versus sustained energy boosts.
It appears that Maple Syrup would provide you with an immediate energy boost, whereas energy would be released from honey more slowly.
However, if you are on a diet, both are offering high calories, and it is better to select your carbohydrate intake from higher fibre, low calorie foods such as fresh fruit and vegetables.

If comparing Maple Syrup and Honey within the context of the average adult diet, then there appears to be little meaningful benefit of one over the other in terms of calories and carbohydrate, unless the type of carbohydrate you consume is important to you.
Honey vs Maple Syrup: Minerals

Again, 100g of honey and maple syrup are compared below.  But which is best?.........
---
Calcium


6mg (1% DV)


67mg (7% DV)


Iron


0.4mg (2% DV)


1.2mg (7% DV)


Magnesium


2mg (0% DV)


14mg (3% DV)


Phosphorus


4mg (0% DV)

2mg (0% DV)


Potassium


52mg (1% DV)

204mg
(6% DV)


Sodium


4mg (0% DV)

9mg (0% DV)


Zinc


0.2mg (1% DV)

4.2mg
(28% DV)


Manganese


0.1mg (4% DV)


3.3mg
(165% DV!)


Selenium


0.8mcg (1% DV)


0.6mcg
(1% DV)


Flouride


7mcg


-


Copper


Trace (2% DV)

0.1mg (4% DV)

---
Some minerals are only required in tiny amounts, but this varies, depending on the mineral.
But maple syrup vs honey?..,..,.It can't be ignored....  in terms of mineral content, maple syrup is actually better than honey! 

If you are seeking to increase the manganese levels in your diet, then maple syrup is best!  Manganese is beneficial for skin and bones, although, is it possible to have too much?
The level of zinc is also quite high in maple syrup. 
Zinc has a role in cell division and growth, wound healing, and interestingly, carbohydrate breakdown.  It is also believed to be a helpful deterrant against the common cold. 


Maple Syrup vs Honey: Other Nutritional Elements


---
Water


17.1g


32.1g


Ash


0.2g


0.6g


Omega 6 Fatty Acids


-


100mg


Vitamins


Choline


2.2mg


1.6mg


Vitamin C


0.5mg (1% DV)


-

Niacin


0.1mg (1% DV)


-

Folate


2mcg


-

Pantothenic Acid


0.1mg (1%DV)


-

Betaine


1.7mg


-
---
Honey is better than maple syrup in terms of vitamin content, although the vitamin content of honey is low generally - and other sources of food do admittedly have higher vitamin levels, such as fresh fruit, for example, 125g serving of fresh apple will give you 10% of your Vitamin C recommended Daily Value, but only 3% of your DV calories, so clearly, if you are dieting, an apple is better.
This is not the whole story regarding honey, however, because honey has some anti-bacterial properties.  You can read more about this here.
Are there really any health benefits of taking 'Bee Pollen' or is it just hype?
Honey For Hair Masks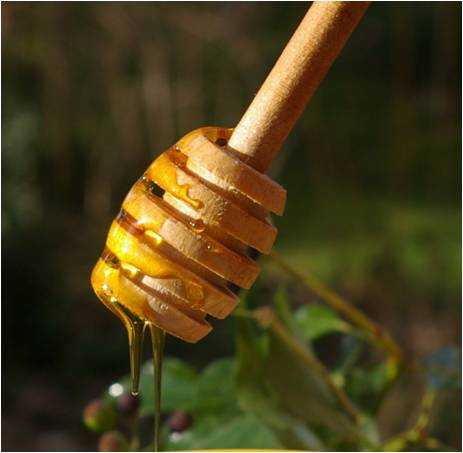 Go back from Honey vs Maple Syrup to home page
AFFILIATE DISCLOSURE:  
As an Amazon Associate I earn from qualifying purchases which help me to fund my site and provide free information to visitors.  You can read more here.
Amazon and the Amazon logo are trademarks of Amazon.com, Inc. or its affiliates.

COPYRIGHT 2010 - 2020: WWW.BUZZABOUTBEES.NET
ALL RIGHTS RESERVED.