Honey Cake Recipes



Why not try a scrumptious honey cake recipe. Here are 2 recipes to choose from.

However, please note, this is a website concerned about the welfare of bees - please see the notes below on purchasing honey ethically.
Polish Honey Cake Recipe
Experiment by adding a little fruit  - dried, or grated apple or pears for instance.  If you do, remember to adjust the cooking time - keep checking with a skewer to ensure the cake is cooked.

175g / 6oz honey
4 eggs, separated
A little caster sugar
50g / 2oz light brown sugar
Half teaspoon vanilla essence
90g / 3½ oz fairly dry bread crumbs
90g / 3½ oz finely chopped walnuts
150ml / quarter pint whipped cream to serve
Method
Heat the oven to 180 °C / gas 4 / 350 °F. Use a 10 inch (250 mm) fluted brioche mould or similar (to hold about 3 and a quarter pints / 1.9 litres). Grease the tin and line the base., and sprinkle with the caster sugar.
Stand the honey in a jar of hot water to warm it through – for about 15 minutes. Measure (175g / 6oz ) the now warmed honey into a mixing bowl, and add the egg yolks and brown sugar. Whisk the mixture until light and foamy, then add the vanilla essence and whisk into the mixture.




Combine the bread crumbs and walnuts.

Whisk the egg whites, until they are stiff, then fold the egg whites and bread crumb mixture (a little at a time) into the honey mixture, using a metal spoon.

Empty the honey cake recipe mixture into the prepared mould, and bake in the centre of the oven for 40 -50 mins until risen and golden brown. Leave to cool then turn onto a wire rack. Serve the cake with whipped cream if desired.



Variation: Substitute the honey with apricot jam.

Spiced Honey Cake Recipe


115g /4oz light brown sugar
150g /5oz butter
175g / 6oz clear honey
200 g /7 oz self raising flour
Half teaspoon each of: ginger, ground cloves, cinnamon
Quarter teaspoon caraway seeds
1 tablespoon water
2 beaten eggs
350g / 12 oz icing sugar
Method
Heat the oven to 180 °C / gas 4 / 350 °F, and grease a 900ml/ 1½ pint fluted mould.

Place butter, honey, sugar and water in a pan, and heat gently until butter is melted and sugar has dissolved. Remove from the heat and allow to cool.

Meanwhile, sift the spices with the flour. Make a well in the flour mixture, then pour in the cooled honey mixture and the eggs. Beat until smooth. Pour into the tin and bake for 40 – 50 mins until the cakes is well risen and golden brown.




To check the cake, insert a skewer into the centre – it should come out clean.



Variation: Substitute the honey with orange marmalade or apricot jam. Or, substitute the honey with marmalade with orange marmalade minus one tablespoon, which you can replace with maple syrup.



Try this delicious Banana and Honey Teabread Recipe
Honey Glaze Recipes

From classic glazes to glazes with a 'twist'



Go



Bees And Honey

Please be sparing with honey. A honey bee will only make about one twelfth of a teaspoon of honey in its lifetime. Please treasure any honey you use, and try to purchase honey ethically. See these Honey Buying Tips or buy honey only from a beekeeper you trust. Honey bees may unfortunately be exposed to toxic chemicals on farmland. By supporting the organic industry, you send a signal to retailers and ultimately to farmers. For more information about the background to the agriculture industry that supports high chemical use, see The War on Bugs.
Did You Know?

Honey will keep indefinitely in a jar.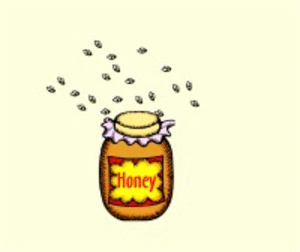 Did You Know?
Honey is food stored by honey bees to see them through the winter?
Read about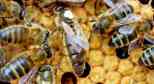 More.....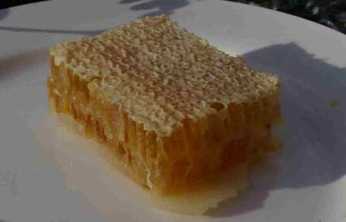 Honey Recipes:
From cakes to dressings
Click Here

About Honey
Find out lots of information about honey, such as how bees make honey, to the nutritional content of honey.
COPYRIGHT 2010 - 2019: WWW.BUZZABOUTBEES.NET
ALL RIGHTS RESERVED.