Beeswax Lip Balm
Is Beeswax Good For Lips?
Beeswax appears in a number of popular lip balms as well as lipsticks, but is beeswax good for lips?

The short answer is:
Yes, beeswax has a number of properties making it helpful for use in lip balm.
Below is a detailed explanation.
Why beeswax is good for lips
The use of beeswax in skin preparations in not new.  Indeed, it was used in ointments in cream in ancient Egypt in 1550 BC (we know this from the Ebers Papyrus -an  Egyptian medical papyrus of herbal knowledge).

Whilst it's true that the ingredients used in ancient medicine don't necessarily have any merit at all, investigation of the properties of beeswax proves its suitability for cosmetic use, including in preparations for lips.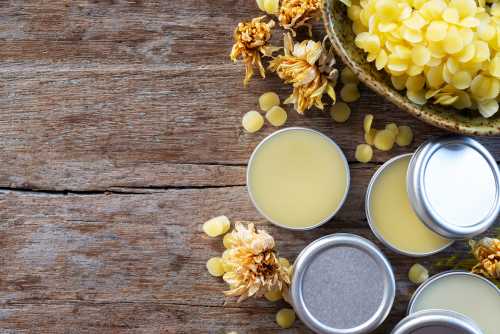 Beeswax protects lips and retains lip moisture
Water loss from the lips can also cause lips to become thin, rather than plumped.
Beeswax has lubricating, softening activities and reduces trans-epidermal water loss from skin1.  This means it helps protect lips from becoming dry or chapped. 
Beeswax is also an occlusive, meaning it forms a moisturizing, protective layer on the surface of the lips3.
Beeswax helps heal lips and prevent infections
Beeswax has anti bacterial and anti-inflammatory properties that can help prevent and relieve infections around your lips, along with vitamin A which helps to improve wound healing2. 
Beeswax has anti-septic properties provided by squalene, 10-hydroxy-trans-2-decenoic acid and flavonoids (chrysin) further helping to protect the skin against pathogenic microorganisms4.
Anti-aging effects of beeswax
Lips exposed by sunlight and that are under-moisturized, can age more quickly and lose their youthful plumpness. 
"The β-carotene present in beeswax is a valuable source of vitamin A, into which it is converted. Vitamin A delays collagen degradation, stimulates mitotic division in the epidermis, thus leads to sooner regeneration of the skin after damage."
- Kurek-Górecka et al4
According to a paper by Kurek-Górecka et al4 the vitamin A in beeswax also reduces wrinkles, and helps to protects the skin against UV radiation, one of the main causes of aging.  In addition, the researchers also state that vitamin A helps stimulates skin cells turnover.


Want to have a go at making your own lip balm with beeswax?  See this beeswax lip balm recipe.
Resources
1. Filippo Fratini, Giovanni Cilia, Barbara Turchi, and Antonio Felicioli. "Beeswax: A minireview of its antimicrobial activity and its application in medicine" Asian Pacific Journal of Tropical Medicine, vol. 9, no. 9, 2016. doi:10.1016/j.apjtm.2016.07.003
2. Kasparaviciene, Giedre & Savickas, Arunas & Kalveniene, Zenona & Velziene, Saule & Kubilienė, Loreta & Bernatoniene, Jurga. (2016). Evaluation of Beeswax Influence on Physical Properties of Lipstick Using Instrumental and Sensory Methods. Evidence-Based Complementary and Alternative Medicine. 2016. 1-8. 10.1155/2016/3816460. 
3. Chularojanamontri L, Tuchinda P, Kulthanan K, Pongparit K. Moisturizers for Acne: What are their Constituents?. J Clin Aesthet Dermatol. 2014;7(5):36-44.
4. Kurek-Górecka A, Górecki M, Rzepecka-Stojko A, Balwierz R, Stojko J. Bee Products in Dermatology and Skin Care. Molecules. 2020;25(3):556. Published 2020 Jan 28. doi:10.3390/molecules25030556

COPYRIGHT 2010 - 2023: WWW.BUZZABOUTBEES.NET
ALL RIGHTS RESERVED.