Insectpedia:
A Brief Compendium Of Insect Lore by Eric R. Eaton 
I couldn't wait to read 'Insectpedia - A Brief Compendium Of Insect Lore'  by Eric R. Eaton.  The title alone immediately piqued my interest.  It's part of a Princeton University "Pedia" series, and having an interest not only in all things "bee" but all things "bug and insect" too, I was eager to make space for it on my bookcase. 
I wasn't disappointed!
This engaging and delightful A-Z of the insect world, is packed full of fascinating, and often amusing facts.  On the one hand, the format makes this great little book easy to dip in and out of; on the other, Eaton's wit and enthusiasm for his subject keeps you turning the pages.
The scope of this little book is impressive.  This celebration of the insect realm not only provides a 'Who's Who' of entomology past and present, it covers a fascinating sampling of social history too: the origins of the flea circus, Napoleon and Ghengis Khan's maggots, the news commentary of Archy the Cockroach, and how boll weevils "single-snoutedly" brought the US cotton industry to its knees in the 1900s, and much more.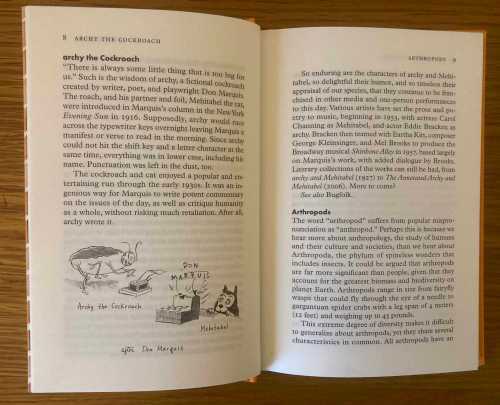 Nobody could be offended by Archie's comment on the current state of affairs - after all, Archie was a cockroach!
Boll weevils brought the US cotton industry to its knees in the 1900s. Nevertheless, there's a monument to the things, and a song about them topped the blues charts!

Eaton doesn't disappoint with the science either.   He explains topics like 'bioluminescence' (glow-in-the-dark) mechanisms in digestible form, and neatly clears up a few misunderstandings too (such as the difference between a cocoon and a chrysalis).
Cautionary tales and pro-conservation messages sit neatly alongside each other, as Eaton provides examples of the hazards of monoculture, pesticides, habitat loss, and globalization's porous borders; and concisely and repeatedly explains the important role of insects in the ecosystem.
The real stars of this lovely cloth-bound book are, of course, the insects themselves: from frog-eating beetles and exploding ants, there is much to learn, be surprised and entertained by. 
Indeed, by the time you have finished this book, you'll know what hair-pencils are, may find yourself cringing over the nuptial gifts of male mantids, and then tipping your hat to a biting midge as you tuck into a bar of chocolate.

This book is available from a range of retailers including Amazon, Waterstones, WHSmith, Coles, Princeton Press, Northern Bee Books, and other outlets.
Illustrations by Amy Jean Porter

Hardcover Price: $16.95 / £9.99 
ISBN: 9780691210346.
BuzzAboutBees.net is a member of the Amazon Associates Program.

As an Amazon Associate I earn from qualifying purchases if you click on a link from my website to an Amazon website page.  However, I only recommend books and goods I myself like.  For further information, please see my Advertising And Affiliates Disclosure.