Review of:
"Britain's Insects - A Field Guide To The Insects Of Great Britain And Ireland"
by Paul D Brock
A Princeton University Press 'Wild Guide'.


Entomologist and scientific associate of London's Natural History Museum, Paul D. Brock, has compiled a brilliant field guide covering 25 insect orders, and 1,653 species into the latest of the 'WILD Guides' series.  If a better, more vast, and yet accessible insect field guide is available, I'm not aware of it.  Yet I can hardly believe the price – a snip for such a hefty guide book (608 pages), such that buying it really is a no-brainer!   

If you don't know where to start and you know nothing about insects, never mind, Brock takes you through a step by step approach to help you get quickly to the correct section of the book.  After this, you'll be able to read about the insect order to which the species belongs, and then move on to photographs of species, grouped by insect family.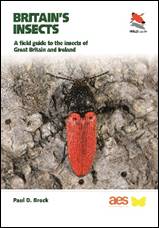 There are over 2,600 colour photographs, plus clearly labelled images and diagrams, making it a tremendous resource for the beginner, a parent with a budding nature-enthusiast, or interested wildlife gardener.  At the same time, there is plenty of technical detail for the more serious or amateur entomologist and conservationist.
Whilst those seeking to identify an insect from an obvious group (such as a butterfly) will be able to quickly turn to the relevant section and scan the helpful range of photographs, it is a guide worth taking the time to read, especially the introductory sections.  This will help you get the most out of this excellent and comprehensive book.  Soon you'll be identifying not only bees, beetles, butterflies and moths, but lacewings, grasshoppers, crickets, damselflies, ants, hoverflies, snakeflies and more. 
Although my main interest is bees, I am also especially keen on wasps, butterflies, moths, and dragonflies.   This book will be a tremendous help to me.  At last I will be able to put a name to many of the species I have snapped over the years, currently lingering in my 'unidentified' folder.

This book has immediately winged its way onto my 'absolute favourites' book list.  It's the only one I will need to take with me on holidays and insect-spotting trips and ganders in the countryside.  It really is a superb book, and I must say, a tremendous achievement. Heartily recommended!
Britain's Insects - A Field Guide To The Insects Of Great Britain And Ireland by Paul D Brock is available from Amazon and good book shops including Waterstones.  
Further information:

Paul D. Brock is a renowned author of insect books, widely published photographer, and a world authority on stick-insects and leaf-insects, with a genus and several species named after him.

Publication of the book is supported by the Amateur Entomologists' Society.

Publisher: 

Princeton University Press; production and design by WILDguides Ltd.
ISBN: 9780691179278 



BuzzAboutBees.net is a member of the Amazon Associates Program.

As an Amazon Associate I earn from qualifying purchases if you click on a link from my website to an Amazon website page.  However, I only recommend books and goods I myself like.  For further information, please see my Advertising And Affiliates Disclosure.