Honey and Eczema
(Atopic Dermatitis)
Updated: 12th February 2021

Honey is often proposed as a treatment for a number of medical conditions, including the treatment of eczema.  However, is there any clinical evidence to support the use of honey for treating eczema (atopic dermatitis)?  
The short answer is:
There appears to be some evidence, albeit based on small samples, that certain properties of honey (anti-microbial; anti-inflammatory; and anti-oxidant characteristics) may combine to help alleviate symptoms of eczema (and possibly also psoriasis).
Now we'll take a look at published studies investigating this issue.
Scientific studies for the use of honey to treat eczema (atopic dermatitis)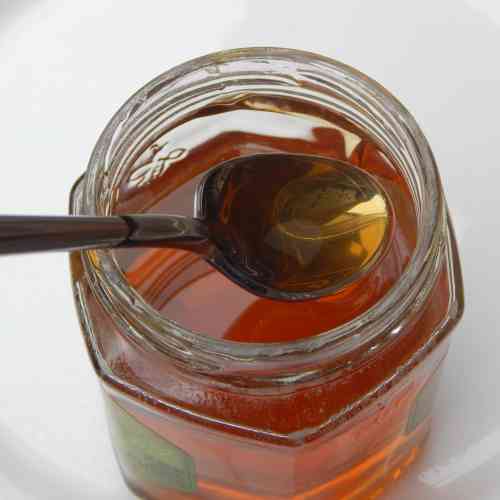 Can honey be used to treat eczema?
A small, 2 week pilot study (Ref 1) involving 15 eczema sufferers compared medical grade Kanuka honey with aqueous cream for the treatment of eczema.  In this particular small study, honey was shown to be only as effective as the control group where aqueous cream was used.
The study concludes:
"Topical application of medical-grade Kanuka honey does not appear to be effective in the management of eczema".
However, another small study (Ref 2) involving 14 people with eczema, showed that manuka honey can be effective in treating eczema.  Applying honey directly onto eczema produced a significant improvement compared to not applying honey.  
It was shown that the honey had a direct effect on the physiological mechanism that leads to eczema.
The study states:
"In 14 patients, AD [atopic dermatitis] lesions significantly improved post MH [manuka honey] treatment versus pre‐treatment as compared to control lesions."
and:
"In conclusion, honey is a very complex material with potential therapeutic value in the treatment of AD [atopic dermatitis]. Future research should aim to investigate whether similar effects can be reproduced with other honey types."
Honey and eczema on the ears
Another study (Ref 3) examined how easy and practical and effective it was to apply medical honey eardrops as a topical treatment of eczematous external ear inflammation and to study the antibacterial effect of the honey.  Again, it was quite a small study of only 15 patients, but it showed that the honey eardrops reduced itching and also reduced the visual signs of eczema, without any side effects.
Honey for eczema and psoriasis
In another study (Ref 4) honey was shown to produce a significant improvement in symptoms of both eczema and psoriasis in almost all patients.  They also showed that, for about half the patients who had previously been treated with a topical steroid, when honey was used there was no deterioration of symptoms even when the dose of the steroid was reduced by 75%. 
How does honey work for the treatment of eczema and psoriasis?

In simple terms, it is thought that three known and proven properties of honey combine to produce a positive clinical effect – that is, to make patients' symptoms better. 

Those three properties of honey are:

anti-microbial;
anti-inflammatory; and
anti-oxidant properties.
Can honey cause eczema?

It is known that some people are allergic to honey.  When bees make honey, there can be contamination especially with pollen from a variety of different plants that were visited by the bees during their foraging. 

If you are allergic to pollen, then you could be allergic to honey that contains pollen.  Allergy to honey is not very common, but when a person is allergic to honey, then whether it is consumed as a food or applied to the skin, it can cause itching, rashes and hives.
References:

1. Fingleton J, Helm C, Tofield C, Weatherall M, Beasley R. A randomised controlled trial of topical Kanuka honey for the treatment of eczema. JRSM Open. 2014;5(1):2042533313509263. Published 2014 Jan 7. doi:10.1177/2042533313509263 
2. Alangari, A.A., Morris, K., Lwaleed, B.A., Lau, L., Jones, K., Cooper, R. and Jenkins, R. (2017), Honey is potentially effective in the treatment of atopic dermatitis: Clinical and mechanistic studies. Immunity, Inflammation and Disease, 5: 190-199. doi:10.1002/iid3.153
3. Henatsch D, Nabuurs CH, van de Goor RM, Wolffs PF, Stokroos RJ. Treatment of Recurrent Eczematous External Otitis with Honey Eardrops: A Proof-of-Concept Study. Otolaryngol Head Neck Surg. 2017 Oct;157(4):696-699. doi:10.1177/0194599817718782. Epub 2017 Jul 11. PubMed PMID: 28695767.

4. Al-Waili NS. Topical application of natural honey, beeswax and olive oil mixture for atopic dermatitis or psoriasis: partially controlled, single-blinded study. Complement Ther Med. 2003 Dec;11(4):226-34. PubMed PMID: 15022655.
COPYRIGHT 2010 - 2023: WWW.BUZZABOUTBEES.NET
ALL RIGHTS RESERVED.