Campaigns For Bees

There have been a number of campaigns for bees happening all over the world, ranging from petitions and demonstrations to hunger strikes, lobbying, to planting wildflowers.
They involve beekeepers, conservationists, companies and concerned members of the public.
A number of films have been and continue to be produced.
International Campaigns For Bees
On this page you'll find information about various campaigns and related news.
Subscribe to my bees blog to receive regular updates. No email address is necessary, simply right click on the orange RSS button in the navigation bar left, and follow the instructions.
American Campaigns
The EPA Clothianidin Scandal

Tom Theobald Comment On the EPA response to the Clothianidin Scandal

Tom Theobald Video

Tom Theobald on Dan Rather
UK And EU
EU fails to ban Sulfoxaflor
Later, they also approved Flupyradifurone?
Did The UK Government Approve Sulfoxaflor Or Flupyradifurone?
In fact, the EU approved these first.  The UK government did NOT follow suit.

BirdLife International: Decline Of Europe's Farmland Birds

EDM 2664

EDM 2664 Follow Up


EDM 1267

We Need More Wildflower Habitats!

Free Wildflower Seeds

Environment audit committee follow up letter


British Beekeepers Still Concerned About Neonicotinoids, According To Survey



UK Government could back a full ban on neonicotinoids
Other European Campaigns
Bees And Neonicotinoids - Please Write to EU Commissioner Borg

Italy

Italian Beekeepers Mobilize To Stop Neonicotinoids

Italian Beekeepers On Hunger Strike



France

French Beekeepers Organise International Day Of Demonstrations Oct 15th 2011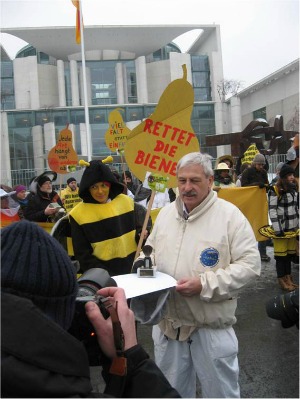 Germany

Beekeepers have held protests, and gave Angela merkel a 'black brush' with which to pollinate crops!
Bayer wins case to ban beekeeper protests at annual meeting in Germany
Other
Missing bees?
Practical things we can do.
Days of international demonstrations