Calories in Honey

Below, you'll find a summary of the calories in honey by measurement, followed by tables comparing honey with sugar, maple syrup and light corn syrup, and a look at the composition of the carbohydrate type in each.
The calories in honey may be of interest, either because you're on a low calorie diet, or because you are looking for a high energy, but natural, low fat food.
Honey, Dieting And Sport

The amount of energy (kJ) provided by foods is a key consideration for both dieters and sports people.
Hence the reason for also breaking down the calories provided by carbohydrate type, and in particular, sugar type.

It is generally asserted that carbohydrate intake before, during ad after exercise provides a boost to performance. 

It is also believed that the energy provided by different sugars affects the body in diverse ways.  Glucose is absorbed quickly, giving the body an immediate boost of energy.

Fructose, however, has a slower rate of absorption.  Therefore, because honey contains high levels of both glucose and fructose, it may provide both an immediate and sustained energy boost to those engaging in sports, in relatively small quantities.

With regard to dieting, it should be noted that simply replacing large quantities of sugar with honey is unlikely to help, because as you will see, although it helps sustain energy levels, it is very high in calories.  That said, there are some diets, such as the apple cider vinegar and honey diet.
Summary Of Calories In Honey By Measurement
:

Summary:


Calories in 100g of honey: 304

Calories in 1 tablespoon of honey (1 tbsp = 21 g): 64

Calories in 1 ounce of honey (1 oz = 28g): 85
Calories in a teaspoon of honey (1 tsp = 5g): 15.2



Below are comparison tables of calories and carbohydrate in honey, sugar, maple syrup and light corn syrup.
Where the information is available, I have also expressed the number of calories as Percentage of Daily Value  (%DV) for adults or children aged 4 or older, and based on a 2,000 calorie reference diet.
Please note:

The sugar in all the tables below is granulated white sugar (sucrose) and values may be different for other types of sugar.

Honey values may differ slightly from those shown below due to natural variations in the product.
Calories in honey - comparison with sugar, maple syrup and light corn syrup


Calories
in 100g


% DV


---

Honey


---

304


---

15%


White
Sugar


387


19%


Maple Syrup


261


13%


Light Corn Syrup


283


14%


Calories in honey, sugar, maple syrup and light corn syrup by calorie type


It's not a surprise that almost all the calories from these sweeteners comes from carbohydrate:
From
Carbohydrate 

Other


---

Honey

---

303


---

Protein: 1


White
Sugar

387


-


Maple Syrup

259


Fat: 2


Light Corn Syrup

281


Fat: 2


Break down of carbohydrate and sugar type in honey, granulated sugar, maple syrup and light corn syrup



Amounts present in a 100g serving:


Honey


White
Sugar


Maple
Syrup


Light 
Corn Syrup


---

Total Carbs
(g)


---

82.4


---

100


---

67.1


---

76.8


Sugars (g)


82.1


100


59.5


---

Sugar Breakdown:


---

---

---

Sucrose


1


100


56


76.8


Glucose


35.7


2.4


*


Fructose


40.9


0.88


*


Maltose


1.4


*


Galactose


3.1


*

* In the case of Light Corn Syrup, there may be variations depending on blend and brand, and hence the values here have not been split.
For more links of interest: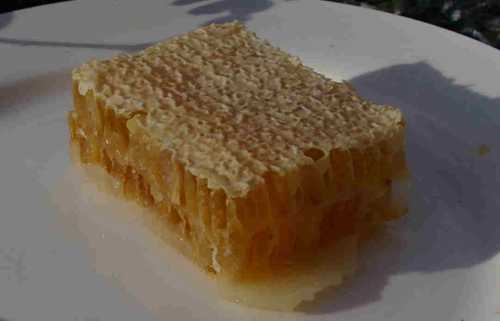 Source Of Data And Further information:  Nutrition Data