Beekeeping Suits
If you are new to beekeeping, one of your first investments is likely to be a beekeeping suit (also called a bee suit).
What Types Of Bee Suit Are Available?
All in one
You may decide to opt for an all-in-one bee suit, with a fencing style veil or hood.  A key advantage of this type of suit is full coverage, with potentially fewer gaps through which bees might get trapped and sting.


Separates
Trousers can be worn with separate beekeeping jackets or smocks, and with a hood or veiled hat. The advantage of this system is that should one item get damaged, only part of the outfit needs to be replaced, and it may be easier to manage with tricky sizing.
Gloves
Gloves or gauntlets need to be long enough at the cuff to prevent bees getting up your sleeves.  An elasticated cuff provides additional protection if the cuffs on your bee suit or jacket are open and have no elastic.

Some beekeepers prefer to use latex gloves, as its easier to feel with the fingers for more fiddly tasks when inspecting the hive.
Boots
Sturdy boots, wellingtons or specially created 'leggings' can be worn with the bee suit, and care must be taken to ensure bees cannot congregated around the tops of boots and find their way in.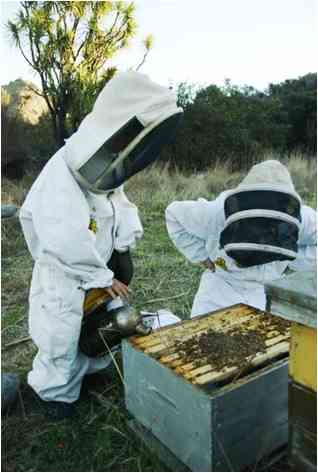 Features to look out for in a bee suit
With all bee suits, there are a few features you might want, such as:

strong pockets sufficiently deep and robust for items such as the hive tool and other bits of equipment;
ventilation;
breathable, comfortable fabric that is nevertheless able to help shield your skin from stings;
machine washable for the suit, and hand washable for the veil.  I have come across bee suits that are actually not washable, and this fact was not easily noticeable in the product description, yet hygiene is important to protect the bees and yourself (see below).  If you are uncertain from the description, ask the retailer;
space underneath the suit for wearing layers as required;
quality zippers and fastenings;
bee suits can be expensive, so look for a warranty or better still, a proven track record with multiple customers over many years - or both;

smoothness of fabric, which allows bees that may land on your suit to fly away easily without being hampered by loose fibres.
What are bee suits made of?
A variety of fabrics are available on the market, including cotton, polycotton, polyester, but check the label.

Unless you can afford multiple bee suits, remember that you may need to wear the suit in warm temperatures, whilst remaining protected from stings. 
You may also need a suit that will feel comfortable with multiple layers underneath for when the weather is cool.
Do beekeeper suits work for wasps?

Yes, provided that a suitable quality bee suit is purchased from a reputable supplier, and in fact pest control professionals may use bee suits.  

If you have a particular concern, it is best to check with the supplier.
What is the best beekeeping suit?

This is a personal choice, however, given that bee suits are an investment it is better to opt for a suit from a reputable supplier, nd beware of cheap products with high price tags.  
There are numerous suppliers in the US.  An example of a reputable supplier in the UK is B. J. Sheriff, a long established beekeeping family who design and make the suits in Britain.  
How much does a bee suit cost?

It depends on what you choose, of course.  You could pay up to $250 / £250 - but you can pay less, or more.
Why are most bee suits white?
It makes it easier to see bees against a white bee suit, than say brown or patterned.
On a white suit, it is also easier to see areas that need special attention during cleaning.
Can I make my own bee suit?
Yes, as long as you remember the main function of the bee suit:
protect yourself from stings;
protect bees from infections.

Can you get stung through a bee suit and how safe are they?

It's still possible to get stung if the suit is very poor quality and thin, or you allow bees to get inside the suit.  Always check that potential openings are closed off.
Be sure to wash the suit frequently, because aside from the need to preserve hygiene around the hives, and the need to clean and refresh the suit of your own personal scent, venom from previous stings may attract bees.
Ensure all bees are gently removed from the suit before attempting to take it off. A simple feather brush is ideal for this purpose such as that below.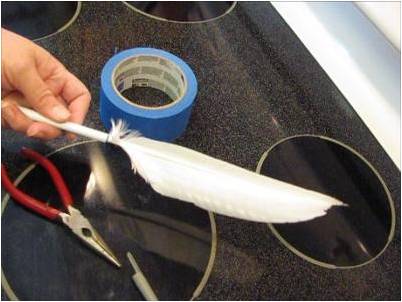 A home made feather brush - thank you to Katharina Davitt for the photograph.
COPYRIGHT 2010 - 2023: WWW.BUZZABOUTBEES.NET
ALL RIGHTS RESERVED.