Bee Hive Design

There are a number of types of bee hive design. If you are considering beginning beekeeping, you may like to read up about the honey bee hives available.
It's possible to build your own bee hive to a variety of designs. 

Evolving Design Of Bee Hives
Through the ages, humans have found all manner of ways to keep bees and harvest honey, from traditional skeps to hollowed tree trunks.  Indeed, one of the questions which perhaps needs to be addressed in bee hive design is that of the thickness of wood and materials used to build hives (in comparison with natural habitat of honey bees, such as a tree trunk), and whether the activity of honey bees in winter in a bee hive designed by humans, is really natural, or whether it is a response to the environment enforced upon them. You can read more about this question here on my general page about overwintering bees.

Researcher, Derek  Mitchell makes the point that in a natural bee cavity such as a tree trunk, insulation is provided by the surrounding mass of the tree.  Tom Seeley's writing also explore the subject of bee hive design in his book  The Lives Of Bees
.  His ideas are backed by decades of research and are well worth a read by established and new beekeepers.

Top Bar Hive Bee Hives


Abbé Émile Warré

An early Top Bar Bee Hive Design was the Warré bee hive (or People's Hive, which was pioneered by Abbé Émile Warré, but there are other types of top bar hive.
Plans for this model are available from a link on this page.

You can read more about this – see this brief History Of Beekeeping.
Top bar bee hive design can be vertical or horizontal. They are becoming increasingly popular with the growth of the Natural Beekeeping movement, with key authors such as Phil Chandler (one of his most recent books being Balanced Beekeeping II: Managing the Top Bar Hive).
One advantage of the Top bar bee hive design, is that it can be constructed at home as long as you have some basic carpentry skills.  To learn more, go to Top Bar Hive Plans.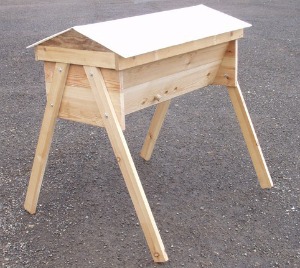 Top bar hives, in the words of author beekeeper, Paul Peacock, create honey "as it used to be", and many beekeepers who use top bar hives also eat the honey and honeycomb together. Top bar bee hives allow the bees to create their own combs.


National Honey Bee Hive Designs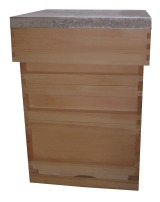 Pictured above is the National Hive.
With generations of research from the likes of George Wheler, Johann Dzierzon to Langstroth, there have been many attempts to create designs that would house honey bees, maximise honey production, and help facilitate the exploitation of honey bees for extraction of honey.
Many of the hive designs evolving from the work of these men and others, remain in wide spread use today (depending on the country in which you live).
You can read more about these by going to Honey Bee Hives.

Space For A Backyard Hive
If you are wanting a hive in the backyard, space may be a primary concern, and with urban beekeeping there may be other considerations, such as views of neighbours.
More resources
If you are thinking of purchasing second hand beekeeping equipment, find out how to properly disinfect it, in order to protect the bees from the risk of spreading diseases. Go to

Used Beekeeping Equipment.