Bee Hive Construction

Build your own honey bee hive using these free plans.  All you will need is a few basic tools and a small amount of wood - you may already have a few offcuts around your shed or garage.
So if you are wondering how to build a bee hive, take a look at these designs below, which do differ, and see which one is most appropriate.
(Please note, some of these plans may take a minute or two to download).
Bee Hive Construction Plans
Building your own bee hive can save you a lot of money, especially since most people can lay their hands on decent pieces of discarded wood.
The trade off between time spent and money saved could be well worth it.


If you wish to engage in organic beekeeping or natural beekeeping, note that you'll need to pay attention to the timber, which should be untreated, or protected using a natural, non-toxic coating.

How To Build a Top Bar Bee Hive - Using The Barefoot Beekeeper's Top Bar Bee Hive Plans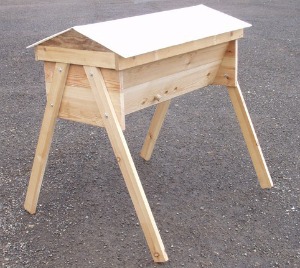 Download Plan.

Phil Chandler takes you through the process of building a bee hive, step by step, to build his own tried and tested top bar bee hive design.
This is a very comprehensive, 40 page document, very generously shared by Phil. Phil Chandler is a natural beekeeper who also shares some recipes for eco-friendly wood preservative.
Please note that depending on the country you are in, and local regulations, some wood preservatives now contain neonicotinoid pesticides or other chemicals not appropriate for bees.

If you decide to proceed with Phil Chandler's method of bee hive construction, and you haven't yet read The Barefoot Beekeeper, then it may interest you. 
In it, he explains how his hive has been designed to benefit the bees and promote their health and well being.

Having written "The Barefoot Beekeeper", Phil Chandler has a  further book "Managing The Top Bar Hive".

Honey Bee Hive Construction - The Warré Bee Hive
Download Plan

Design by the French priest Abbé Émile Warré (1867-1951), Abbé Émile Warré also wrote a book: L'Apiculture por Tous.
This bee hive is increasingly being used today, perhaps partially due to the book having been translated into English by Dr David Heaf. It is perhaps also true to say that in more recent years, we are seeing an increasing number of people wishing to work with nature, rather than against her, and an increasingly api-centric view of beekeeping is taking hold.
You can download the English translation of Abbé Émile Warré, Beekeeping For All free of charge here.
If you are interested in the Warré bee hive, you might also enjoy this Q&A with Dr David Heaf, or you may be interested in his book: The Bee Friendly Beekeeper. In this book, David suggests a few modifications to the Warré hive to enable the design to cope with the Varroa mite, which was not around in Abbé Émile Warré's day.
Honey Bee Hive Construction With Roger Delon
Download Plan.

Learn how to build a bee hive with Roger Delon. This information covers off not only the Warré Bee Hive, but also Roger's invaluable notes and experience in building this model of hive.