The Bee Heaven
On My Doorstep


Today, I have felt so much love for the area in which I live, I just had to write about it.
As I write, it's March  2014.  I've been for walks with our spaniel along the country lanes and into the woods, clambering up and down the undulating banks and along the footpath by the reservoir. 

Located along the reservoir are old ruins - reminders of the industrial past of the village in which I live.  In view of the present loveliness of the place, it almost seems a contradiction that the area was once an important industrial hub for the local communities.  Cotton, paper, flour and copper mills, factories, and furnaces could all be found here, producing goods that were shipped to locations throughout the world. 
At one time, the scenery must surely have included smoke and grime, but  now…… it is wildlife heaven.  And importantly (for me, at least) it is BEE HEAVEN!
I've shared a few local photographs in previous blogs, but not that many.  My problem, you see, is that I am rarely happy with my photographs.  Often they are not very good. I see the bees – sometimes even a fairly rare species, such as Bombus monticola, but the pictures come out over-exposed, shaky, or just….well…disappointing.
But anyway, every day I am reminded, as I walk with our lovely spaniel, of just how lucky I am!
It's early spring, but I am seeing quite a lot of queen bumble bees around.  Quite simply, I believe the area in which I live in general, is bee heaven, and the bumblebees are the first bees I see every year.  
There are the remains of a rail track, flanked by old stone walls.  The walls are covered in native ivy and wildflowers as well as mosses.  There are old mixed hedgerows: hawthorns, honeysuckle, brambles, holly, and interspersed with the occasional small tree or shrub.   All of these provide excellent opportunities for bees of various species, to find nests, as well as wonderful food sources for bees. 
Bumble bees will appreciate the crevices in the stonework, as well as any old rodent holes.  Solitary bees will find a home in the hollow plant stems, or even small holes in tree trunks.  They might also find homes in the old stone walls.  Honey bee colonies could find refuge in some of the hollow tree trunks in the woods (although unfortunately, I haven't seen any wild colonies around here yet).

Anyway, this area provides perfect bee habitat.  I am not aware of any golf courses, crop fields or any other areas close by, that are treated with pesticides, (unless gardeners use them, of course, but certainly no large scale use in the area).

Today has been an especially wonderful day, however.  Why?  Because I discovered a small lane on my doorstep, that I previously had no idea existed!  It felt like finding buried treasure!  How could I live here so long, and not notice this little gem?  There were no visible signs to indicate that it is a public footpath, but it turns out, it is one!  When I ventured down the lane with our spaniel, I realized I had come across yet another haven for bees, and sure enough, I saw several bumble bee queens prospecting for nest sites. 
Enthused, I went home, and having fed the dog, I looked at some of the pictures I took last year.  'How lucky I am', I thought to myself.  I certainly wish my photographs were better, and that my attempts to capture on film, some of the rarer and 'privileged' moments of my bee-spotting, had worked as well as I would have liked. 

Nevertheless, I  am inspired by my experience in any case.  I can think of little better to do than 'wasting time' watching bees foraging or prospecting for nests on a sunny day.

Anyway, I thought it was time I shared a few more of the pictures of the bee heaven on my doorstep.  The pictures are not all that good…..but trust me, I am very lucky indeed!

Photographs Of The Bee Heaven On My Doorstep

Very close to my house, this small lane provides wonderful bee habitat! From spring through to autumn, there is always something for the bees. Pussy willow, red dead nettle, hawthorne, lesser celandine, wild garlic, dandelions and buttercups are followed by a large swathe of comfrey and teasels, plus more dandelions and buttercups, brambles and wild roses.

A little further down the lane....more comfrey, dandelions, buttercups, brambles and wild roses, plus knapweed, forget-me-nots, deadnettles and clover.  The wild, rugged growth is home to bee and wasp nests.

The private garden to the left by the wooden fence features a row of berberis on the other side (but it pokes through the fencing), and it is an excellent food source in spring.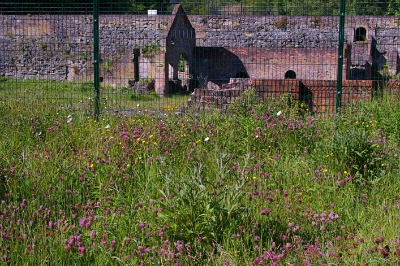 The photograph above was taken by the old industrial ruins.  Clover, knapweed, buttercups, bird's foot trefoil, and more, all provide food for bees.....

...whilst wall crevices provide ideal shelter for all kinds of insects or indeed, other creatures, such as small reptiles.


More bee heaven in the bluebell woods!  Also to be found in various parts of the woodland are wood anemones and wild garlic.
Sometimes I think I would like to move house.  Certainly, a little more space would be very helpful!  It's so easy to become attached to places like this, however, that I'm not sure I could pull myself away so easily.  Especially when I love bees, as I do!
Go back from Bee Heaven the home page
COPYRIGHT 2010 - 2021: WWW.BUZZABOUTBEES.NET
ALL RIGHTS RESERVED.