About Bee Nests


Learn all about bee nests by clicking on the links below

Perhaps you are interested in how to encourage bees to build nests in your garden.  This page provides links to all kinds of information about nests, whilst some of the species specific pages provide tips for attracting bees to nest in your garden.

On the other hand, if you have found a bee nest, and wish to remove it, please see the advice provided, and consider whether moving it is really necessary. Most nests only last a season, and bees are having a hard time.  Over the years, I have answered many queries regarding this issue and the advice given is shared on this website.
That said, there are times when this is unavoidable, and so this should be undertaken as carefully and humanely as possible, without destroying the nest, but by relocating it.

A beekeeper is the ideal person to assist with honey bees, and there is also information added below about what do in the event you should find a swarm.
Bumble Bee Nests
Information about how and where bumble bees build nests, including their endeavors in prospecting for sites, and the challenges they currently face in finding suitable locations.



Bee Nests Q&A
If you have found a bee nest, here is a useful Q&A section that answers some of the initial common questions that people ask.


5 Reasons To Protect Bumble Bee Nests
Should bumble bee nests have a degree of legal protection?



Can My Neighbour Force Me To Remove A Bee Nest?
Response to a real query.


Do nest boxes work?
Is it worth paying the money for a bee hotel?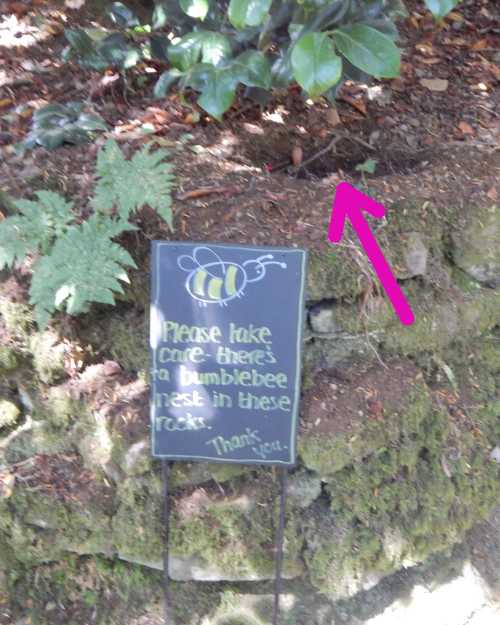 Removing nests
Help Me Get Rid Of Bees!
Are you in a panic about a bee nest? Don't be! Check out this introductory page with some helpful information. Don't call in Pest Control – read this first.

Bumble Bee Nest Removal
If it is absolutely essential, some advice about how to remove a bumble bee nest. Most people who do find one, when they think about it, they are able to leave the nest alone for a while. Bumble bee nests only last a season, and unless new bumble bee queens emerge, (guaranteeing future generations of bumble bees), the colony cannot be said to have been successful.

Large carpenter Bee Nests
Here are some tips for deterring carpenter bees from making a nest. Some species can cause damage, but usually, rotten wood is targeted by these bees.

Honey Bee Swarm Removal and Nests
If you have found either a swarm or a honey bee nest, take a look at this page. This page is primarily concerned with swarms, but the advice is similar for nests in terms of making contact with a beekeeper.