Pictures Of Bees
There are some excellent pictures of bees available on the internet, that may be used free of charge. Below, you'll find some of them.


If you wish to take your own bee pictures, I have also listed some tips to help you to do that.  Scroll down to read my thoughts on photographing bees, including images you should try to snap if you are intending to have a go at bee identification.
Honey Bee Pictures
The following 2 honey bee pictures were taken by me.  You may use them, but please credit www.BuzzAboutBees.net.  Thank you.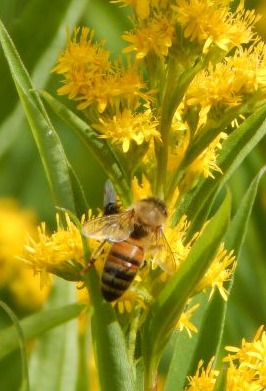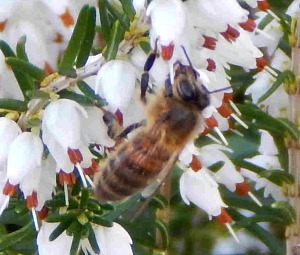 If you use any of these honey bee pictures below, please credit them to: www.public-domain-image.com



Bumble Bee Pictures

Again, if you use any of these images, please credit them to: www.public-domain-image.com
Tips For Taking Pictures Of Bees


I'm not a photographer, but I can give you a few tips for taking pictures of bees, based on my knowledge of this insect.

After all, you'll have more success if you look in the right places at the right times.

You may also prefer to take your own bee pictures, in order to sell them, or be absolutely certain of unrestricted use.

So here are my tips:


1. Seek out areas with an abundance of flowers, especially herbs, cottage garden flowers, and wildflowers. Formal public planting schemes filled with ornamentals such as bedding begonias, bizzy lizzy, and highly cultivated petunias, may not be as promising as they first appear, because these have limited value in terms of nectar and pollen.


2. If you wish to take bumble bee pictures, and specifically of the bumblebee queen, in some countries you may be surprised to find that these little pollinators can appear quite early in the year. I have seen images of bumblebees foraging on mahonia, with snow still visible on the plant stem (obviously not covering the flower itself). I have also seen photos of bumblebees on very early winter and spring flowers. If you want to be sure to photograph bumblebee males, note that these appear later in the year, but this will vary by species as to when this will be.


3. Don't forget to look up into the trees! Cotoneaster, Pussy Willow, Holly, Horse Chestnut....the list goes on.  Bees love foraging on appropriate tree blossoms.  Shrub can also be promising, including hebe, ceanothus. 


4. If you need a picture of a bees nest, think about contacting a relevant conservation organisation. They may be able to assist you. Alternatively, you can encourage some bees to nest in your garden if the conditions are right. Solitary bees may nest in a bundle of hollow canes, bumblebees may nest in a space beneath the shed.


5. If you wish to get photographs of honey bees, contact a beekeeper. Also, if you wish to photograph wild honey bees, I suggest you contact the local beekeeping association, simply because they will usually be the first people to hear about wild colonies, often because they are asked to move the bees.
6. Bees have differing habitats and foraging preferences.  If you wish to photograph a specific type of bee, be sure to find out where it lives, where it forages, and also, the time of year it is most likely to be seen.
7. If you wish to photograph bees for identification purposes, then if possible, it's a good idea to capture the image of the bee from different angles.  It will help you if you can capture not only the markings on the thorax and abdomen, but also the hind legs, colour of hair on the hind legs, and shape of the head/face.  In a number of cases, bee species are more easily identifiable if you can get a good look at the legs and face.
---
---
---
8. It's pretty obvious, but if you want pictures of bees then you'd best go out with your camera whilst the bees are foraging!  Generally, there are more bees around on bright sunny days.
For free clipart, animated and cartoon images of bees, see this link.

Go from Pictures Of Bees to Home page
COPYRIGHT 2010 - 2018: WWW.BUZZABOUTBEES.NET
ALL RIGHTS RESERVED.