Leafcutter Bees In My Garden


by Danny Gibson
(Northern Ireland)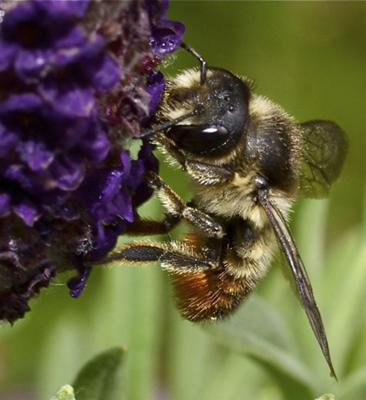 Leafcutter Bee On Lavendar
I found a leafcutter in my garden this past summer, so I decided to put up a bamboo solitary bee nest and see if I could get them to hang around.

I also got some lavender plants to give a good food source. Not long after putting the nest up on the wall, I had three bees nesting!

Here are some pictures of the leafcutters on my lavender.  I didn't realise how enjoyable it would be to encourage wild bee nests in my own garden.

Danny
Site Owner's comment: Thank you Danny. Lovely photographs, and so glad to hear about your success with the solitary bee house. Bee houses are a great way to encourage solitary bees to nest in the garden.
Leafcutters are wonderful to watch too. (For other readers, I have a page about leafcutter bees here).
Bees nectar robbing
AFFILIATE DISCLOSURE:  
As an Amazon Associate I earn from qualifying purchases which help me to fund my site and provide free information to visitors.  You can read more here.
Amazon and the Amazon logo are trademarks of Amazon.com, Inc. or its affiliates.

COPYRIGHT 2010 - 2020: WWW.BUZZABOUTBEES.NET
ALL RIGHTS RESERVED.