Leafcutter Bees In My Garden


by Danny Gibson
(Northern Ireland)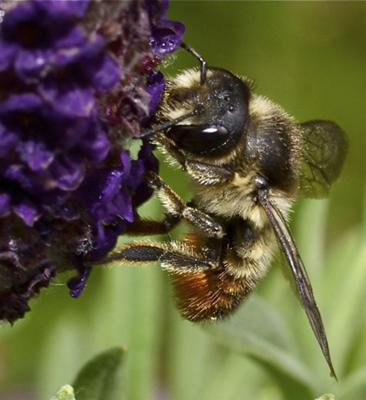 Leafcutter Bee On Lavendar
I found a leafcutter in my garden this past summer, so I decided to put up a bamboo solitary bee nest and see if I could get them to hang around.

I also got some lavender plants to give a good food source. Not long after putting the nest up on the wall, I had three bees nesting!

Here are some pictures of the leafcutters on my lavender.  I didn't realise how enjoyable it would be to encourage wild bee nests in my own garden.

Danny
Site Owner's comment: Thank you Danny. Lovely photographs, and so glad to hear about your success with the solitary bee house. Bee houses are a great way to encourage solitary bees to nest in the garden.
Leafcutters are wonderful to watch too. (For other readers, I have a page about leafcutter bees here).
Bees nectar robbing
COPYRIGHT 2010 - 2021: WWW.BUZZABOUTBEES.NET
ALL RIGHTS RESERVED.