Bees As Pollinators Are Central To Our Lives
by Janice Forbes
(Hobart, Tasmania, Australia)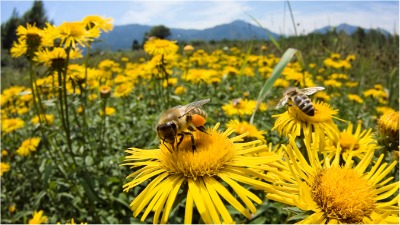 Honey bees
I fear we are losing the bees. There are so few now in the garden compared to when I was a child and their buzzing was deafening. I want to help bring them back.

It seems that large scale commercial production of plants and use of pesticides is a key part of the problem. I am cultivating my own garden and making sure I leave all the borage. I will start a meadow and try for year round bee friendly flowers. I may even get a bee hive.

Site owner's comment: Thank you Janice. The damage we are doing to the environment is very worrying, but individuals do make a difference! It's great that you are making such positive changes to your own garden. Try to go organic in your garden if you can, and cultivate from seed. Ask your plant supplier whether they are using chemicals in the raising of plants, and if so, what are they using. Perhaps you could encourage your neighbours to do their bit for bees and other pollinators too? And if your neighbours then encourage their neighbours.....well, together we really do help the bees and the environment a great deal.


Return to Dummy Bees And Why We Love Them.
COPYRIGHT 2010 - 2023: WWW.BUZZABOUTBEES.NET
ALL RIGHTS RESERVED.