Bees and Butterflies Love Verbena bonariensis

Updated: 30th April 2021

Bees and butterflies love Verbena bonariensis, and so do I. It's also known as 'purple top', 'South American vervain', 'tall verbena' or 'Argentinian vervain'.  I actually find it to be very versatile in a garden, including small ones like mine (as I will explain) and it provides food for bees and butterflies from summer through to the autumn. 
Bees and butterflies don't mind sharing the dainty, tubular, nectar-filled clumps of flower heads, and it's not unusual to see many butterflies and bees at once.  It's not necessarily easy to capture perfectly focused photographs of these occasions, however - I know, I have tried, and have never yet managed to do the lovely scene justice.  It seems a gathering of butterflies and bees on a patch of purple top, are not really interested in remaining still for a  few seconds whilst I snap my piccies.
Verbena bonariensis
(purple top) 
attracts bees and butterflies


Apart from attracting bees and butterflies, another great thing about Verbena bonariensis is that it's easy to grow, and relatively free of diseases. 
I first experimented with Verbena bonariensis several years ago.  I sowed seeds into pots and kept them under cover in a temporary polythene 'greenhouse'.  Back then, we didn't have a greenhouse made from glass, so I was doing the best I could with a metal frame with a fitted plastic cover over it.  It worked a treat, and I soon had young plants to transfer to the front garden.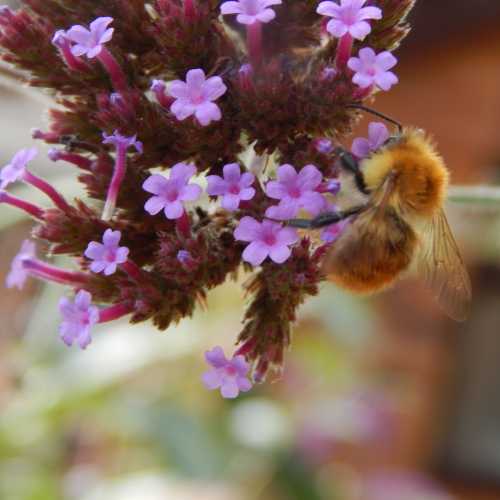 Common carder bumble bee - Bombus pascuorum foraging on Verbena bonariensis.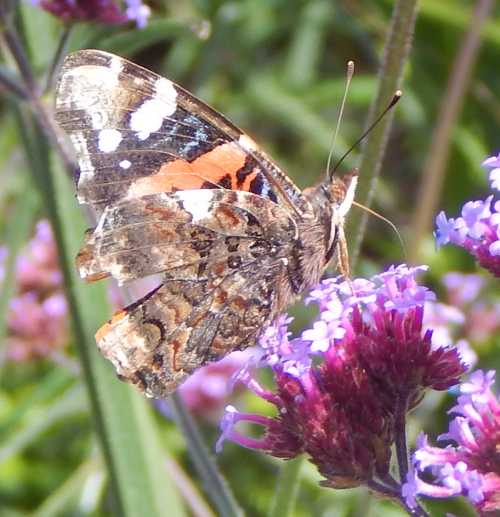 Red admiral butterfly - Vanessa atalanta on Verbena bonariensis.

The few tall, very slender stems didn't look out of place, despite the front garden being even smaller than our garden at the back.  In fact, the Verbena added an appealing 'softness' to the border.
I was very pleased with the plants which we had in place for several years. They attracted bumble bees, honey bees, and a variety of butterflies: peacock, small tortoiseshell, comma, white, and red admiral.
Purple top eventually begins to look straggly with age even if you keep cutting it back in the early spring, but unfortunately, following an especially harsh snowfall, the plants were in a sorry state, so I removed them completely (that same year, a fabulous lavender was also ruined). 
I had not got around to replacing the Verbena, partly due to redesigning that area of the garden, however the plants obviously self-seeded, because this year, new ones are showing through the rockery.  I'm pleased to see them, although I shall have to move them to a more suitable space in the spring.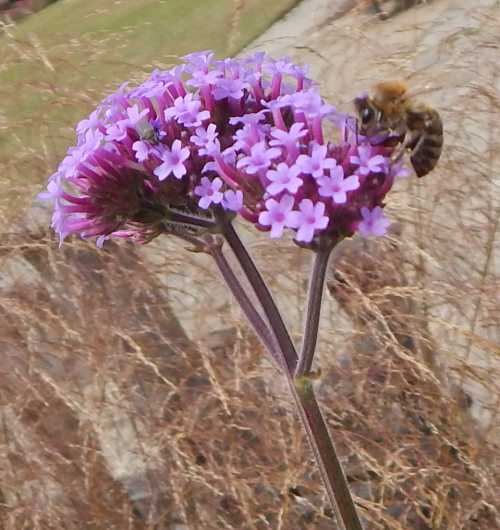 Honey bees- Apis mellifera also visit Verbena bonariensis.
Verbena bonariensis attracts buff-tailed bumble bees - Bombus terrestris .

How to grow Verbena bonariensis


If you'd like to attract bees and butterflies to your garden, you can follow my method, by simply sowing a few seeds in compost in the autumn.  Place them in a greenhouse or propagator.  Plant them out the following year into a sunny position. 
Here are more images of beautiful butterflies feeding on purple top - you may attract some or all of them - or even more species: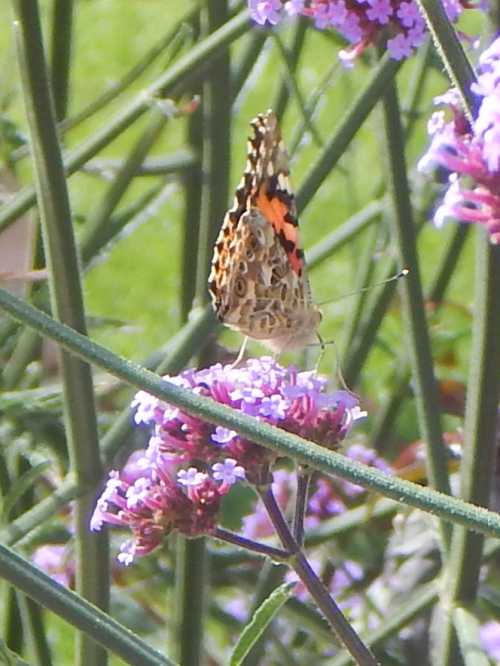 Painted lady butterfly - Vanessa cardui feeding on Verbena bonariensis.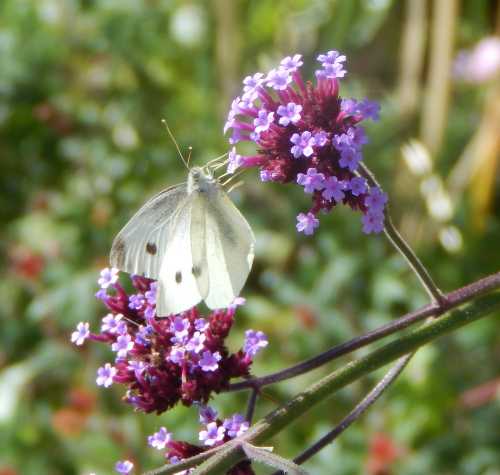 Small white butterfly - Pieris rapae.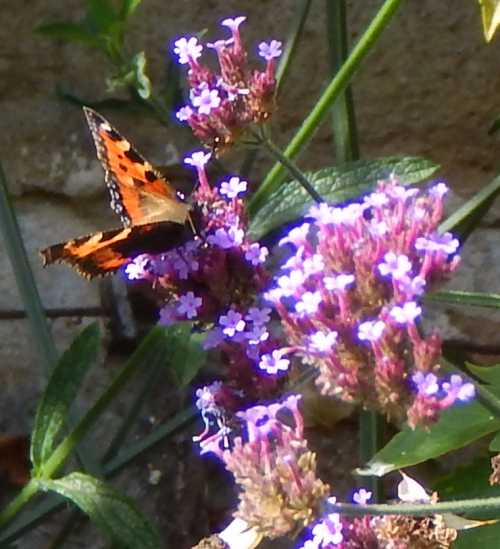 Small tortoiseshell butterfly - Aglais urticae.

Where to site Verbena bonariensis

Verbena bonariensis looks wonderful in a flower border, especially among other cottage garden flowers.  You can grow it toward the back, or plant it in a large swathe at the front.

Comma butterfly (right) - Polygonia c-album (white butterfly species on the left).

Verbena bonariensis would also look great in a wild, informal garden, and yet it could also make a design statement if incorporated within a more structured, formal layout. 

I saw a wonderful border full of grasses that had been designed with butterflies in mind.  Verbena bonariensis had been added, and of course, bees were attracted too.  The splashes of purple were welcome among the greens and browns, and didn't look out of place.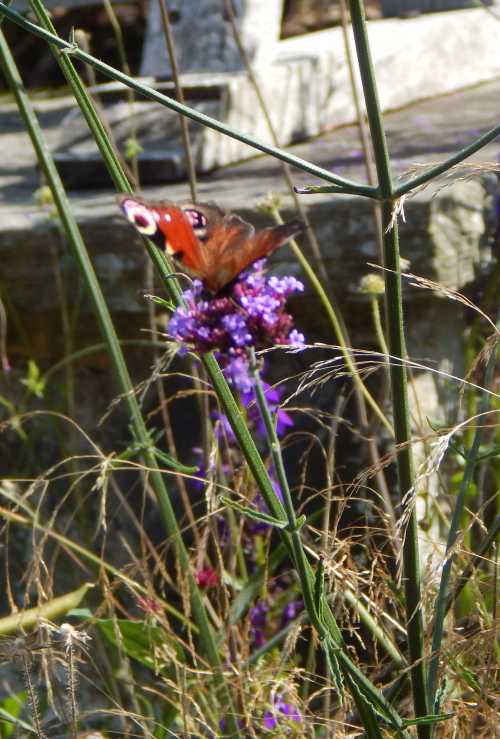 Peacock butterfly - Aglais io.

If you have a wall or wish to add softness or feeling of 'airiness' to the flower border, again, this is a great plant to consider.  It's a good  for contrasting against bulky or heavy structures.  Add in the butterflies and bees, and you're sure to have an attractive display in your garden!
More plants for bees....
COPYRIGHT 2010 - 2023: WWW.BUZZABOUTBEES.NET
ALL RIGHTS RESERVED.