Wildflowers: White Bryony Is Attractive To Bees 


The small flowers of white bryony are attractive to bees, including honey bees, bumble bees and various solitary species. You may see white bryony (Byronia dioica) climbing over fences and hedgerows.  It is similar, though not identical to a plant - Bryonia alba - known to be troublesome and invasive in regions where it is non-native (such as the USA), though it too is also commonly called 'white bryony'.
Although it is often associated with woodland areas, in my region, it also scrambles over the ground on sandy coastal dunes.

It's actually a vine, and member of the cucumber (Cucurbitaceae) family.  Look closely, and you'll see curled tendrils that look like springs when fully curled and unattached to a support of any kind.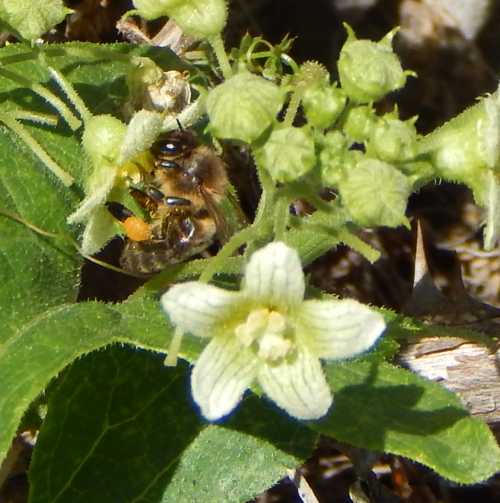 Apis mellifera - honey bee (worker) foraging on white bryony.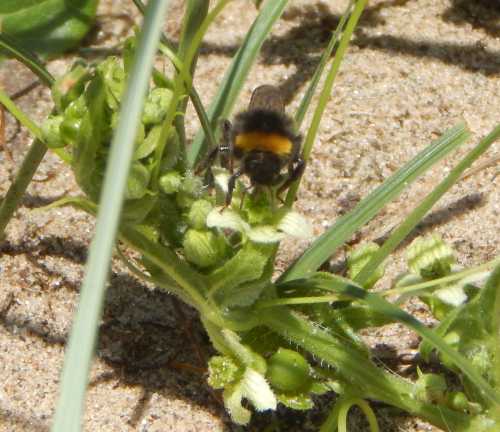 Bumble bee foraging on white bryony growing at a sandy coastal site.
The leaves are palmate with five lobes, and are pale green.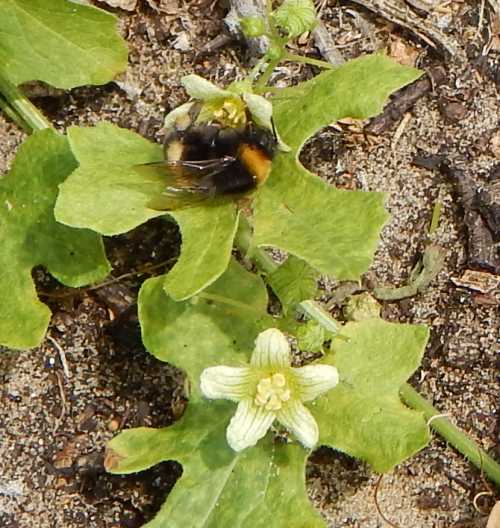 White bryony attracts bees, including bumble bees.
Honey bee on white bryony - a curled tendril visible top left of the photograph.

The flowers are small, whitish-green, and sweet in appearance, but although the flowers of white bryony attract bees, and the red autumn berries are gobbled enthusiastically by some birds, nevertheless, this wild plant is poisonous to humans and a number of animals.  The plant can cause skin rashes and gastro-intestinal problems (diarrhea, vomiting, nausea) and can even be fatal.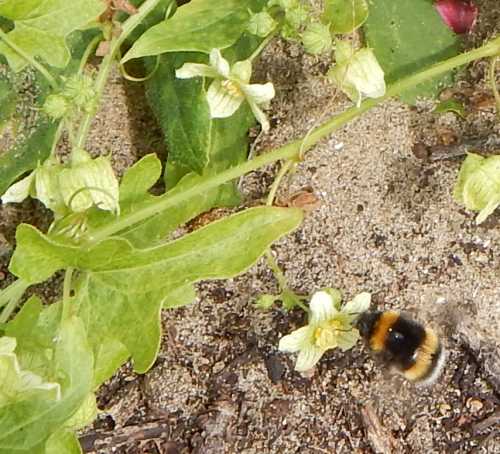 Bumble bee foraging on white bryony flower. The leaves of this vine plant are pale green with 5 lobes.
Honey bee foraging on a small greenish-white bryony flower.
Other common names for white bryony include 'English mandrake', though mandrake plants are part of the 'Solanaceae' (nightshade) family.  In medieval times, along with mandrakes, white bryony was sometimes used in herbal medicine - not a good idea considering its toxicity!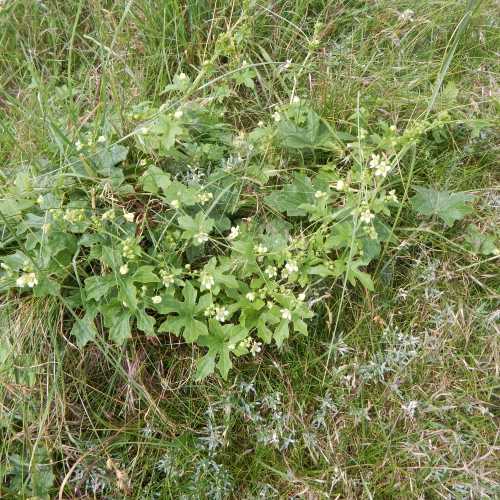 A patch of white bryony growing in at a coastal site.