Why Cirsium rivulare - 'Atropurpureum' Attracts Bees

Also called plume thistle or brook thistle - it's perhaps no surprise that bees love Cirsium rivulare - 'Atropurpureum'.  After all, wild thistles are very popular with bees and other pollinators.
Of course, not many people want to see thistles in their garden, but this fabulous cultivated plant offers the ideal solution, enabling you to offer a member of the thistle family for the benefit of visiting pollinators, whilst at the same time having a superb garden plant for your flower border.
For gardeners, this plant is fairly easy to grow, and is mostly trouble free.  It will self-seed, but if you don't want this, you can cut back the stems in autumn.  Better still, leave the seed heads for hungry birds.
Why Bees Are Attracted To Cirsium rivulare - 'Atropurpureum'.
Anyone who has this flower in their garden will already know that bees and butterflies of various species, are keen visitors.

But what is it about this plant that attracts bees and butterflies?


Plume thistle is popular with honey bees.

As to the reason why, it's worth referring to data gathered on it's wild cousins, notably creeping thistle - Cirsium arvense. 

When we examine the evidence, it seems likely that Plume thistle offers a rich nectar reward for foraging bees, thereby providing plenty of energy to help sustain a variety of pollinators, and in the case of honey bees, helping provide nectar during the summer, which can be stored as honey to help sustain the colony over winter. 

Red-tailed bumble bee on plume thistle
Data which gathered wildflower food reward for pollinators species found that creeping thistle was one of the most generous sources of nectar for bees. 

It also provided a little pollen, but the main food reward was most definitely nectar.  This is no surprise, since multiple observations suggest that bees are not visibly collecting pollen in any significant amount when they visit the blooms.
In the study, it was recroded that each flower head of creeping thistle, Cirsium arvense provided an average of about  2609 µg of nectar per day, and is reasonably long-flowering1.  It also provided a little pollen.
Another close relative, the spear thistle, was only a little behind.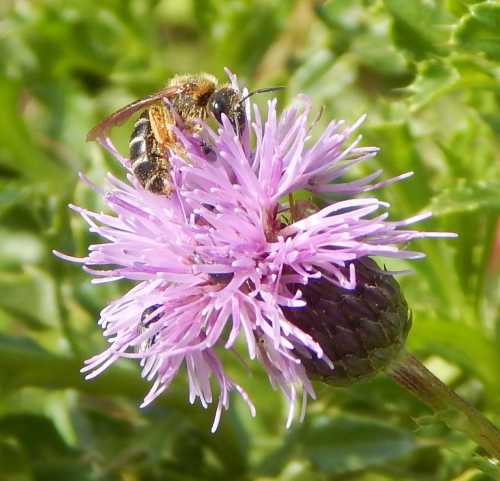 Plume thistle is related to creeping thistle, a wildflower popular with pollinators.
Creeping thistle appeals to a number of bee species, including solitary species, such as this orange-legged furrow bee female, foraging on creeping thistle above.  
Which bees can you attract in your garden with Cirsium rivulare - 'Atropurpureum'?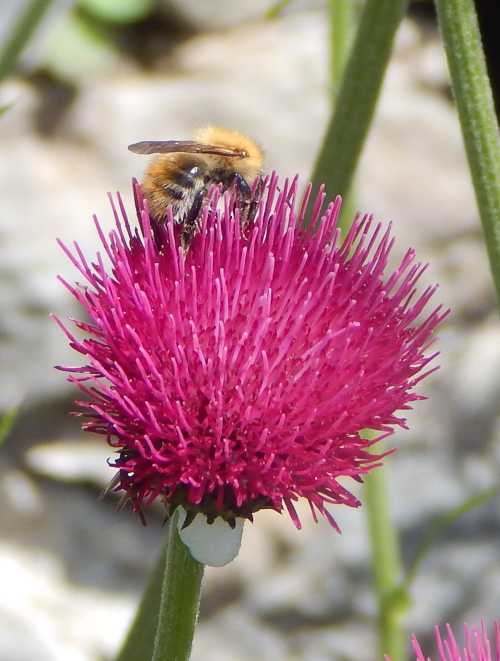 Cirsium rivulare - 'Atropurpureum' is popular with common carder bumble bees.
Cirsium rivulare - 'Atropurpureum' is, as stated previously, popular with all kinds of bees, including solitary species, but is especially popular with bumble bees and honey bees.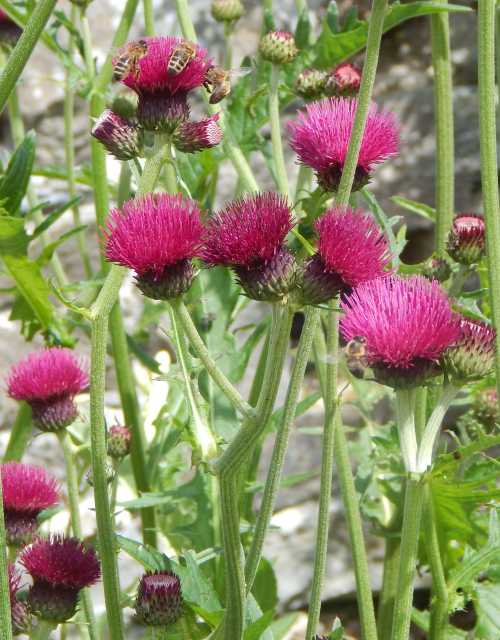 There's plenty of nectar to share on just one plume thistle flower head!
How to grow Cirsium rivulare - 'Atropurpureum' for bees
Ideally, select a spot in the garden in full sun, although a little light shade can be tolerated.
To grow from seed, sow them outside in pots, but under cover in spring.  Alternatively, established plants can be divided in spring or autumn.  This would be the ideal time to expand the area in your garden for these wonderful plants, or consider donating them to fellow gardeners or even a local school if they are able to make use of the plants.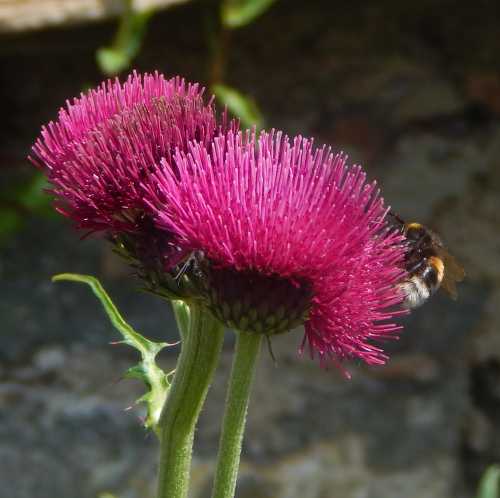 White tailed bumble bee foraging on plume thistle.
The appearance of this plant makes it not only perfect for the flower border, it would also look great in a section of the garden purposely planted with a wildflower or meadow flower mix.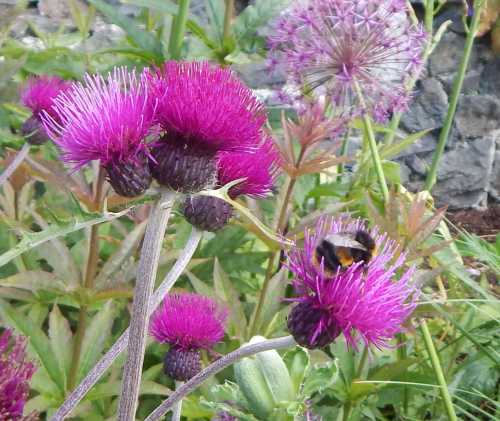 Plume thistle look wonderful in the flower border.


References
1. Hicks DM, Ouvrard P, Baldock KCR, Baude M, Goddard MA, Kunin WE, et al. (2016) Food for Pollinators: Quantifying the Nectar and Pollen Resources of Urban Flower Meadows. PLoS ONE 11(6): e0158117. https://doi.org/10.1371/journal.pone.0158117



More articles about bees and plants