Neonicotinoids:
New EFSA Report Confirms Major Shortcomings With Regulatory Data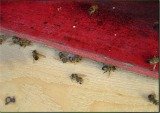 Previously, I have drawn attention to the question Are Neonicotinoids Even Legal?

A new report by EFSA casts serious doubt on the notion that they are - or at the very least, that they pose unacceptable risk when used on flowering crops.

EFSA identifies risks to bees from neonicotinoids
(find here -opens new window).
The report states:
"In some cases EFSA was unable to finalise the assessments due to shortcomings in the available data."
"All of these factors mean that EFSA's scientists were unable to finalise risk assessments for some of the uses authorised in the EU, and identified a number of data gaps that would have to be filled to allow further evaluation of the potential risks to bees from clothianidin, imidacloprid and thiamethoxam. Finally, it is highlighted that limited information was available for pollinators other than honey bees; therefore the risk to these other pollinators should be further considered."
Quite apart from the issue of other pollinators, let's remind ourselves of EU law with regard to insecticides and honey bees:
EU Regulation 1107/2009 (Annex II, 3.8.3.) states:
"An active substance, safener or synergist shall be approved only if it is established following an appropriate risk assessment on the basis of Community or internationally agreed test guidelines, that the use under the proposed conditions of use of plant protection products  containing this active substance, safener or synergist: will result in a negligible exposure of honey bees, or has no unacceptable acute or chronic effects on colony survival and development, taking into account effects on honey bee larvae and honey bee behaviour."
If EFSA were not able to finalise risk assessments, how can neonicontinoids be legal since it cannot be declared that they have not been sufficiently tested for 'acceptable risk'? 

The report states that "Only uses on crops not attractive to honey bees were considered acceptable".

But:
1.       Pesticide risk assessment already conducts tests on very few species, which are meant to be representative for invertebrates as a whole.  As it is, assessment only requires that pesticides are tested on:
-          Daphnia magna (water flea)
-          Apis mellifera (honey bee)
-          Earthworms
-          As well as "The risk to non-target arthropods is routinely assessed under 91/414/EEC. Annex II of 91/414/EEC states that data on two sensitive standard species as well as data on two crop relevant species are required. If effects are observed with species relevant to the proposed use then further testing may be required." 
(see here -opens new window).
2.       Thus, whilst I welcome any restrictions on neonicotinoids, I am concerned that EFSA, in their focus on honey bees, have not taken into account that already, very few species are assessed.
The few which are, are surely meant to serve as an indicator to safeguard butterflies (which do not only visit flowering crops), hoverflies, lady birds, lacewings and a range of other species whether or not they forage on flowering crops.  I am not aware of EFSA examining the data on the other species, as they have for honey bees.  Therefore, I believe it is not simply safe to assume that restriction of application of neonicotinoids on non-flowering crops, is sufficient.

3.       Please remember that the vast majority of invertebrates are beneficial or harmless, that these chemicals are mobile in soil and ground water, and that it is not merely a case of 'what is applied on farm crops' either.
I would urge readers to send the above letter outlined here (opens a new window) to their political representative. I'd urge people to keep up the pressure, because I'm concerned, certainly in the case of the UK government, that they'll try to fob us off with excuses, such as "Let's not upset farmers now.  They can carry on using improperly tested pesticides until industry gets its act together and provides us with some data". 
How long would that take, I wonder?  Tom Theobald in the USA outlined various frustrations along these lines previously. 
Given the fact that industry have been in charge of guidelines for pesticides (such as EPPO170), and that they have been deficient, how much confidence would you have in any further studies by them?  How long would it take for industry to generate the extra data?  Perhaps this question would depend on any new patents they had coming out (she says, cynically).
The UK invertebrates conservation organisation, Buglife, has threatened the UK government with legal action over the neonicotinoids issue (see below), however, this could take time to pursue.
So I don't think we can sit back on our laurels yet.  By keeping up the people-pressure, at some point the government will have to accept that allowing something that has not been properly tested (and therefore illegal) to be on the market, amid independent evidence and concern about danger to bees, simply cannot continue.  Through 'people pressure', I'm convinced we can make them take action sooner rather than later.
This letter targeted at UK government, but could be adapted for your own country, by asking the question – 'how can it be legal in this country?' 
Other interesting links on EFSA review of neonicotinoids:
An article in the Guardian newspaper: 
Insecticide 'unacceptable' danger to bees, report finds
"The world's most widely used insecticide has for the first time been officially labelled an "unacceptable" danger to bees feeding on flowering crops."
(find here -opens new window).
Buglife: "Little economic benefit and huge environmental impact - suspend neonics now"
"The economic case for neonicotinoids is marginal at best the environmental cost is a price too high to pay. The use of these indiscriminate pesticides must be suspended before it is too late to halt the alarming decline in wild pollinators."

Government guidelines for the testing of pesticides:
(find here -opens new window).
Go from Neonicotinoids: New EFSA Report Confirms Major Shortcomings With Regulatory Data to Home Page
COPYRIGHT 2010 - 2019: WWW.BUZZABOUTBEES.NET
ALL RIGHTS RESERVED.