Clay Soil Plants for Bees


Clay soil can be very challenging. I once spent a couple of years and a small fortune on conditioners and composts, and hours on end trying to break it up in order to improve it in a garden I owned some years ago.
However, the truth of the matter was that I had little time for gardening back then, and also very limited knowledge. At that time, it would have been far better had I simply stuck with plants that are happy in wet conditions. I could have saved myself quite a bit of money, and hours of work.


Of course, if you have the time, energy, money and preferably all of these, there are actions you can take to resolve the issue, even going as far as installing drainage systems.
Let's suppose for now that you might like to consider more low cost routes. If this is the case, here are some plants that attract bees and other pollinators. You may be surprised at how many plants will tolerate it. Why not just try it?

On the other hand, if things are so bad you could almost consider supplying a pottery works, you may need to take action to improve it, in order that anything will grow. For example, you may wish to try raised beds instead.
Examples of good clay soil plants that attract bees, include:
Sea holly (eryngium)
Bergenia
Monarda fistulosa (Wild Bee Balm)
Geranium
Helleborus
Hosta
Kniphofia
Sedum spectabile
Solidago (Golden Rod)
Heliopsis helianthoides (Ox Eye daisy)
Lonicera japonica, L. periclymenum (Honeysuckle)


Shrubs and Trees for Clay Soil
Trees especially, can be very useful, as they can help to remove water. Consider these options:

Hypericum calycinum (great for pollen)
Spiraea
Malus (crab apple)
Berberis
Buddleja (loved by butterflies too)
Cotoneaster
Fuchsia
Mahonia (excellent early source of food for bees)
Cotoneaster horizontalis, C. lacteus


Gardening in these conditions is hard work - I know! However, before you spend a great deal of money on resolving the issue, trialling a few of these plants may be a good idea.

---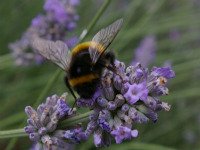 ---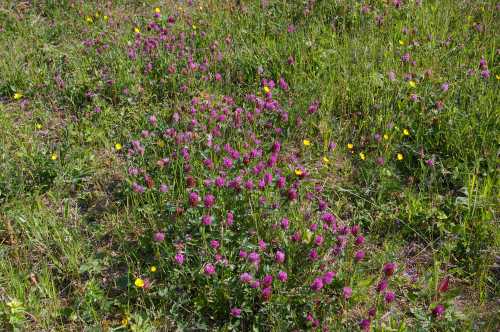 FREE PDF DOWNLOAD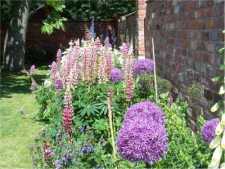 Bee Garden Tips
Take a look at these great quick tips for creating a bee friendly garden!



Plants for bees
More plants for bees on this link, including garden plants, herbs, wildflowers, trees, shrubs, hedgerows and even fruit and veg!



More problem places!
Want to know about suitable plants for pollinators in a shade garden or a drought area? Take a look at this link.



Free plants for bees!
Plants need not cost a fortune! See these oft-neglected tips for getting plants for free, or nearly free!



Save the bees!
Here are 10 simple things that you can do to help our little buzzy garden helpers. Why not share these tips with your friends? And get a background to some of the problems they are facing, by checking out my page called Missing Bees.









Go back from Clay Soil Plants for Bees to Home page
COPYRIGHT 2010 - 2019: WWW.BUZZABOUTBEES.NET
ALL RIGHTS RESERVED.