Will The UK Lift The Restrictions On Neonicotinoids After Brexit?


What happens to Bees after brexit?  Will Britain lift the ban on neonicotinoids upon leaving the EU?
It's understandable that those concerned about bees, should be worried that upon leaving the EU, the UK would lift the ban on neonicotinoids.  Afterall, the UK was one of the countries which originally opposed the ban, and earlier in 2017, a Tory MEP attempted to oppose further developments in this area (but failed). 
However, it is worth noting that things move on, politicians change, and the DEFRA Minister and politician who instigated opposition to the ban in the first place (and, I might add, supported by other political parties – including the Labour party), is long gone. 
The UK implemented the restrictions, and earlier this year, April 2017, the UK government refused to grant an application for emergency use of neonicotinoids.

Further media coverage, evidence and investigation, lobbying backed by facts, and a range of new Ministers and scientific staff, has produced results.
As of today, 15th August 2017, we have great news! 
The UK government has revealed that it supports the restrictions on neonicotinoids that were eventually imposed by the EU, following Brexit.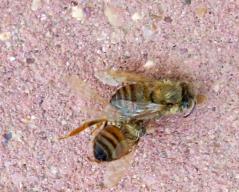 UK Government reveals support for neonics ban

This piece of news was revealed today by Farmer's Guardian.
To quote the article:
"Lord Gardiner, Minister for Rural Affairs and Biosecurity, made the new position clear in answer to two written parliamentary questions on whether Britain would lift the restrictions after Brexit.
 He said: "The Government keeps the developing evidence on neonicotinoids under review, advised by the UK Expert Committee on Pesticides.
 "On the basis of current evidence, we support the existing restrictions."
……..It is thought the recent large-scale field study by scientists from the Centre for Ecology and Hydrology (CEH), which suggested neonicotinoids were harmful to bees, may have been instrumental in changing the Government's thinking."
The article makes is clear that there has been a change in stance: whereas the UK government implemented the ban previously because it was obliged given its EU membership, it now suggests that it will uphold the ban because it believes the evidence merits it.  

To read the article in full, copy and paste this link into your browser:

https://www.fginsight.com/news/top-stories/uk-government-reveals-support-for-neonics-ban-as-new-research-released-24117

As Prof Dave Goulson has previously said:
"Like Brexit or not, it provides a golden opportunity, freeing British farming from the Common Agricultural Policy, and making it possible to steer it away from industrial, chemical farming towards more sustainable methods. If we do not, we will lose bees and much else of our wildlife for ever. "   - Professor Dave Goulson, author of A Buzz In the Meadow and Bumblebee Behaviour and Ecology

Whether or not we take this opportunity to move forward and make improvements, is up to us.  We will do this by appropriate lobbying and education.  By sitting around complaining and moaning about Brexit, nothing will be achieved other than wasting energy. 
Farmers can be part of the solution to help bees following brexit. Time to move on and focus on the positive.
The next steps for conservation lobbyists is surely to lobby for better regulation of agrochemicals and their application, for independent information for farmers about 'crop pest threat', and support for farmers who farm sympathetically with nature to enhance biodiversity and halt declines of wild flora and fauna.

COPYRIGHT 2010 - 2023: WWW.BUZZABOUTBEES.NET
ALL RIGHTS RESERVED.