A Little Hope For The Rusty Patched Bumble Bee?
Following court pressure, the Fish and Wildlife Service agreed to propose critical habitat for this once common but now seriously threatened bumble bee species.
I first mentioned the rusty patched bumble bee on this site several years ago – I believe back in 2012. The U.S. Fish and Wildlife Service listed this species as endangered under the Endangered Species Act.
It was once common throughout the midwestern and northeastern United States around woodlands and grasslands and more recently, residential gardens in Ohio, Tennesse, Maryland, Iowa, Illinois, Wisconsin, Massachusets, Connecticut and Indiana. 
However, populations have been declining since the 1990s, and the rusty patched bumble bee has now vanished from 87% of the counties it once occupied.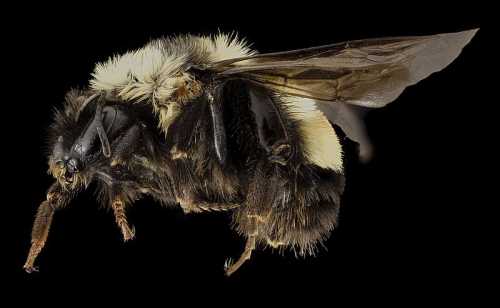 Rusty patched bumble bee - Bombus affinis
(source: Wikipedia Commons).

What is causing the decline of the rusty patched bumble bee? 


It's the usual suspects: habitat loss, agricultural farming practices, pesticide use, and possibly disease.
It's shocking to think that here we are in 2019, and populations are still so perilously low.
This species was not declining just since yesterday. Seriously, why couldn't relevant agencies get their acts together years ago and do something that really made a difference? 
I'm talking not only of  government agencies, but local councils and administrative authorities, charities and wildlife organisations of various kinds.  Because in their own various ways, that's what they are all being paid to do – right?  
Reacting endlessly 'after the event' isn't good enough.
Being proactive, anticipating and driving necessary change is what is key – and keeping on top of the results.  The whole lot of them have had years to sort it out.


It's not just the USA, far from it, it's all over the world.  That includes Europe, which has more 'Green Party' politicians than any other continent, and many very wealthy and powerful wildlife organisations and charities. 
Yet look at the state of decline of species from invertebrates, bird life, mammals and aquatic life.  How can they look at long term trends and say they have earned their donations or memberships?  None of the problems we see today sprung up yesterday!  How long have these organisations been active?  
Some of these organisations are well-established, well-funded, and have large membership basis.  Despite this, the state of nature suggests clearly, something is not working, or not working well enough – what they are doing is leading to questionable results. 

Hope for the rusty patched bumble bee - at last?
But there is hopefully some good news for the rusty patched bumble bee thanks to a recent court settlement.   
According to the settlement, the Fish and Wildlife Service agreed to propose critical habitat for the bee by July 31, 2020, and must finalize any habitat designation by July 31, 2021.
I just wish greater protection had done much more, much earlier.

What can you do?

If you live in one of the regions mentioned, you could include plants in your garden to help expand populations, and encourage friends and neighbours to do the same. 
Plant lupines, native prairies plants, spring ephemerals, bee balm and asters.  If you have space for trees, include pussy willow, to provide pollen.
You could also participate in bumble bee watch and monitoring initiatives, and record sightings by submitting photographs and details here.