Buzzled Bee-Themed Children's Book Of Puzzles  
Buzzled Bee-Themed Children's Book Of Puzzles
An excellent way to help children retain information about bees, and get the mind working generally, is through puzzles and activities.
| | | |
| --- | --- | --- |
| | | Buzzled is a Bee-themed Junior Puzzle Book for children (Ages 7-12 yrs). It contains over 100 puzzles and activities all on the theme of bees, and contains some educational puzzles too.  This is not simply a puzzle book with pictures of bees all over it.  |
Children can learn about some different bee species, including wild bees  (for example, leafcutter bees, mason bees, bumblebees, wool carder bees) as well as honey bees. 
All kinds of things are covered, including bee life cycles, nesting habits, and pollination among other relevant subjects.
In other words, this really is a children's book about bees, but with a difference, since the puzzle element helps to reinforce an educational message. 
However, the book does contain traditional fun elements you would expect from a puzzle book, such as plenty of 'Spot The Difference' and 'Maze' puzzles.  Other kinds of puzzles included are Word Search, Crossword, Sudoku, Code puzzles, and puzzles where you have to find objects in a picture.
There is a range of difficulty, and the puzzles are 'jumbled up' – i.e. they are not arranged in order of difficulty with the most simple puzzles first, and more difficult puzzles later.  This means kids won't get so far in the book, then put it down and feel discouraged that they can progress no further.   It's a good thing too, to mix up more challenging activities with more fun, relaxing ones.
The Buzzled Bee-themed Junior Puzzle Book is available from Amazon.

Educating The Next Generation About Bees
This is a children's book about bees that comprises both a fun element with education. 
Regular visitors will know that I am very keen to promote awareness of bees among children.  I recommend a number of books about bees, but I also see some I cannot recommend, for various reasons.  For example, I have seen one book about bees for kids, which actually features a hoverfly on the front cover, not a bee!  
How Else Can You Inspire Children?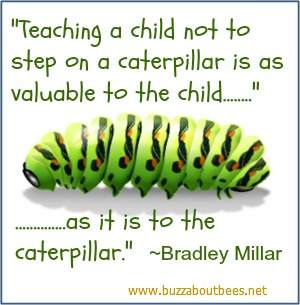 Activities outdoors, from simple observation and conversation about bees foraging on flowers, or watching bees in bee hotels, can help to inspire interest and create the next generation of conservationists – or at the very least, kids who appreciate wildlife.  After all, we look after the things we value.  You can read more about inspiring kids here.
Nowadays, there is growing awareness about the value of bees and other pollinators.  But what can you do to inspire kids when it's raining outdoors?  That's where children's books about bees are of course, a great help!
COPYRIGHT 2010 - 2018: WWW.BUZZABOUTBEES.NET
ALL RIGHTS RESERVED.