Create A Bee Garden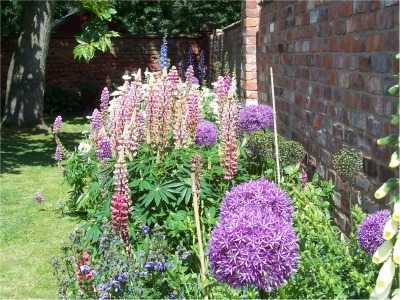 Here are my top tips for creating a bee garden. There are links within this page to further information such as lists of great bee plants, trees for bees, the role of native garden plants and wildflowers (please note, clicking these links opens a new window in each case). Read on!

Provide Year-round Pollen & Nectar Rich Plants
Good bee plants provide excellent sources of nectar or pollen – and even better if they provide both. For this reason, some highly cultivated ornamental plants are not necessarily very useful for bees, primarily because they contain little nectar or pollen. 
Impatiens (Bizzy Lizzie), very garish, highly cultivated petunias and begonias, and even hydrangea (apart from hydrangea paniculata) offer little value. Instead, go for traditional bedding plants such as campanulas, aubretia, bluebells, primroses and crocuses, lavenders, and shrubs such as ceanothus.
Ensure you have plants flowering late into the season as well as early flowering varieties loved by bees and other wildlife.  Check out this calendarised list of plants for bees, and my general introduction page about bee plants.
Plant in Groups
Ideally, when you are creating a bee garden, you should position your bee plants in groups. Swathes of butterfly and bee attracting plants are easier for our little pollinators to locate. Importantly, it also conserves vital energy stores, meaning more nectar and pollen can be returned to the colony.


Include Wildflowers
A bee garden should ideally include at least a few wildflowers in the border. Here is a list of wildflowers for bees. Or if you have space, then why not.....
Create a Wildflower Meadow
You may be able to create this as a small patch, but if you have the space, why not create a wildflower meadow?


How About a Flowering Lawn?
If you cannot create a meadow from scratch in your garden, including taller meadow flowers, a good compromise is to allow clover to flourish, and smaller wild flowers to pop up here and there, such as bird's foot trefoil, self heal and vetches in patches.  These plants are so pretty, and are excellent plants for bees.   Clover is excellent on lawns too, because remains green even during very dry periods.   It is also good for the soil, and later in the year, when mown, makes a good addition to the compost.  An alternative way of creating a flowering lawn is to fill it with a ground covering herb, such as thyme, which is an excellent bee plant.  Check out lawns for bees for more ideas.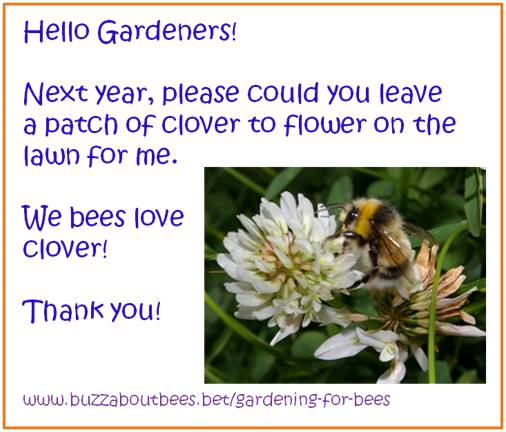 Plant a Wildlife Hedgerow
A hedgerow is an excellent addition to any bee garden.  A flowering hedgerow especially, is a boon to all types of bees (honey bees, solitary bees, bumblebees), pollinators and other wildlife.  Birds may nest in them, bees, butterflies and other insects may enjoy the nectar from the flowers, whilst birds and small mammals may benefit from berries.  Ideally, a bumblebee may find an abandoned rodent hole at the base of the fence – this is a favourite nest site for many types of bumblebees.

Take a look at my list of trees, shrubs and hedgerow plants to attract bees.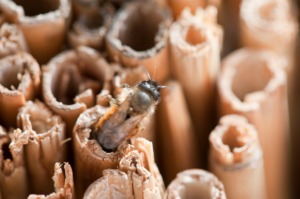 Create Sites for Nests in your Bee Garden

Whether or not you are keeping bees, even so, you can create nesting sites for wild bee species.   Bee nests are welcomed by gardeners who know they now have some of nature's little helpers to pollinate the plants.  Creating a bumblebee nest box that attracts bumblebees can be difficult, although it is possible to do.  Try an upturned teapot or plant pot beneath the garden shed. Often the best course of action is simply to provide ideal surroundings and areas in which they might possibly create a nest.  It is significantly easier to create a solitary bee house, and this can be achieved at a very small cost with a few hollow canes.


Water and Mud!
Bees need water for drinking whilst some bees, such as mason bees, use mud for constructing their nests.


Create a Cottage Garden
A cottage garden is usually a good bee garden.   Cottage garden plants never go out of fashion.  Humans love them, and bees love them too, and better still, a typical cottage garden border is full of great plants that attract butterflies and bees.  In fact, many of the best plants for bees can be found in traditional cottage garden borders, and it's possible to place a few taller wild flower specimens in the border too, such as cornflower, knapweed (actually a beautiful plant), teasels and foxgloves.


Make Space for Herbs
Many herbs are excellent bee plants, and of course, are enjoyed by humans.   Rosemary provides a useful source of nectar during the winter, borage oozes nectar in the summer.   Marjoram, chives, lemon balm and so many herbs are great plants for bees and butterflies – do take a look at my section about herb plants for bees.
Inspire the Kids!
Creating a bee garden is a great project for kids to get involved in.  There are many wonderful plants and activities that are inspiring for children. Children love sunflowers, as do bees and birds.  And there is so much more that can be done! Inspiring children in the early years to create a garden – even if it's just a small patch – can encourage them to take interest in, and learn about the natural world.  I have never forgotten that my love of bees and other wildlife, began when I was a child, spending many happy hours in the garden with my father.


Grow Your Own Organic Fruit and Vegetables!
Yes, a bee garden can include home grown produce too, so why not help the bees, and put food on your plate at the same time?   Many fruit and vegetable plants attract bees, whilst cross pollination by bees increases crop yield. Everyone wins!  Take a look at my page about bee-friendly fruit and vegetables.


Install a Green Roof
Green roofs can be added to homes, garages, but even sheds. They can be filled with bee attracting plants, from wildflowers to succulents, especially sedums.
Include Different Flower Shapes In Your Flower Borders
Different bees are attracted to different flowers, so a good bee garden should include a variety. Some bees can manage plants with tubular florets, such as foxgloves, whilst others prefer more open varieties. Remember to include a range of flowering plants with different shaped florets.  Read more about different flower shapes in your flower borders here.


Native Garden Plants vs Non-native Garden Plants
I am often asked whether a bee garden should consist only of native garden plants. There is no doubt that native garden plants are very beneficial to the indigenous wildlife of a country. However, there are many introduced plants that are highly beneficial to bees and butterflies too, as well as other pollinators. For example, buddleia is loved by bees, hoverflies and butterflies alike, and is very easy to grow in the garden.
Create A Mini Bee Garden With Raised Beds And Planters For Bees
If you are disabled, or perhaps in a wheelchair, or if you are planning a community garden suitable for wheelchair access,  it may be that creating raised beds is the solution.  Why not create a bee-friendly herb garden in a raised bed, a raised wildflower pollinator bed, or planters filled with cottage garden flowers?

Likewise, you may have a large area of decking, or have restricted space on a balcony, but even here there are opportunities for pots and planters.  Imagine planters filled with cornflowers or lavender and thyme!  We'd have mini-feeding stations for bees!

Think twice about using pesticides
Take into account that if a bumblebee queen perishes before rearing new queens and males at the end of the season, a whole future generation of bumblebees is lost. With extinctions and drastic declines already, we cannot afford to lose more of our bumblebees. Butterflies are suffering too.  Neonicotinoids are of particular concern, and are present in many common household garden pesticides. Read more about how neonicotinoids work.  Remember, we used to manage before these were introduced onto the market – do we need them now?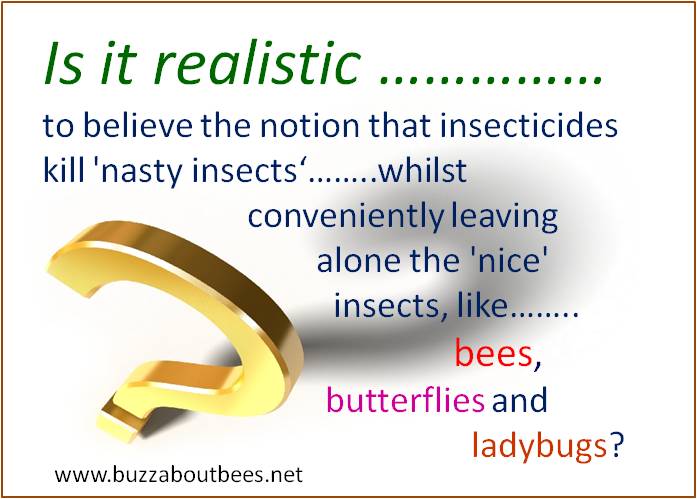 Free plants for bees!

Creating a bee garden need not cost a fortune in plants! Take a look at these tips for getting hold of plants for free (or nearly free!).
Save the bees!

Take a look at these 10 simple tips to save the bees! Share them with your friends and relatives.
Bee pollination

Bee pollination is vital in the garden and in our countryside. Discover more about the importance of bee pollination.
Quiz

How much do you know about bees? Take a fun quiz and find out!
Return from Bee Garden Basics to Home page

COPYRIGHT 2010 - 2016: WWW.BUZZABOUTBEES.NET
ALL RIGHTS RESERVED.