Creating A Beekeeping Business Plan

Here are some factors to consider if you are drawing up a beekeeping business plan, whether you wish to become a honey producer, or are wanting to offer a variety of products and services related to beekeeping, honey bees and hives.  On the one hand, you may be able to earn a living from keeping bees, but like all businesses, there are potential pitfalls.
If you require a loan to help you get started, then you will need to demonstrate to the lender that you have thought about the business in detail.  Consider things from the lender's perspective: if you were in his or her shoes, would you loan money to this new beekeeping business based on the plan and information you are being presented with?  
In addition, you need to work through the details yourself, so that you minimise your risks and have a genuine chance of success.
Below are some guidelines, and a link to a downloadable beekeeping business plan template (PDF).
Drawing Up A Beekeeping Business Plan – some initial considerations:
It sounds obvious, but.....are you an experienced beekeeper? 
If not, best get some experience first, and ensure you:
know what you are doing,
you are happy handling the bees,
you know what to do in a crisis,
you don't suddenly discover you have a severe allergy to stings,
you have full knowledge of how to keep and provide for your bees (where will they forage, how will you protect the hives against disease, predators, even vandalism, the elements and so on).


How Can Beekeepers Earn Income From Keeping Bees?
You may have a firm idea already of how beekeeping is going to earn an income for you.  Whether you decide to focus only on being a honey producer business, or selling a wider range of product and services, you'll need to estimate your potential earnings, and add these to your business plan. Here are some ideas of what your business might include:
Selling other bee products, such as wax. 
Selling services, such as pollination or beekeeping tuition.  Note, selling pollination services can be a tricky business if the crops are treated with pesticides such as neonicotinoids, as the experience of beekeepers across the globe suggests.
Selling other items, such as by being a distributor of beekeeping equipment, or books or CDs you have written yourself, or even hives you yourself have built, such as top bar hives.



A Beekeeping Business Plan Needs To Cover Finances: costs, sales, cash flow, profit & loss

Consider these costs:
Initial set up costs (hives, honeybees, beekeeping equipment, premises, insurances), building a website if needed and so on.
Product related costs & inventory, such as honey jars and labels.
General business running costs: travel, any items relating to the care of the bees, postage and packing, phone, rent, stationery etc. 
Will you spend any money on marketing, such as advertising honey or beekeeping courses in the local paper, or internet advertising?  Be sure to build in a mechanism that allows you to assess the cost effectiveness of any marketing activity, if possible.
Cost of finance (interest and charges).
You should calendarize these costs, and also add a realistic sales forecast as far as possible.  Although you will need it to go along to the bank or lender, forecasting is of course very difficult, and may need to be adjusted from time to time. 
How much, if you implement your marketing plan (we'll get to that in a minute), could you sell on a monthly basis?  Itemize each activity: how much honey will you sell, how many courses will you fill etc.
Financial challenges can hit any business.

How will you cope with payment schedules?  For example, if you supply 200 jars of honey to a store, when will you be paid, and can you cope with late payments?  Cash flow is one of the major challenges to any business, but especially new ones.  Not being able to pay your bills because somebody didn't pay you, can create misery and force businesses to close.
What is your profit margin?  Remember it needs to cover ALL of your costs, with enough to earn the income you need, and hopefully leave some for emergencies.

Researching Your Beekeeping Business
Find out as much as you can about the market, products, services, prices, your customers, relevant  law, prior to committing yourself.
For example:
At what prices are comparable bee products being sold?  Are there many competitors? How much supply is there versus demand? Can you compete?
Who are your potential customers and how will you reach them?
Are there any unexploited niches you can fill?
How will your product be different?  For example, will yours be the only organic meadow honey in the area, or perhaps the only raw comb honey?



Marketing And Your Beekeeping Business Plan

Consider the following questions:
What?
What are customers buying? (e.g. raw bee or hive products, or processed by you in some way?  If so, are there any legal or labelling requirements or standards?) 
What kind of equipment is needed and how much will it cost? 
What are the wider range of products or services you are offering? For example, will you sell honey, pollination services, beekeeping courses at your apiary, books you have written yourself, wax, or will you begin selling beehives or other beekeeping equipment?
Who?
Who is buying it? (consumers, retailers, wholesalers)
Where?
Where will they get to buy the products?  Internet? Shops? Market? 
How?
How will you persuade customers to buy and how will you generate awareness?  How often will your customers purchase from you?
Why?
Why will anyone wish to buy from you?  Don't be offended by this question.  This question is deliberately asked so that you think of things from your customer's perspective.
When? 
When will customers purchase from you, and how does this impact your business?  Do you have to warn customers in advance/how long do advanced booking periods need to be, and...
when will you be paid?
Having considered these questions, what actions need to be taken, when, by whom and at what cost?
A SWOT Analysis For A Beekeeping Business
It's worth doing a SWOT (strengths, weaknesses, opportunities and threats) for your beekeeping business plan, as with any other business plan.
Make a list, and decide whether there are actions you can take.  Don't run before you can walk, or over-stretch yourself, however.
Here are some examples:
Strengths:

Lifelong experience of beekeeping – generations of beekeepers in the family.

How To Maximise

Use this in marketing, to talk about a caring family business with generations of expertise.  Customers are buying from people, not a faceless organisation.
---
Weaknesses

Limited business experience – only ever provided a few jars of honey for friends.

How to Minimise

Enrol on a small business course or book keeping course, or check on line for suitable courses.  Check with the council for free, helpful resources. 

---
Opportunities

Free access to 100 acres of organic farm and meadowland

 How to Exploit

(Depending on regulations in your country) Label the honey product 'organic' and sell in to speciality organic food stores and delicatessens, with appropriate pricing.
---
Threats

Diseases

How to Counter

Keep bees and hives in good condition, and practice high standards of beekeeping husbandry.

Insure hives against losses due to diseases.
---

General Administration
How will you manage the paperwork for paying taxes etc?  If you need assistance, you'll need to factor in the cost of that assistance.
Remember to keep comprehensive records, and in good order.  File receipts and paperwork.  Take copies of crucial documents.  Take back-up copies of any computer generated admin.
Have a visible calendar and/or diary to ensure to file any important paperwork on time, such as taxes and any legal documents, to avoid fines.
More Beekeeping Business Tips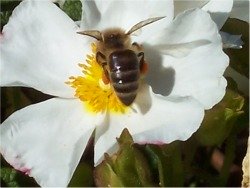 Hopefully you will be able to keep your set up and business running costs to a minimum. 
With a bit of luck, you won't be renting property, but if for any reason you must rent space, then try to ensure favourable terms and conditions.  Avoid arrangements that will be difficult to get out of, that demand penalties for early termination of agreements or very long notice periods.
Check the regulations with regard to beekeeping in your area.  Is there sufficient forage?
Keep on top of payments from customers, and be a good customer yourself.
Have more than one income stream if possible.
You can use the free beekeeping business plan template to help you get started, but ensure that you add any legal considerations applicable to your own country.   Download it here (opens a new window).
COPYRIGHT 2010 - 2016: WWW.BUZZABOUTBEES.NET
ALL RIGHTS RESERVED.