The Leafcutter Bee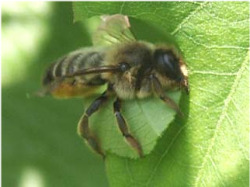 The leafcutter bee is another useful friend to gardeners as it provides a valuable and efficient pollination service for plants. But they are also a friend to farmers. In fact, the US Agricultural Research Service says that 1 alfalfa leafcutter bee can do the job of 20 honey bees! Surprisingly, in research, they discovered that about 150 of these little bees working in greenhouses (or similar) can provide the pollination service of 3,000 honeybees!
But back to gardeners and gardens. Have you ever noticed neat little segments cut away from roses, lilac or other shrubs? If it's leafcutter bees, there will be a crescent or almost circular shaped hole in the leaf. If you should find this, do not worry, usually it will not harm your plants, although rarely, you could see a fair amount of damage, but this is not the norm. Plants can usually can shake off a little damage. (Remember, plants survive pruning and dead–heading!).

Nesting
Like mason bees, they are 'cavity nesting'. This means they like to make their nests in ready-made cavities or in soft rotting wood that can be 'excavated'. Once a suitable spot has been found, they will build cells using the pieces of leaf as lining, by overlapping segments of leaf to make a cylindrical cavity that looks a little like a cigar. Each cell is sealed up with a little segment of leaf. In parts of Europe, some species line their egg cells with petals instead of leaves. Nests are small: only around 4 to 8 inches long.

Leafcutter Bee Life Cycle
The newly emerged females begin constructing nests after they emerge in Spring. In each cell they will lay a single egg, and supply it with pollen upon which the larva can feed once it hatches. The larvae pupate and develop inside these cells. They will over-winter in their cells as mature larvae, and emerge as adults the following spring or early summer.

How Do They Differ From Honey Bees?
On first sighting, they look alike, so how can you tell them apart? One give away lies in their methods for collecting pollen. Honey bees, like bumblebees, collect pollen in their pollen baskets or 'corbicula' on the hind legs, then transport it back to the hive or nest. Leafcutter bees do not have pollen baskets on their hind legs. Instead, they collect pollen on the underside of their abdomens, and when foraging, this is quite visible on the bee.

How To Attract Them
It's possible to encourage them into your garden by providing bundles of hollow canes, or a log of wood drilled with holes around 1cm in diameter (don't use varnish, preservatives or any other chemicals). If the holes in the canes of the log are too small, then your 'bug house' is more likely to be occupied by ladybugs or some other insects.
I have had great success with a bug house sited against a sunny fence, behind some shrubs. Initially, it remained empty. Then after about two years, it was finally inhabited by leafcutter bees. This continued for a couple more years. This year, I decided to make further provision for them in my garden, this time with hollow canes, with noticeably larger holes than in my bug house. The result? They didn't bother with the bug house – they chose the canes instead. Not only that, they chose the ones with the largest holes, that were also slightly longer than the rest, probably about 30cm in length. Perhaps they appreciated the extra space, and who can blame them!


Find out about Mason Bees.
Read about Mining Bees.
Read about Carpetner Bees.
Find out about Bumblebees.
Learn about Honeybees.
Learn about the key differences between solitary, bumblebees and honey bees.