Bee Protection Group
Of The ICPBR

To read the background page about the Bee Protection Group Of The ICPBR click here.

There is interesting comment from the Corporate Europe Observatory and the European Beekeeping Coordination about the outcomes of the 2008 ICPBR Bee Protection Group Symposium – in a report from November 2010: "Is The Future Of Bees In the Hands Of The Pesticide Lobby?". (Clicking the link opens a new window)

In it, they are very critical of the outcomes of the "Bee Protection Group", stating that the proposals they make are clearly instigated by commercial interests, and that they are unsustainable.


Here is a quote:


"Firstly, the ICPBR Bee Brood working group has proposed that a 30% loss of the bee brood (one of the components of the hive: the group of larvae in the colony) in general, or a 50% loss of eggs or other larval stages, is "normal", as they argue that such a reduction can be seen in a year with bad conditions (bad climate, poor food sources, etc).12



However, to suggest that a 30% loss of bee brood from a pesticide, in addition to all other factors that can cause brood loss, is "normal", is clearly instigated by commercial interests, and will legalise great damage to bees. In addition, a beekeeper cannot survive if he or she systematically loses 30%-50% of the future colony every time that the honey is produced from crops that have received systemic pesticide treatment.



This working group included representatives of BASF, Bayer Crop Science, and Eurofins GAB; as well as representatives from the British and French food safety agencies FERA and ANSES, and the Julius Kühn Institute from Germany."

In attendance at the symposium, and working actively with pesticide company employees to produce recommendations were Helen Thompson and Selwyn Jenkins of FERA – the UK Public Servants.



If the Corporate Europe Observatory and the European Beekeeping Coordination are correct in their statements above, then since both Selwyn Jenkins and his colleague, Helen Thompson are PUBLIC SERVANTS, then there are questions the general public, (including beekeepers, conservationists, and anyone who cares a jot about the future of food supply and providing for their families, and anyone who gives a fig about nature and this wonderful web of life), might like to have answered:


1. Why was it that a public body - FERA, along with the pesticide industry, attempted to categorise what was previously considered unacceptable bee brood losses, as acceptable, and why was this proposed? (I'd like to hear it from them, as our public servants).


2. How did our public servants envisage these losses would be 'sustainable'?

You see, it's all very interesting isn't it.


If 30% loss of bee brood is suddenly classed as 'normal loss' by our Civil Servants and the Pesticide Industry (under the reassuring title of the Bee Protection Group) – then the general public have no need to worry, and any beekeepers creating a fuss are merely whiners, aren't they?


In actual fact, I put the 2 questions above to the necessary government department, and asked that they be answered. To date, I have had no response, and suspect I could be waiting a very long time to get one!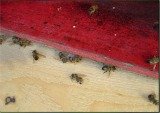 How do neonicotinoids work to kill insects like bees? 

Manufacturers provide clues!
---
What can manufacturer patents tell us about the risks their chemicals pose to non-target insects?
---
Go back from Bee Protection Group Of The ICPBR to Home page
COPYRIGHT 2010 - 2016: WWW.BUZZABOUTBEES.NET
ALL RIGHTS RESERVED.