Organic Gardening For Bees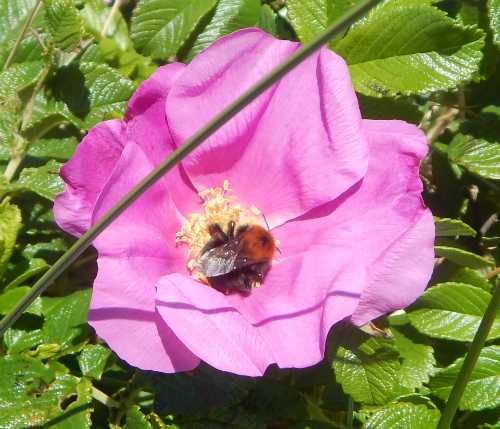 Tree bumble bee - Bombus hortorum on Rosa rugosa.

Organic Gardening For Bees – And Why Is Organic Gardening Better For Bees?
1. I would advocate that non-organic chemicals are unnecessary in the garden (and I would say that even organic chemicals can usually be avoided).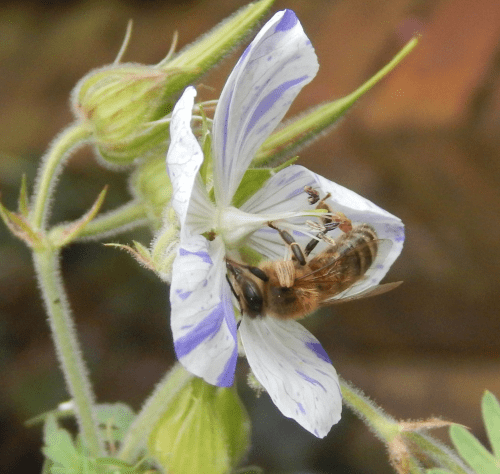 Honey bee - Apis mellifera on variegated geranium.
Anyone who believes otherwise could find plenty of examples of highly productive gardens, nurseries and farms. (Clicking on any of the following links opens a new window).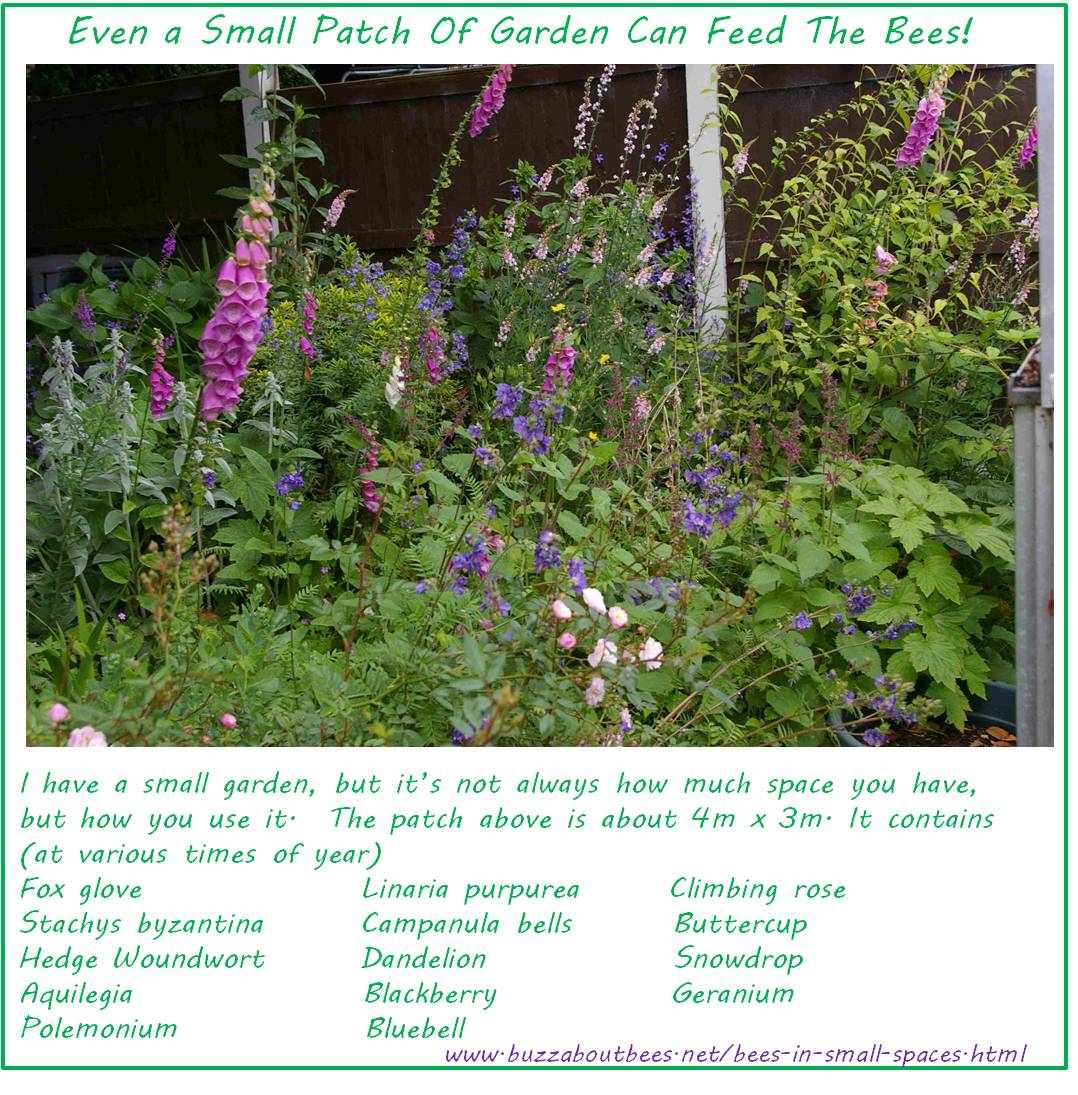 My own garden is small, and I use NO chemicals, yet I manage to grow food and flowers – without using chemicals.
Take a look at this wonderful flower border for bees – part of a large organic 4 -5 acre plot – the owner contributed a wonderful piece to this website – see Buzzzz – so many flowers, so little time.
Organic farming has been found to be ultimately more productive and beneficial to the environment than non organic farming – according to a 30 year study by the Rodale Institute – read more.
There are many organic nurseries selling a variety of plants and vegetables including heirloom seeds. 
In the US, plants bought from garden nurseries and stores has revealed some may be contaminated with pesticides:
A report from Friends Of The Earth said:

"many of the seedlings and plants sold in nurseries and garden stores across the U.S. have been pre-treated with neonicotinoids at much higher doses than are used on farms, where levels of neonicotinoid use are already raising concerns among beekeepers and researchers studying the decline of pollinator populations".
It wouldn't surprise me if it's a similar situation throughout Europe, Australia, New Zealand and so on.

2. Most insect species (about 999 out of every 1000) are actually beneficial – see this article about beneficial insects.

If we employed more sustainable, organic gardening and farming methods, I believe we could avoid using so many highly toxic, non-organic pesticides.


3. Contrary to popular belief, I am not convinced the toxic pesticides and herbicides industry developed because there was a true need.

See this fascinating feature – Why We Poison Our Food.

4. In my mind, it's not just about organic gardening for bees – it's about organic gardening for me and my loved ones! 

I do not wish to be exposed to insecticides and herbicides:
on my food (I grow fruit and vegetables, mostly in pots)
on the lawn when I sit on it during the summer, or cut the grass (the non-wild part)
on rockery or paved areas, where I put my seating – such as the patio
among the plants generally.

In short, I don't want poisons in my garden, for the sake of me, my loved ones, the bees and the other birds and wildlife that enjoy visiting.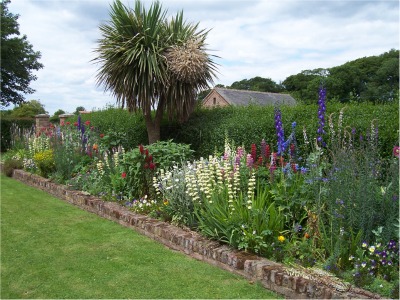 Organic Gardening For Bees – Why the Bees?


1. The decline in bees has been well reported, but we are also seeing declines in other insect and invertebrate species. You can read more general statistics on my page about Insect Pollination.

Bees enjoy a high profile role in the ecosystem, being vital for pollination. But if measures are taken to help the bees, this will ultimately benefit other pollinators, and other wildlife dependent upon invertebrates (directly or indirectly).
There are of course other wildlife that will benefit from organic gardening methods. For example, think about hedgehogs (in Britain, now on the 10 endangered species list!). Instead of using toxic slug pellet harmful to hedgehogs, encourage more hedgehogs into the garden, by having a pile of logs for them to seek shelter, or install a small pond to encourage frogs that will eat the slugs.
You could also try using a thick layer of egg shells to deter slugs from your favourite, most vulnerable plants, or it you really cannot tolerate slugs, grow plants they do not like!  Alternatively, oat bran applied liberally around vulnerable plants can protect your plants from slugs without harming hedgehogs.
2. Bees are essential pollinators of flower and various food crops. If you want beautiful gardens buzzing with nature and variety, and a good crop of fruit and vegetables (such as strawberries, apples and beans) – then please look after the bees!
Go From Organic Gardening For Bees To These Other Useful Resources

Take a look at these handy hints for attracting bees and butterflies to your garden – Bee Garden Basics


Take a look at these Plants For Bees – you'll find lists of Garden Plants, Herbs For Bees, Wildflowers for Bees, Fruit & Veg, Trees, Shrubs And Hedgerows , as well as tips for planting Lawns For Bees , and Plants For Problem Places.


On a budget? Organic gardening for bees need not cost a fortune, indeed, you can save money on chemicals. In addition, there are ways to get Free Plants (or nearly free plants, in some cases).


How are others helping bees? Here are some contributions from other readers – feel free to add yours on this page – Bees – Wax Lyrical!


Finally – here are 10 Things YOU can do, to Save The Bees.
Go from Organic Gardening For Bees back to Home page
COPYRIGHT 2010 - 2021: WWW.BUZZABOUTBEES.NET
ALL RIGHTS RESERVED.