Shade Garden Plants
For Bees


Although it seems pollinators prefer foraging in sunshine, a shade garden can provide many opportunities for wildlife, including bees, particularly if the shade is caused by hedgerows, or trees.
I have a number of shady spots in my garden, some of which are also quite dry. In the past, I thought that shade gardens were automatically 'problem gardens', and that nothing would grow in them. However I now believe that this is not necessarily true - it depends to a large degree on the depth of the shade.

This was the conclusion I came to when I looked to nature for evidence.

When I contemplated the rich diversity of plant life in forests and woodlands, I realised that there are plants that can tolerate different degrees of shade, but there are quite a few that can tolerate light shade, from bluebells to wild garlic and wood anemones.
These are shade tolerant plants which are also valuable to wildlife - or at least, I have seen them in woodlands with only dappled sunlight.
Nevertheless, shade gardening has its challenges.
So, here are my ideas for using shade for the benefit of wildlife, and bees especially:


1. Have you ever noticed bumblebees flying up against the windows of your house, or hovering around dark holes in the lawn?
Generally, bumblebees prefer to make their nests in shady areas. Leave a pile of logs in a secure, shady spot, or if you have purchased a bumblebee house, find a sheltered area in the shade, away from predators, and place it there.
Alternatively, you can make your own using an upturned plant pot, covered over with logs and leaf matter, but with access for the bumblebee.  Then leave it undisturbed. Ensure you provide suitable nest material, such as hamster bedding. If you are very lucky, in the first year, the nest will be occupied by a mouse! This will make a shop-bought bumblebee nest far more desirable for use in following years! Very often, these houses may not be occupied at all for a number of years - if at all!
2. Some excellent bee plants are happy in light shade – but remember to plant them in swathes. Group foxgloves together. Plant crocuses and daffodils in groups too, as well as bluebells. A bluebell wood (above) is great inspiration. Despite the dappled shade of the trees, bees will visit masses of bluebells for the nectar reward.


3. Some bedding plants with a spreading habit can also be used. Campanula and Common Dog Violet (Viola riviniana) are examples. They have a spreading habit and are easy to maintain.

4. Other shade plants that attract bees include incude:

hostas
bergenia
mahonia
viburnum opulus
rhododendron
Crane's Bill (Geranium sanguineum var. striatum).
The lungworts are fantastic plants for bees. Try Lungwort 'Lewis Palmer' (Pulmonaria 'Lewis Palmer').

I also have a single petalled fuchsia that produces ample flowers year after year.

In my experience, bees do seem to prefer foraging in the sunshine, but to some extent, shade gardening is about experimentation. You can only try it and see!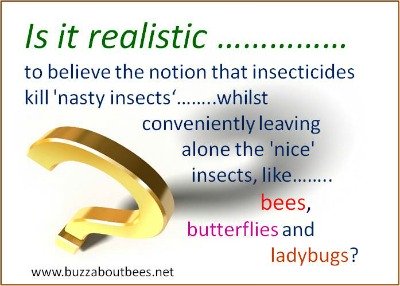 Find out more about how to attract bees into your garden with these links:
Garden plants for bees

List of plants for attacting bees and butterflies, including garden plants, herbs, wildflowers, trees and shrubs.
Create a bee garden

Great tips for creating a bee garden!
More Bee Plants for Problem Places

Find plants to attract bees that will grow in drought conditions and dry soil.
Free Plants!

It need not cost a fortune to design your bee garden. Get some tips here for getting free or low cost plants.
Bee Pollination

Find out how the different types of bees are adapated to be perfect pollinators.
Go back from Shade Garden Plants for Bees to Home page
COPYRIGHT 2010 - 2016: WWW.BUZZABOUTBEES.NET
ALL RIGHTS RESERVED.