Help With Bees:
How To Relocate or Revive Bees Without Harming Them, What to Do If You Find A Bee And Other Queries

During Spring through to Autumn, I receive many queries about how to help bees, relocate them or revive them, and many questions about bee nests.
Some of the queries I receive are raising concerns about the risk of stings or damage, or how to keep the bees safe, how to relocate bees or how to revive them.  Some people are worried when they find dead bees.  Others face a dilemma of some kind.

Below are links to some of my advice pages.  Hope this helps!

First Step:
Identify the Type Of Bee!
It will be easier if you can first identify the type of bees you have.
Thousands of bees looking like this, will be honey bees.
Roundish and very furry, something like this, but with various colour markings, is likely to be a bumblebee species.
Unless it is a Carpenter bees – certain species do look rather like bumblebees, especially from the genus Xylocopa, like this one.

Other species are probably solitary bees, which are the largest bee group.
Advice: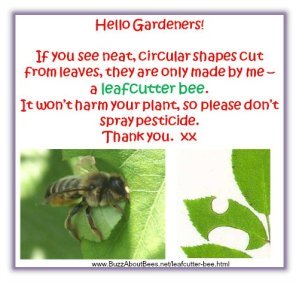 COPYRIGHT 2010 - 2016: WWW.BUZZABOUTBEES.NET
ALL RIGHTS RESERVED.